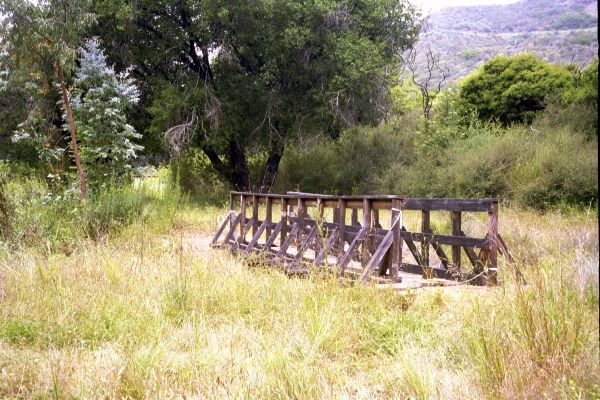 News Release Date:
September 17, 2009
Contact: Lauren Newman, 805-370-2343
Santa Monica Mountains National Recreation Area and NatureBridge today announced the formation of Santa Monica Mountains Institute, a new environmental education campus that will serve Southern California urban youth. The new campus, located at Circle X Ranch in the heart of the Santa Monica Mountains, will be operated by NatureBridge in partnership with the National Park Service.  
The campus, located within a one hour drive of major urban centers, is a significant step toward the park's goal to better serve youth in Southern California. 
"Santa Monica Mountains Institute will provide an outdoor laboratory for learning and discovery that cannot be replicated by books or classrooms," said Woody Smeck, Santa Monica Mountains National Recreation Area Superintendent.  "For many students, this will be their first experience in a national park setting that hopefully inspires a life-long appreciation for our natural world."
Of the nearly 5 million school-aged children in the greater Los Angeles area, fewer than 4 percent have access to residential educational opportunities through their schools. According to NatureBridge CEO Susan Smartt, NatureBridge plans to fill that gap and ultimately serve up to 10,000 local youth annually with multi-day field science education programs.   
 "We could not have asked for a better partner than Woody Smeck and Santa Monica Mountains National Recreation Area," Smartt said. "Together we are going to help change the lives of thousands of Southern California youth and help a whole new generation make personal and lasting connections to this wonderful place."
Santa Monica Mountains Institute will launch its first programs for grades 5 through 9 in March 2010. 
About NatureBridge:
Founded in 1971 and based in San Francisco, NatureBridge is the largest residential environmental education partner of the National Park Service. Its mission is to inspire personal connections to the natural world and responsible actions to sustain it. NatureBridge currently operations three campuses: Headlands Institute in Golden Gate National Recreation Area, Olympic Park Institute in Olympic National Park in Washington State, and Yosemite Institute in Yosemite National Park. Its fourth campus, Santa Monica Mountains Institute, is slated to open in March 2010 in Santa Monica National Recreation Area. Each year NatureBridge serves more than 30,000 students through field science, youth leadership, and teacher training programs.  www.naturebridge.org
About the Santa Monica Mountains National Recreation Area:
The Santa Monica Mountains National Recreation Area is the nation's largest urban national park, encompassing 153,700 acres of mountains and coastline in the Ventura and Los Angeles counties of southern California.  It comprises a seamless network of local, state, and federal parks, and preserves outstanding examples of rare Mediterranean-type coastal ecosystems and habitat for 20 federal and state listed endangered plant and animal species.  The Santa Monica Mountains National Recreation Area provides outdoor education, recreation, and public health benefits that are easily accessible to over 25 million people residing in metropolitan southern California, an ethnically diverse region significantly underserved by parklands.  Popular activities include hiking and nature walks, mountain bicycling, horseback riding, camping, picnicking, wildlife viewing, swimming and surfing.  www.nps.gov/samo