Puma Profiles: The Teachers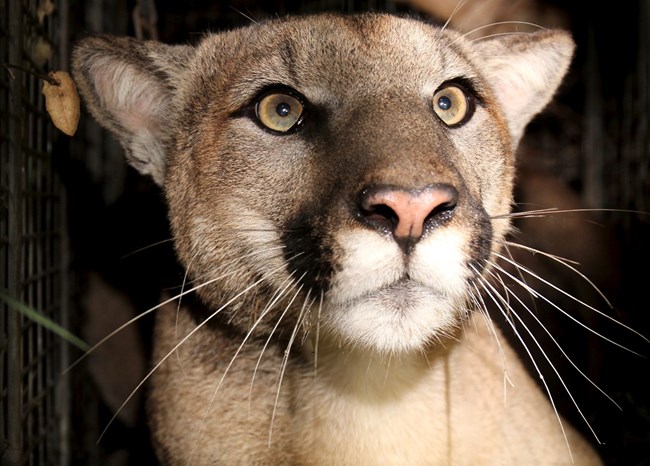 Our biologists have learned a lot from studying mountain lions in this region for the last two decades. Here, we've consolidated a group of cats we refer to as "teachers" because they displayed something new to our researchers—a disease, a genetic abnormality, or a behavior.

Early on, we discovered that first-order inbreeding was occurring because animals could not disperse in and out of the area. Grandfathers were mating with their granddaughters and mothers with their sons. Our genetic analyses showed that the lions here have the lowest levels of genetic diversity ever documented in the West.
Newcomers who cross from the north will bring much-needed genetic diversity. This discovery is the impetus for a planned wildlife crossing built in the Santa Monica Mountains and will offer passage to young lions. It will offer them a chance to get out of this island of habitat before being killed by a car or a dominant older male.

P-006 presented the first case of inbreeding documented in the study when she mated with her father, P-001.
P-041's capture in May 2015 was really interesting because he was the first lion tracked in the Verdugo Mountains, a small mountain range surrounded by development and freeways between the Santa Monica and San Gabriel mountains.
P-045 gained notoriety when he was suspected of killing a dozen livestock in one weekend. A livestock owner took out a depredation permit but decided against pursuing the cat.
P-053 was treated for mange, a parasitic disease in which tiny mites live in the hair and skin of an animal. It's generally rare in wild cats but we have documented bobcats that have ingested anticoagulant rat poisons are much more likely to develop and die from severe mange disease.
P-081 is the first mountain lion we have captured to have physical abnormalities including a kinked tail where the end is shaped like an "L" and only one descended testicle. This critical discovery represented the first potential physical manifestations of low genetic diversity within the small mountain lion population in the Santa Monica Mountains.
In addition to the "Teachers" listed below, learn about the Trailblazers, the Mothers, and Notable Deaths or return to the Puma Profiles page.
Last updated: January 20, 2023