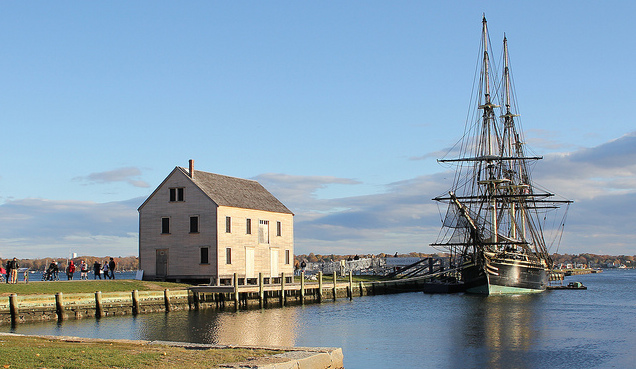 Come by the Visitor Center 7 days a week between 9:00am and 5:00pm at 2 New Liberty Street, Salem, Massachusetts. The Visitor Center has the most up-to-date information on daily happenings at the park. Call at (978) 740-1650.
The grounds of Salem Maritime National Historic Site are open 24 hours a day, 7 days a week, 365 days a year. We offer tours of historic buildings guided by National Park Rangers daily between the hours of 9-5. There are also several self-guided exhibits, waysides and films. All tours and programs are free, with the exception of the film "Salem Witch Hunt."
Visit Tours, Programs, & Activities for our current schedule and descriptions of our programs. Check out Things To Do for help making an itinerary.
The Friendship of Salem is currently undergoing repairs and routine maintenance at dry dock in Gloucester, Massachusetts. We hope that the Friendship will return to Derby Wharf by October 2016.
For information on other Salem attractions please visit Salem.org.

Salem Maritime NHS recreates the Golden Age of Sail in Salem. For a few exciting years, when the country was young, Salem was one of the most important ports in the United States. On our tours, special programs, and through our Junior Ranger program, you can walk in the footsteps of
Elias Hasket Derby
, one of America's first millionaires;
Nathaniel Hawthorne
, one of America's great authors; or one of the thousands of sailors who set sail from Salem for adventures at sea and at ports around the world.