The Prince Family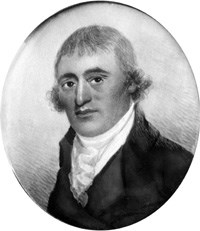 Captain Henry Prince, Sr. was born in Ipswich, Massachusetts in 1764. At the age of 14, he came to Salem as an apprentice to cooper Joshua Phippen. It appears that Prince first went to sea at the age of 21, an advanced age to begin a career at sea in the eighteenth century, but he quickly rose in the ranks to become a captain. By the early 1790s, Prince was commanding vessels for the most important merchants in Salem, including Elias Hasket Derby, Jerathmiel Peirce, and Aaron Waite, and regularly sailing to the East Indies. In addition, Prince was also working as a merchant by investing in voyages and purchasing vessels in partnership with other small merchants in Salem. He married Sarah Millet in 1785, and they had nine children, seven of whom lived to adulthood.
By 1796, Capt. Prince had made enough money to purchase the "little brick house" on Derby Street from Elias Hasket Derby, and around 1800, Prince built the warehouse now known as the West India Goods Store right next to his house.
Like many merchants in Salem, Captain Prince found it difficult to weather the economic storms of the early nineteenth century. President Jefferson's Embargo of 1807 halted all international trade to and from this country, and badly hurt the American economy. After the embargo, Salem's trade gradually moved south to Boston and New York, and smaller merchants often found themselves in desperate financial straits. In 1827, Captain Prince and his son, Henry Jr. were foreclosed on by one of the banks in Salem, and the Derby House and warehouse had to be sold. However, Capt. Prince was able to get a job as a customs inspector in the Salem Custom House, where he worked until he was relieved of his duties in May 1846 because of his advanced age and failing health by the new Surveyor of Customs in Salem, Nathaniel Hawthorne. Captain Henry Prince died on October 1, 1846. He is buried in the Howard Street Cemetery in Salem.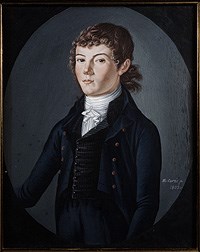 Captain Henry Prince, Jr. (1787-1854) followed in his father's footsteps in pursuit of a life at sea. He married Ruth Hardy Ropes (1791-1837) on May 21, 1812, and raised six children on Bridge Street in Salem.
Henry, Jr. had a successful career as a ship master, owner, and business partner of his father's until the Prince family business failed in 1827. Like his father, Henry, Jr. also began a new career in the Customs Service. There was a need for active, experienced officers who could face potentially dangerous circumstances with minimal resources in the law enforcement branch of the Customs Service: the Revenue Cutter Service.
Henry, Jr. commanded vessels for the Revenue Cutter Service for 15 years, and supervised the building of at least one vessel for the service during that time. After he retired from active duty in 1847, he returned to the Salem area to become Superintendent of Ship Building at Newburyport, Massachusetts. Captain Henry Prince Jr. died on March 5, 1854 in Newburyport, and is buried with his family in Salem's Harmony Grove Cemetery.
Last updated: February 25, 2020