Outdoor Activities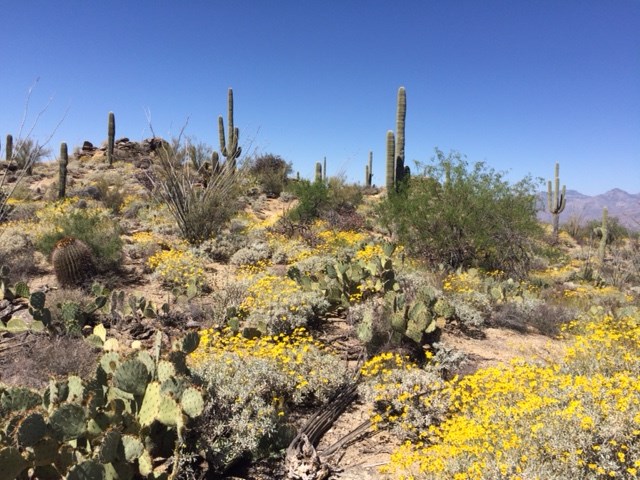 Monthly Programs
We offer a wide variety of programs in both districts of the park. Please see our calendar of events for more information! Below are our guided programs for each side of the park.


Hiking
Saguaro National Park's two districts offer more than 165 miles (264 km) of hiking trails. A hike at Saguaro National Park can be a stroll on a short interpretive nature trail or a day-long wilderness trek. Both districts of Saguaro National Park offer a variety of hiking trails. To view hiking maps for either of the two districts, please visit our
Maps page
or visitor centers.
Check out the hiking checklist and hiking regulations to find out how to be prepared for hiking in Saguaro National Park.
Hiking Checklist
Hiking Restrictions
Hiking Regulations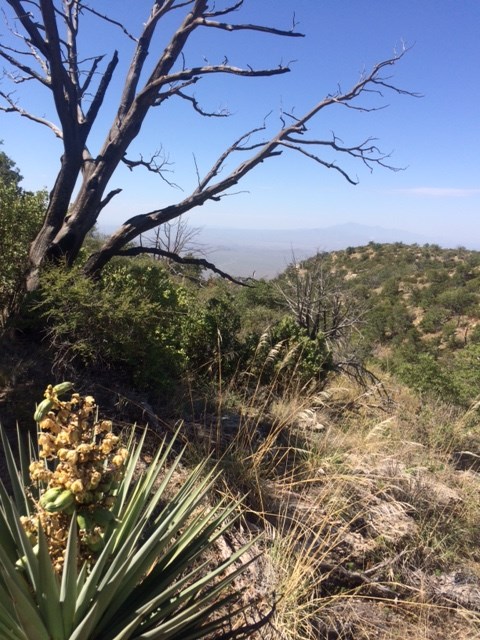 Wilderness Hiking
Looking for an adventure? An extended hike into the rugged wilderness brings wonderful opportunities as well as challenges for the adventurous hiker. An overnight trip into Saguaro's wilderness can take you from 3,000' elevation to over 8,000' in about 15 miles. Hikes may be started from any of five trailheads ranging from the easy-to-access Douglas Spring Trailhead at the east end of Speedway Boulevard to the more remote Italian Spring Trailhead accessed through Redington Pass on the adjacent Coronado National Forest.
The Saguaro Wilderness Area was officially designated as wilderness in 1976. This large, roadless backcountry consists of 57,930 acres within the Rincon Mountain District of Saguaro National Park. It is bounded on three sides by the 38,590 acre Rincon Mountain Wilderness Area, which lies within the Coronado National Forest.

Before heading out an your adventure, make sure to visit our Maps page to familiarize yourself with the park trails or visit either of our visitor centers for a pre-printed copy.
Wilderness Use Regulations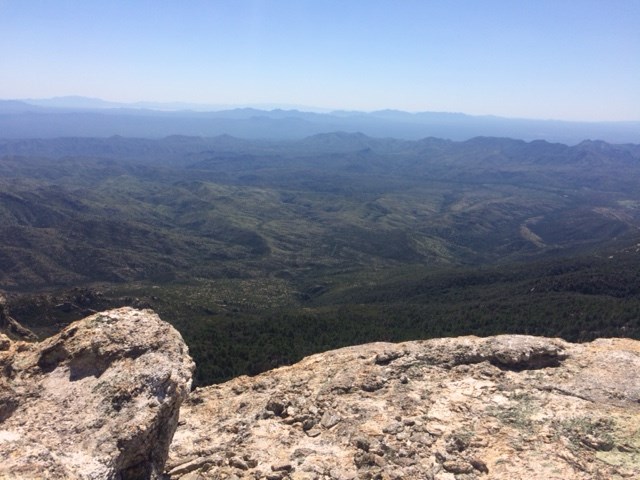 Backcountry Camping
Backcountry camping is available by permit. There are no accommodations for any vehicle camping (including RV). Please visit our camping page for more information on backpacking. This booklet contains information you will need in order to start planning a backpacking trip here at Saguaro National Park. Permits may be obtained up to 2 months in advance, but no later then 12:00 noon on the day of the trip.
PDF documents require Adobe Acrobat Reader for viewing. Download a free version.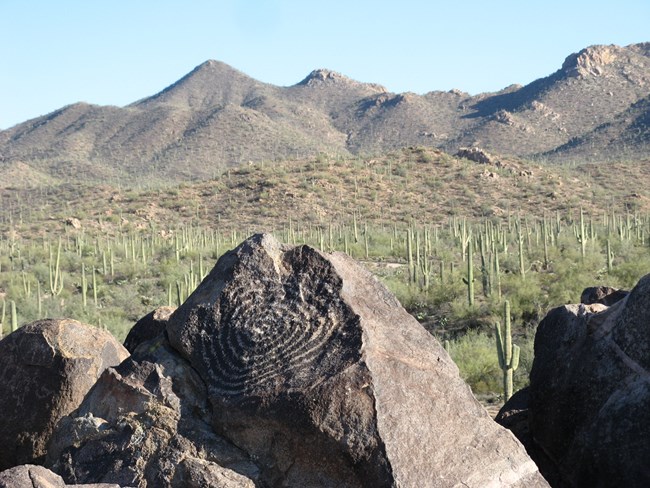 Signal Hill Petroglyph Area
West Side (TMD: .1 mile walk, 40 feet elevation)
Just north of the Signal Hill picnic area is the largest petroglyph site in the Tucson Mountain District of Saguaro National Park (SNP). The Signal Hill Petroglyph Site occupies a small but very distinct rocky hill that is about 200 feet in diameter at its base and is 40 feet high. The site consists of over 200 prehistoric Native American petroglyphs many of which can be viewed from the visitor trail that ascends the hill (including the spiral design in the photograph at right). These petroglyphs were created from between about 550 to 1550 years ago. Petroglyphs, which fall under the common, all-inclusive term "rock art", are a global phenomenon. The oldest known rock art are cave paintings found in Europe, Australia, Asia and Africa that date from the Upper Paleolithic period, 35,000 to 40,000 years ago.
Cactus Garden (Both Sides)

Come walk around our cactus gardens, both by their respective visitors center. Come learn about the plants through interpretive signs, as well as ranger-lead talks in the garden. See some of the common plants up close, as well as some photo opportunities of the iconic Saguaro on the east side as old as the Park Service itself. The west side visitors center has breath-taking views of the Tucson Mountains in their garden as well.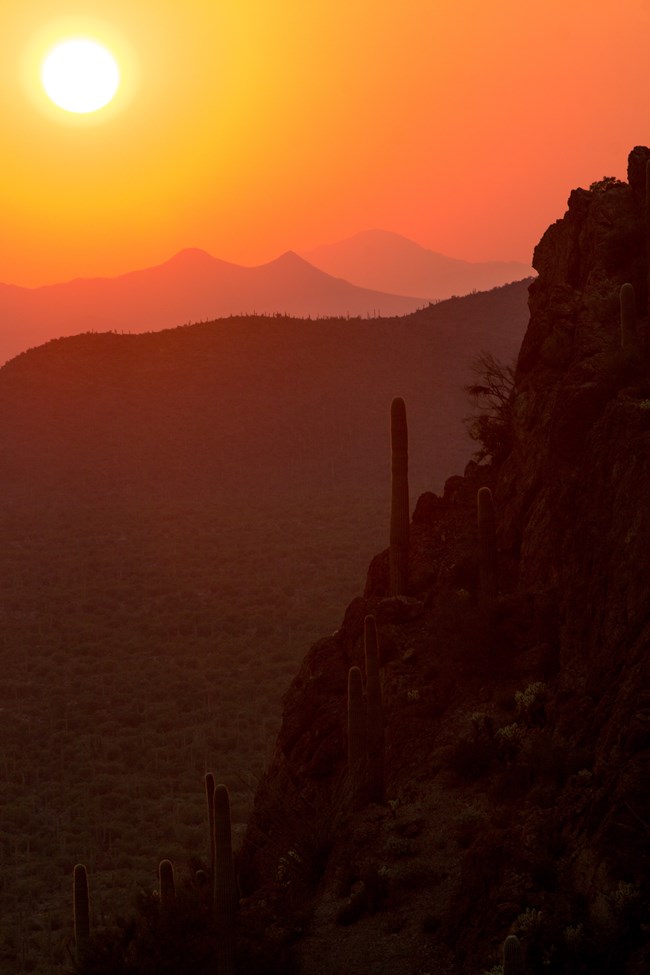 Where to View Sunsets
The best place to view the sunset on the east side is either the Tanque Verde Ridge trail (.5 mile hike) or the Javelina Rocks pull out. The driving loop does not close until 8:00 P.M., so you have plenty of time to leave the loop after sunset.
On the west side, Gates Pass (the end of Speedway Blvd to the west) is the ideal spot for a sunset. There is a parking lot at the top of the winding road in Tucson Mountain Park, but this closes just after sunset.
Last updated: January 28, 2022