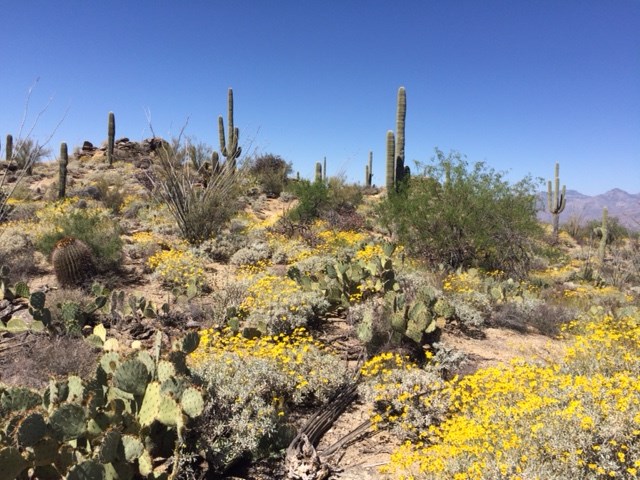 Hiking
Saguaro National Park's two districts offer more than 165 miles (264 km) of hiking trails. A hike at Saguaro National Park can be a stroll on a short interpretive nature trail or a day-long wilderness trek. Both districts of Saguaro National Park offer a variety of hiking trails. To view hiking maps for either of the two districts, please visit our Maps page or visitor centers.

Check out the Safety page, the hiking checklist and hiking regulations to find out how to be prepared for hiking in Saguaro National Park.
Hiking Checklist
Hiking Regulations


Monthly Programs
We offer a wide variety of programs in both districts of the park-view them for the current month below;
RMD-East
TMD-West
Holiday Caravan
Join us for a 1 hour and 45 minute drive around the loop, stopping at four locations and including a 1/4 mile walk in candlelight. Your guide will discuss the history of the holidays, and many aspects of the park as well. This event will be on December 27th, and there will be a group leaving every half hour from 5:00PM until 8:30PM. Reservations are required, so call 520-733-5153 to save a spot.