Petroglyphs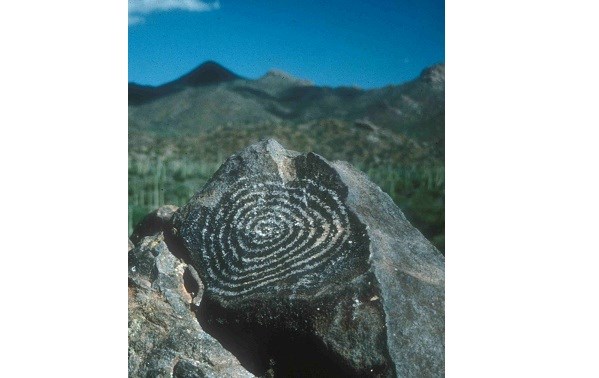 Petroglyphs in the Park
Rock art, in the form of etched petroglyphs and painted pictographs, can be found in rocky areas throughout the southwestern United States, including Saguaro National Park.

­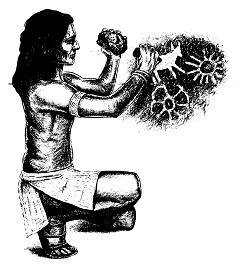 Most southwestern rock art pre-dates modern written history and had it's origins hundreds, perhaps thousands, of years ago, created by the people of this region. Most of the rock art found in Saguaro National Park was created by the prehistoric Hohokam and is in the form of petroglyphs. These are created by etching, pecking or scraping designs into the dark patina found on the surface of sandstone and other rocks.
Both representational and abstract designs can be seen in Hohokam petroglyphs. Representational images are often animals, humans and astrological objects.

Abstract designs take many forms, including spirals and squiggly lines.

What Does it Mean?

Did rock art serve a purpose? Was it communication or decoration? We can only guess at the intended meaning of the artist. We may look at rock as a reflection of Hohokam culture. Some possible purposes of rock art include: hunting, fertility or spiritual symbols; boundary markers or landmarks; records of important events; clan symbols; and solstice and calendar markers.
Where Can I see Petroglyphs in Saguaro National Park?
Petroglyphs can easily be seen by walking the Signal Hill Trail in the Tucson Mountain District (West). Starting from the Signal Hill Picnic Area, the trail gently climbs to a hill covered with dozens of 800-year-old petroglyphs.
Help Preserve Our Petroglyphs!
Oils from your hands can actually damage the petroglyphs. We invite you to take lots of photographs, but please don't leave any fingerprints.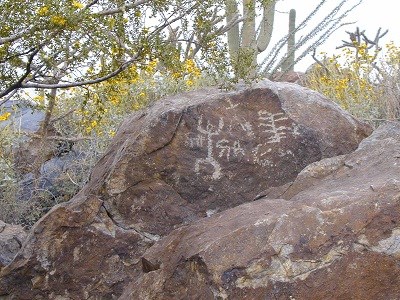 ­
Last updated: April 10, 2015