Camping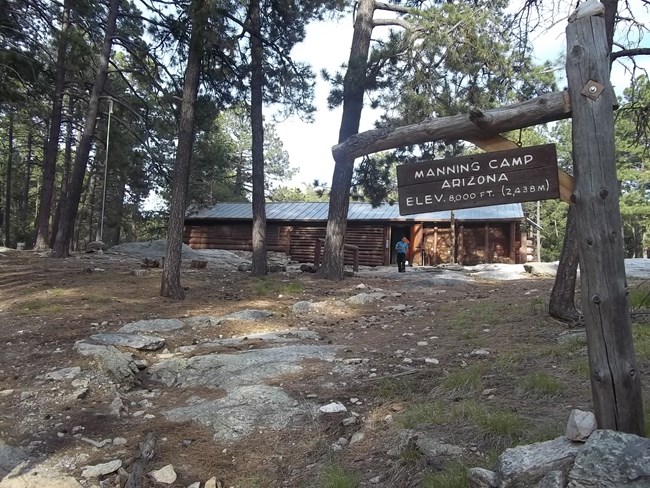 From cactus-covered desert to pine-cloaked mountain heights, the Saguaro Wilderness Area in the Rincon Mountains protects the last roadless 'sky island' mountain range in Southern Arizona. Designated by Congress in 1976 – along with lands in the Tucson Mountains – this Wilderness Area provides another layer of protection to your Saguaro National Park. Together with the adjacent Rincon Mountain Wilderness on the Coronado National Forest, the protected wild acreage totals nearly 100,000 acres within sight of the sprawling city of Tucson. Solitude awaits you on these cool, forested slopes.
Learn more and see a map of the Saguaro Wilderness Area.
Know Before You Go
There are no accommodations for any vehicle camping (including RV).
Campfires are prohibited at Douglas Spring and Grass Shack camps. Use only dead and downed wood and be sure fires are cold and dead before leaving.
Carry at least one gallon of water per person per day – more in low country in summer. Treat all surface water. Water is scarce at all times at most campsites. Before you go, contact the Visitor Center to ask about water reports.
Respect the weather in all seasons; it can change without warning. The high country will be far different from the low! Be informed on desert seasons.
Do not cross flooded streams. Wait until the flow subsides.
Be cautious of wildlife. Know what to do if you encounter bees, bears, or mountain lions.
Wear appropriate clothing (in layers) and footwear. Pace yourself according to your physical condition.
Cellular phones work in much of the wilderness; if not, try a high point with a view toward Tucson (west) or Benson (east).
Do not leave valuables in vehicles, lock securely.
Camping is allowed in designated campgrounds only. Do not deviate from your itinerary.
Camping is allowed at 6 designated campgrounds within the Saguaro Wilderness Area. These camp sites are not accessible by vehicles and must be hiked to.
The fee for this permit is $8 per campsite, per night. The maximum number of people allowed per campsite is 6, with the maximum size of any one group of 18 people.
| | | | |
| --- | --- | --- | --- |
| Camp Site | Number of Sites | Campground Elevation | Distance from Nearest Trailhead |
| Manning Camp | 6 | 7,920 feet | 7.5 mi (Turkey Creek) |
| Spud Rock Spring | 3 | 7,400 feet | 5.3 mi (Turkey Creek) |
| Happy Valley Saddle | 3 | 6,200 feet | 4.1 mi (Miller Creek) |
| Juniper Basin | 3 | 6,000 feet | 6.9 mi (Tanque Verde Ridge) |
| Grass Shack | 3 | 5,200 feet | 10 mi (Loma Alta/ Hope Camp) |
| Douglas Spring | 3 | 4,800 feet | 6.3 mi (Douglas Spring) |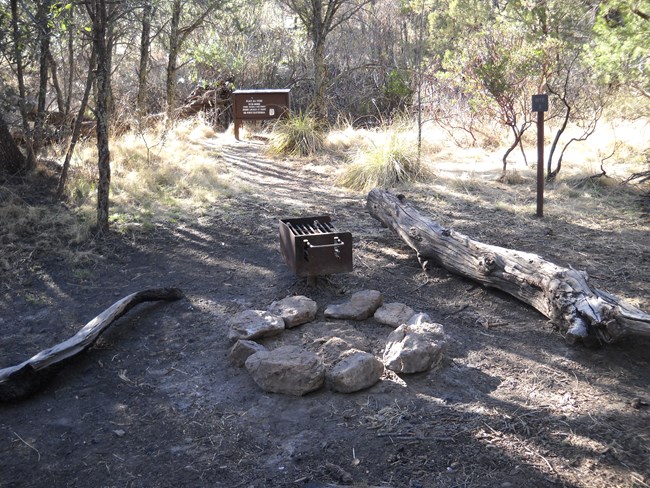 Juniper Basin
This campground is a strong day hike up the Tanque Verde Ridge over 6.9 miles and 3000 feet of elevation gain. Exceptional views can be seen throughout the hike, and habitats change quickly from desert scrub to oak savanna and pine / juniper woodlands. Water here is very seasonal, and often dry during the spring and fall. Fires are allowed here only from collecting dead and downed wood.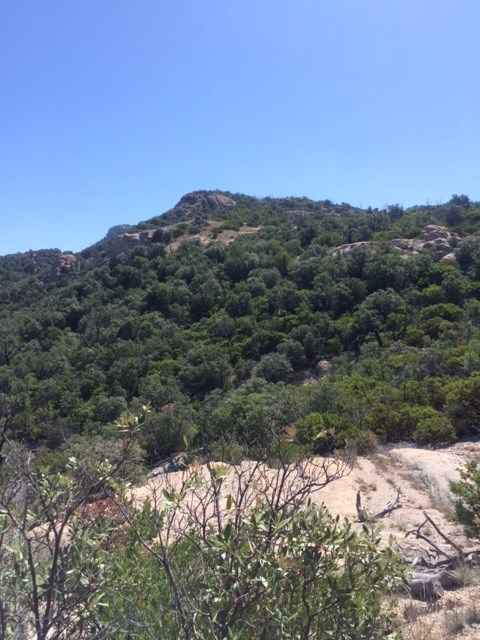 Douglas Spring
The closest access point to this campground is from the Douglas Spring trailhead. From there, it is a 6.5 mile hike with approximately 1800 feet of elevation gain. There are plenty of cottonwoods and oaks in the area that provide some shade in the hotter months. This is the lowest campground and as such is ideal during winter storms that blanket the higher elevations with feet of snow.

The hike up offers beautiful views down toward Tanque Verde Falls and of multiple drainages including Tina Larga tank. There is a drainage about 50 feet east of the campsite, but water is seasonal, so it is smart to check water reports before heading out. Fires are not allowed here as a lack of firewood and extremely fire prone grasslands occupy the area.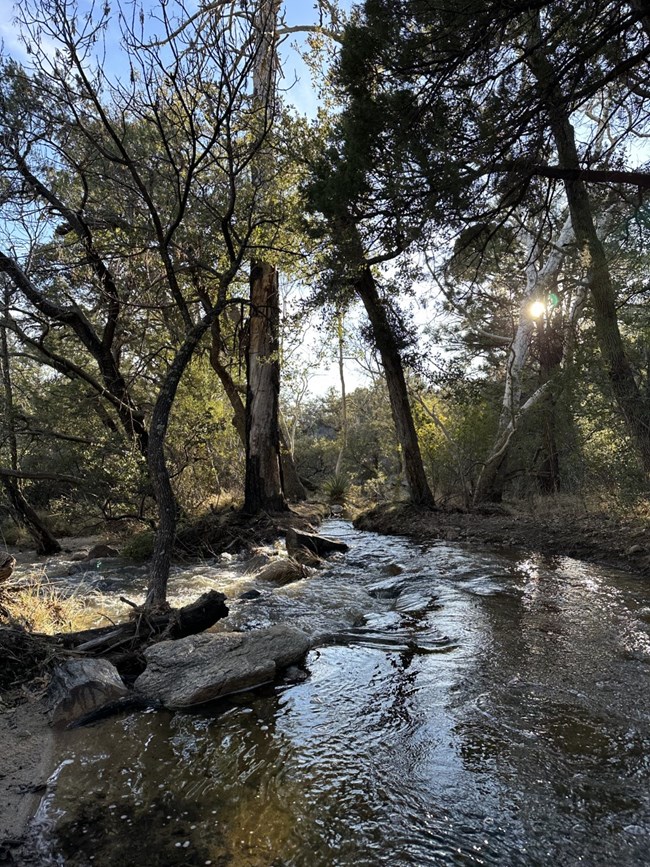 Grass Shack
Grass Shack is a great campground that offers shade from large sycamores as well as other riparian species. Two of the larger streams in the Rincon mountains (Chimenea Creek and Madrona Creek) run through and by the campground, providing water most of the year. Fires are not allowed here as this campground is in a fragile, riparian ecosystem surrounded by a thick grassland.

The easiest access to Grass Shack is from the Camino Loma Alta trailhead, and this 10-mile hike climbs 2200 feet to the campground, which is often not affected by winter storms. Views are exceptional to the south as you climb through and above the saguaros. This is one of the areas in the backcountry that does not have consistent cell service, so please plan accordingly. If you need to make contact, climb 0.5 - 1 mile in either direction of the campsite. This is the first of two campgrounds on the Arizona Trail.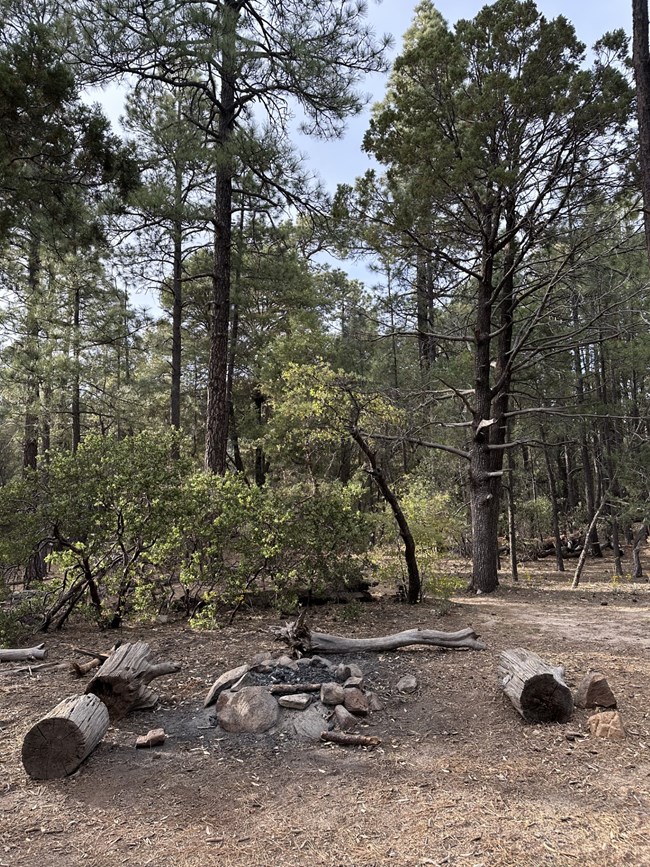 Happy Valley
Around the back side of the Rincon Mountains is Happy Valley Road and access to the Miller Creek trailhead and Turkey Creek trailhead. Take exit 297 from Interstate-10 (Mescal Road). Be advised this is a rarely maintained dirt road that has multiple stream crossings. During wet winters and the monsoon season, this road may be impassable.

This is the shortest hike to a campground, covering 3.9 miles and over 2000 feet of elevation gain. Water at this campsite is variable, only occurring during wet times. This campground offers a resting point to climbing Rincon Peak, and sits at an elevation of 6200 feet. There are many dangerous dead pine trees in the area, and this area is often affected by winter storms. However, during the summer, the trailhead elevation is much higher and offers excellent views to the east.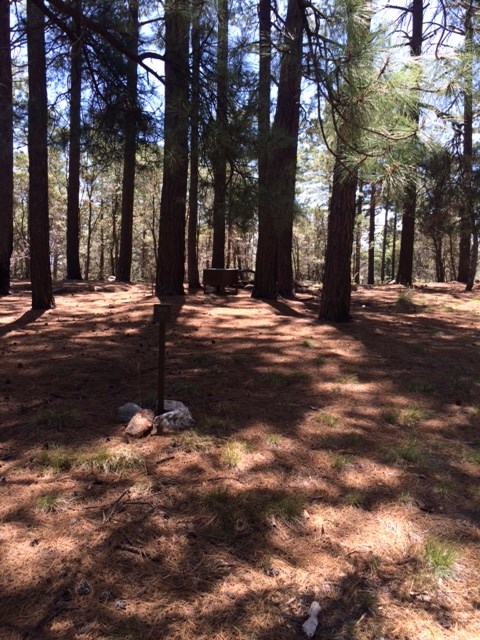 Spud Rock
Spud Rock is the most isolated of our six campgrounds, sitting on the east side of the range at 7200 feet. Access is generally from the east, but Turkey Creek trailhead is very difficult to drive and requires a lifted truck or a jeep. At the very least, you will need a vehicle with four-wheel drive. Also, make sure to check the conditions of the road before heading out as it can become muddy and treacherous after some rain.

From the campsite, views to the east are exceptional, and water is available at multiple areas along the trail during wetter months. During the winter, this area is often under feet of snow. Please call before heading out for information on current conditions. However, this area offers exceptional cover under pines and aspens and much lower temperatures to beat the summer heat. Water is available seasonally, but Manning Camp is not far away and offers year-round water (most years).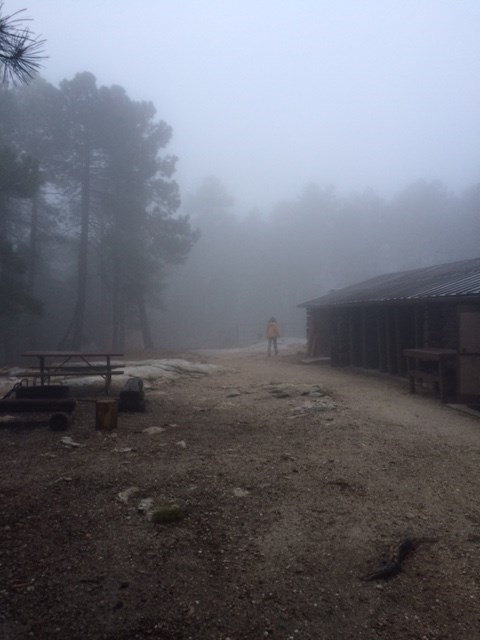 Manning
Built by former Tucson Mayor Levi Manning, this camp was his family's summer home. Now, this camp serves as a high elevation base for many of our fire and natural resource studies. At 8000 feet, Manning Camp exists in a completely different climate from the desert scrub that we experience down at the Visitor Center. There are six campsites here, and the area is mostly shaded by the ponderosa pines, making it a cool escape from the desert sun. This area is a savior from the sweltering heat in the valley below, rarely exceeding 85 degrees. A perennial water source near the cabin has only dried up twice in Saguaro's history, so water is almost always available. A sign leads down to it. Fires are a must at night with fire rings as lows typically are below 40 degrees until late May.

Depending on where you start, the hike up to Manning can be anywhere from 14-18 miles and accumulates 5500-6500 feet of elevation. As you hike up, you will pass through multiple different biomes with spectacular changes in flora and fauna composition, passing through riparian zones and dry cliff alike (not to mention the extraordinary views).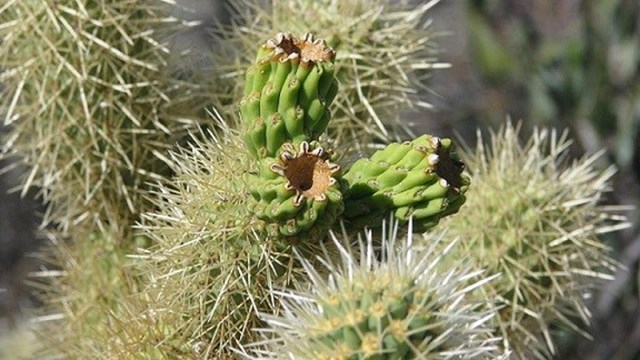 General Hiking Safety Information
Safety information to help ensure you stay safe while having fun in the park, and what to do in sticky situations.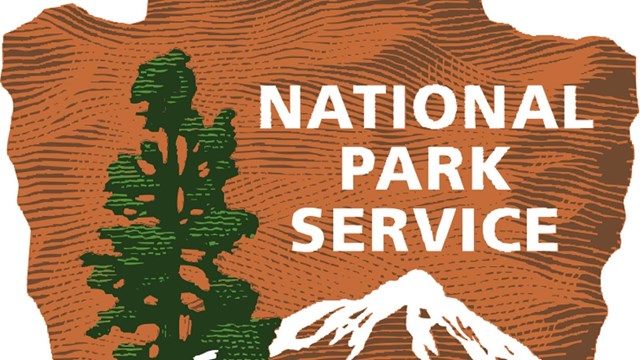 Rules and Regulations
Rules and regulations for Saguaro National park including topics from general hiking, to drone usage and wedding permits.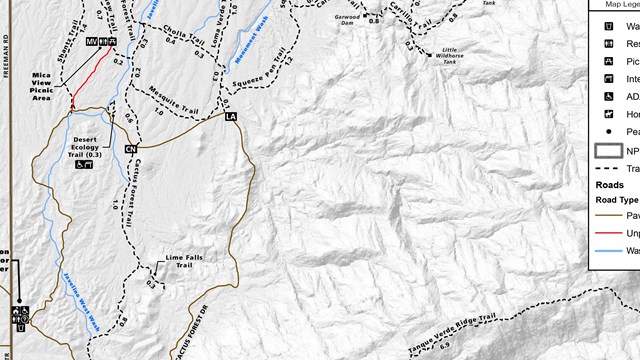 Maps
Our maps help you plan your trip and keep you safe navigating our wilderness.
Leave No Trace
The ethics and techniques of "Leave No Trace" camping were developed by the National Outdoor Leadership School to assist outdoor users in minimizing their impacts on wild places. When camping in the Saguaro Wilderness Area, we ask that you adopt these ethics and techniques to help us protect and preserve this Sonoran Desert treasure.
Principles of Leave No Trace:
1. Plan ahead and prepare.
2. Camp and travel on durable surfaces.
3. Pack it in, pack it out.
4. Properly dispose of what you can't pack out.
5. Leave what you find.
6. Minimize use and impact of fires.
7. Protect and conserve water resources.
Last updated: August 29, 2023