What Actions Are Being Taken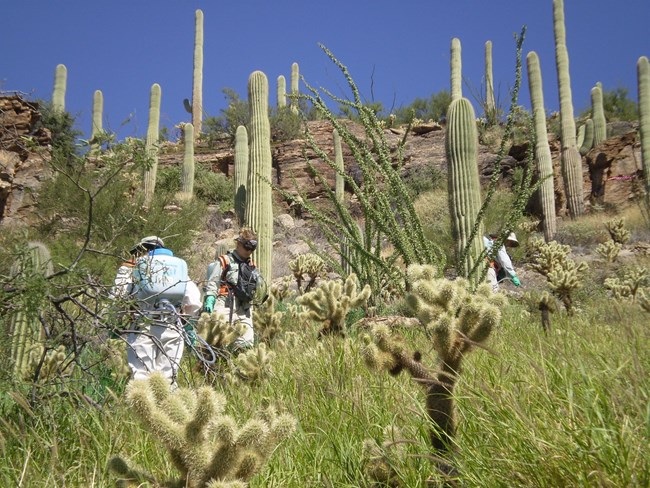 From our successes, we have proven that buffelgrass can be controlled and native plant communities will recover, provided that the infestations are removed in a consistent and timely manner.
Management of buffelgrass includes mapping it, manual and chemical control, monitoring results, prevention of new infestations, continually adapting our management strategies and conducting research to answer important questions. Preventing buffelgrass from establishing in new locations within the park is a challenge because seeds can be dispersed by wind and therefore travel long distances. We work with park neighbors to help reduce the seed sources near the park.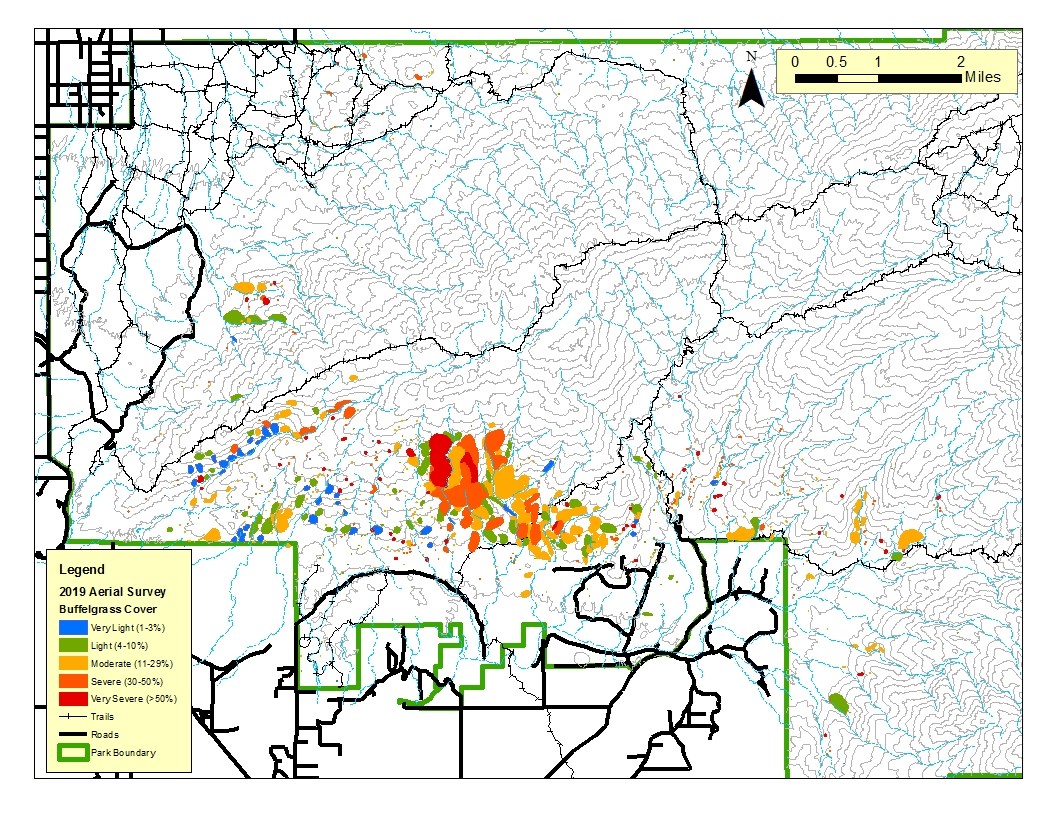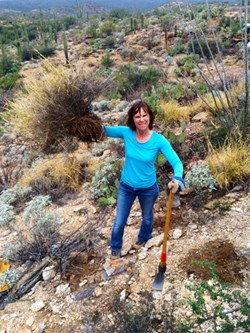 We control buffelgrass either by hand pulling or by spraying the plants with herbicide. Hand pulling can be done year-round. Digging bars, picks, and rock hammers are used to dig and lift the plant out. Park staff and interns do this, and you can
join us and do this too
.
Buffelgrass is only susceptible to herbicide when it is over 50% green and growing, which is usually only a few weeks during the monsoon season and sporadically after winter rains. During this time, well-trained, physically capable crews hike into rugged backcountry terrain to spray buffelgrass with glyphosate-based herbicides. They wear personal protective equipment and carry heavy back pack sprayers.
We also spray dense patches of buffelgrass that are too remote or too hazardous for people to reach on the ground with a helicopter. We use two different methods of aerial treatments against buffelgrass. The first is using a 40-foot boom-sprayer mounted to the bottom of a helicopter. The second method of treatment is with a spot-sprayer.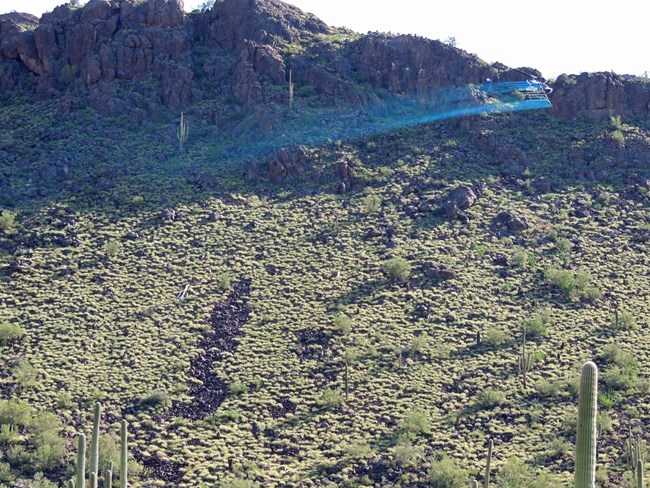 The boom-sprayer is used when treating large, dense patches of buffelgrass. These are areas where buffelgrass is strongly established and has outcompeted most of the native plants. The areas may still have some long-lived plants, such as saguaros and paloverdes, but these native species have a very hard time reproducing. Their seedlings simply cannot compete with the invasive buffelgrass and thus struggle to survive. The boom-spraying method allows us to mitigate this issue by managing these large patches efficiently. After a few years of treatment, we can follow-up with the more precise spot-sprayer or with field crews. As a result, native plant species have shown signs of recovery soon after buffelgrass is killed.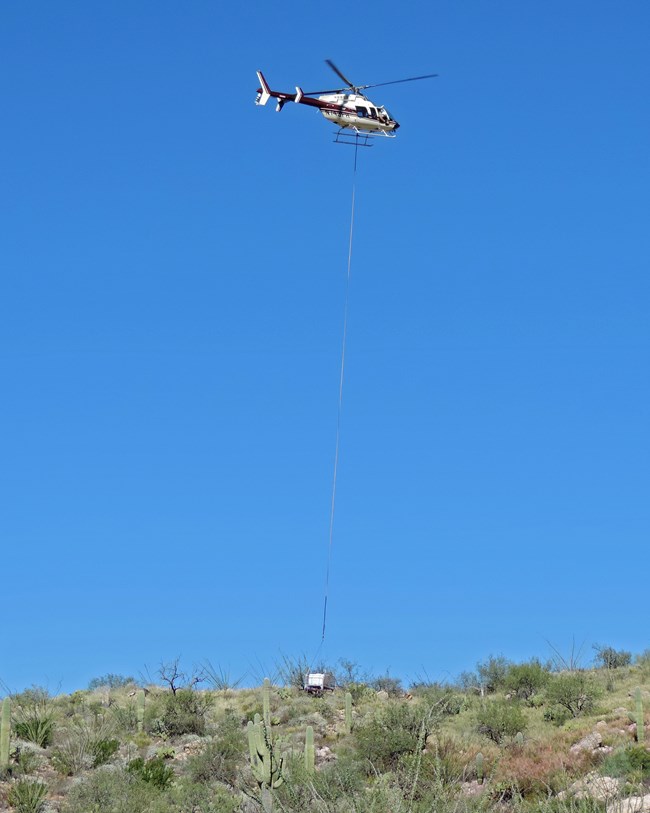 In contrast, the spot-sprayer is a 100-gallon tank suspended from the helicopter with a 100-foot-long cable. This treatment method is a much slower form of spraying but is much more precise. We use the spot-sprayer to clean up areas previously sprayed by the boom, as well as on relatively small patches that field crews cannot access. By treating these small buffelgrass patches
before
they become large, we can prevent damage to the native plant community.
Both methods of buffelgrass control, manual removal and herbicide, are successful. However, repeat visits to the treated areas are necessary because of viable seed in the soil. We have found that it takes at least three years of visits to eliminate buffelgrass from a particular site. We evaluate the success of our control efforts by measuring the change in the amount of buffelgrass coverage, before and after control efforts.
All of these control methods were thoroughly documented, researched, and approved as part of an
Environmental Assessment, which resulted in a Restoration Plan in 2014
. It is by these approved guidelines that the park determines which treatment methods are appropriate in each area where buffelgrass is present.
Last updated: November 2, 2022