Air Quality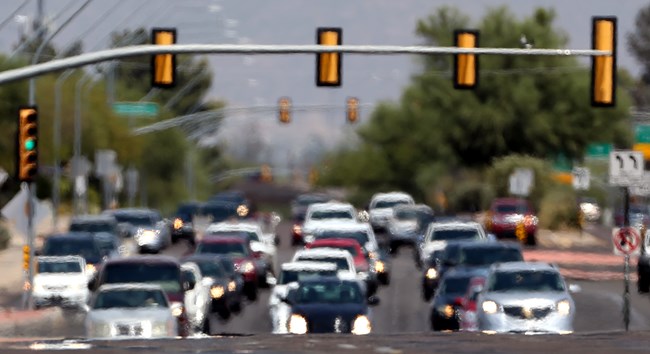 The Science of Air Quality
Tucson is famous for its blue skies and beautiful sunsets, but local factors can create challenges for air quality. Our dry climate creates the desert, and strong winds can stir up dust. The sunny days generate bad, ground level ozone. The mountains that surround Tucson create a basin, trapping pollutants if there is not enough wind to disperse them.

"Smog" is a type of visible air pollution that is a mixture of ozone and airborne particles, mainly resulting from burning fossil fuels for transportation, energy, and other types of combustion.

Ground-level ozone is created when sunlight reacts with volatile organic compounds (such as fumes from gasoline, paints, and solvents) and combustion byproducts. The earth has a natural layer of good ozone high in the atmosphere that helps protect us and plants from the sun's intense radiation.

Air knows no boundaries. At times, we get pollutants from other areas, including vehicle and industrial emissions from Phoenix or southern California.
Impact on Saguaro National Park
Recreation & Health
Air pollution and other air quality issues can impact the recreational experience and health of visitors, park staff, and the surrounding area. The two types of pollutants that affect our health the most are ground level ozone and airborne particles. Other air pollutants include chemicals such as gases from combustion (such as carbon monoxide, sulfur oxides, and nitrogen oxide) and fumes from volatile organic compounds (VOCs).

In 2018, ozone concentrations at Saguaro National Park averaged 70 parts per billion on the worst five days of that year, which is considered "fair" (versus excellent) for human health.

For more information on how air quality can affect human health, please visit the NPS Human Health Webpage and the Ozone Human Health Webpage. Please check air quality levels before hiking!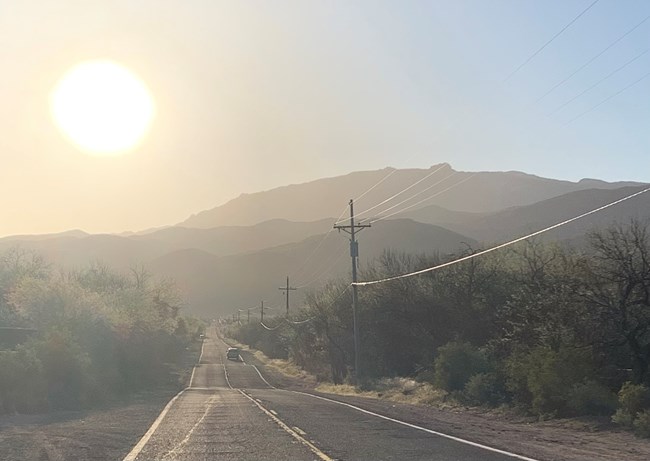 Natural Resources & Ecosystems
Good air quality is essential for the health of our visitors and employees, for clear views of park scenery, and for a healthy natural environment. But, we also know that almost all national parks are affected by air pollution. Under the authority of the Clean Air Act (1970), it is part of the National Park Service's duty to protect resources from deteriorating air quality and from the effects of air pollution and climate change.

Ground level ozone can damage the health of plants, just like it can damage our health.

Air pollution (mostly nitrogen and sulfur) travelling by wind can be deposited in soil or water. Certain ecosystems, such as desert shrublands and high elevation streams, are more sensitive to this type of pollution. Possible effects include changes in water chemistry, as well as soil chemistry, which may favor non-native plants (like buffelgrass).

For more detailed information about the impact of air quality on natural resources at Saguaro National Park, please visit our Air Profile webpage.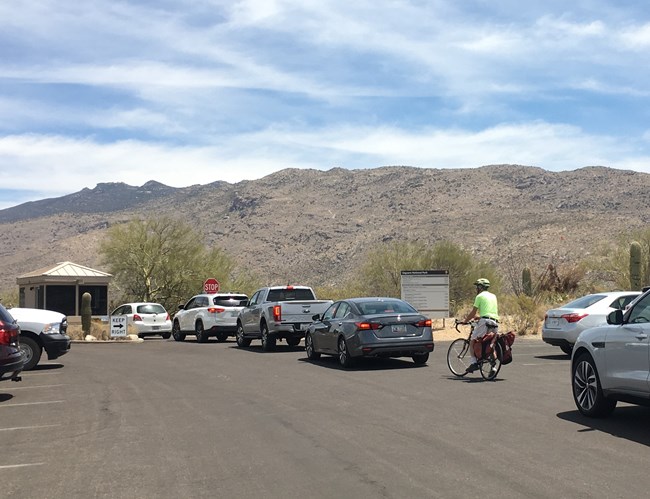 Reduce Air Quality Impacts
Idling Reduction
You can help improve air quality as well as take action to protect yourself on days when air quality is low.

According to the US. Department of Energy, idling is "running a vehicle's engine when the vehicle isn't moving". They suggest that reducing idling can decrease fuel use, minimize engine wear, reduce costs, and reduce pollution and greenhouse gas emissions.

You can reduce emissions by turning off your vehicle when it's not moving, including at the entrance station while paying fees or while waiting to pick up a passenger at the visitor center.

For more information on idling reduction, please visit the US Department of Energy: Clean Cities Coalition Network's Idlebox website.
Poor Air Quality Days
On days where air pollution is a concern, many counties and states ask residents to postpone certain activities that could contribute to worsening air quality, such as driving, burning brush piles, or using fireplaces or grills.

Some suggestions to reduce the amount that you drive include combining errands on one trip, taking public transit, carpooling, walking, biking, or driving a more fuel-efficient vehicle.
Last updated: December 8, 2023