Climate Change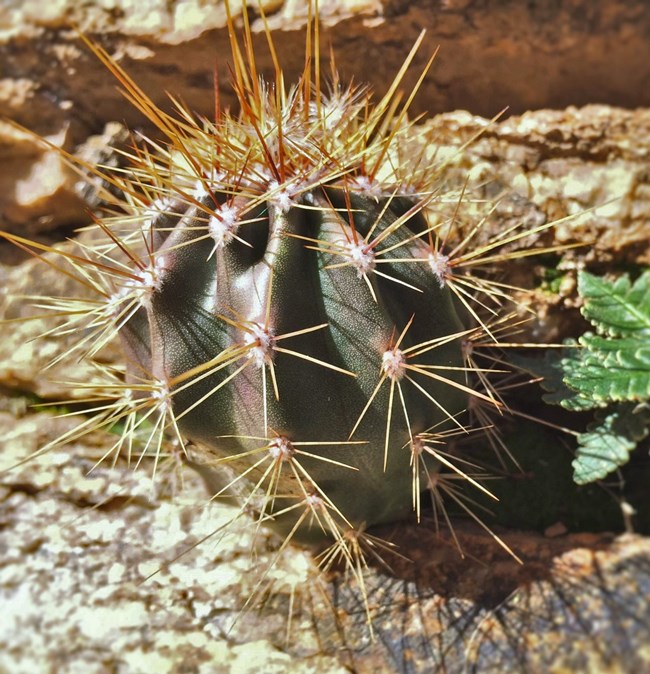 What does climate change mean for the future of Saguaro's ecosystems??
Scientists have monitored Saguaro National Park's climate for years. Studying climate is complicated, and the long-term effects of climate change can be difficult to predict. Current research has shown that some of our most precious resources are being impacted by climate change.

Our environmental patterns are changing and trending toward hotter conditions, with the most dramatic impact being winter low temperatures. Winter minimums (the lowest temperature each year) have risen 10-15 degrees (F) in the last 100 years. When it comes to precipitation, less rain has been falling during the winter, and more rain is occurring during the Monsoon Season. This is significant because the soil dries out much more quickly during the summer (via evaporation) and winter rains are so important to the plant life and hydrogeology of the park as well (movement of water). Additionally, the past 30-40 years has seen increasing fall precipitation from an increase in tropical moisture from the Eastern Pacific Ocean. As precipitation seasons and amounts change, this alters plant and animal composition and their available habitat. Protecting what makes our park special is important, and is becoming more challenging than ever before.
The Saguaro Cactus
This
iconic plant
needs very specific conditions in order to reproduce and replenish its population. The number of young saguaros surviving in the park has been low since the mid-1990s due to drought. Highly variable or extreme weather makes it difficult for the saguaro to thrive.

Wildland Fire
Climate change is causing increasingly warmer and drier conditions throughout the southwestern US, leading to more frequent and more destructive fires. These intense fires are worsened by factors such as the spread of invasive plants, like buffelgrass. The lower Sonoran desert (below 3,000 feet) has not evolved with fire and does not have the adaptations required to survive a wildland fire. However, fire is a natural component at Saguaro and in the Madrean Sky Islands as a whole in the elevation range of 3,500-4,000 feet. At this height, saguaros grow on southern slopes and they can be very severly damaged and often die from fire events.

Fire is very important at these middle semi-grassland elevations, preventing the complete dominance of woody species like the velvet mesquite. More drought induced by climate change means deep-rooted species like the mesquite have an advantage over shallow rooted species (access to water). In order to maintain biodiversity and heterogenous landscapes, which different species of animals/ insects require, fire is an excellent control. However, unnaturally intense fires are caused by the previously mentioned invasive grasses, creating extensive erosion issues and filling our waterways with sediment.
Water



Plants, wildlife, and campers all depend on water in the desert for survival. As our natural springs do not produce as much water as they used to, finding reliable water sources is becoming increasingly difficult for back-country campers. However, recent research has indicated our ecosystems are recovering after fires during the 1990's, with semi-grassland ecosystems returning. This means that water will enter the soil more easily, and hopefully replenish these springs. With rising temperatures, snow is melting faster and earlier in the year, leading to longer dry periods for our springs and streams. Streams fed by rainfall are also evaporating faster because of warmer, drier conditions brought on by climate change.
What's Next?
Climate change could cause more dramatic changes to the park over time, especially if we allow this global problem to go unchecked. Hotter, more prolonged drought conditions could alter the distribution and survival of our native plant communities. Plant communities, and the life they support, may need to shift to higher elevations with milder conditions to survive. As this happens, more drought tolerant species will enter and change the landscape of the desert floor. We have already seen species such as brittlebush (Encelia farinosa) dominate up to 3,600 feet in the eastern district of the park. This is a stark contrast to the early 1900's when it was too cold for this species to exist. This phenomenon could cause our beautiful forests of pines, firs, and aspens in the high elevations to disappear from the park. Learn more about impacts on vegetation in the Southwest.

New Problems, New Solutions
Scientists continue to monitor climate in Saguaro National Park and analyze historic data compared to recent data to predict how park resources might react to different conditions. The goal is to understand the possibilities so that we can prepare. Tracking changing vegetation composition and associated animal life based upon changing rainy seasons and rising temperatures is abolutely critical to determining management objectives and direction.

Park managers continue to preserve the park's biodiversity, natural processes, and cultural history for visitors to enjoy. As climate change unfolds, the park will share stories of how nature and people adapt to our changing environment.
Do Your Part
A big problem can be resolved with small actions. Together we can create a big solution. Park managers strive to reduce the park's carbon footprint. We can all do this with more sustainable practices. Whether you're
at home
or
at the park
, doing small things can make an impact and generate real change.
Last updated: February 17, 2021