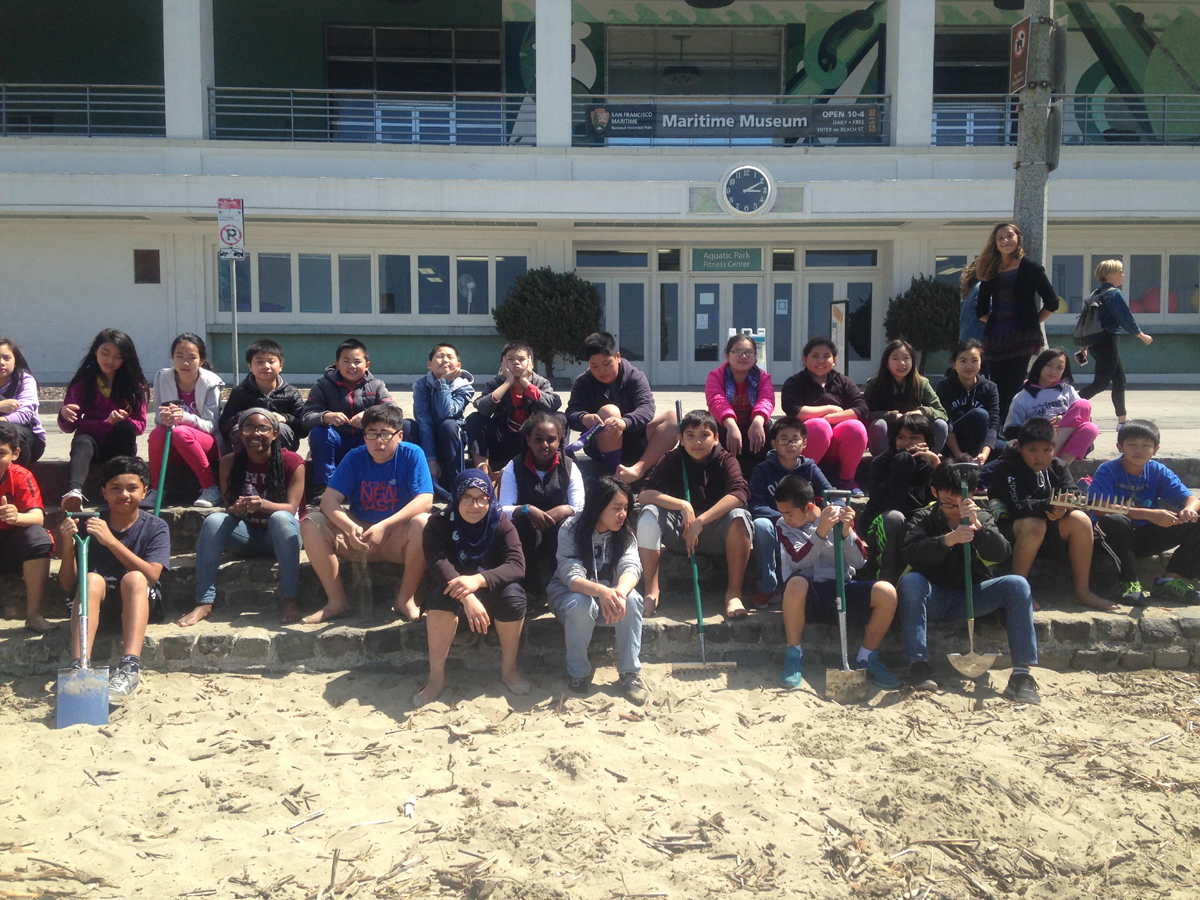 News Release Date:
May 11, 2018
Contact: Lynn Cullivan, 415-561-7006
San Francisco, CA — Each year, The George and Helen Hartzog Awards for Outstanding Volunteer Service recognize the exemplary contributions of these very important people. In 2017, the honors for "Outstanding Volunteer Service, Youth Group Award" went to Sharks Director David McGuire and the Aquatic Park Stewards Program with Francisco School for their exceptional service to increase local awareness about the impact that marine debris has on San Francisco Bay, and oceans worldwide.
Since 2016, the Francisco Middle School's eighth grade team, led by teacher Michael Guenza, has brought more than 650 youth into San Francisco Maritime National Historical Park, and lessened the human impact on the environment through their community service. In fact, the debris they collected, which included over 35,000 cigarette butts, inspired the short film, "
Hang Onto Your Butts
!"
Congratulations to David McGuire, Michael Guenza, and the eighth grade students at Francisco Middle School for their 2017 George and Helen Hartzog Award. Thank you for your service!
For more information about the Park's other Volunteer and Intern programs, please contact Volunteer Manager Terry Dorman (415-561-7160,
e-mail us
) or Docent Coordinator Lou Salas Sian (415-964-8698,
e-mail us
).
Located at the west end of Fisherman's Wharf, San Francisco Maritime National Historical Park includes a fleet of historic ships, Visitor Center, Maritime Museum, Maritime Research Center, 
and the Aquatic Park Historic District. For more information, please call 415-447-5000 or visit nps.gov/safr, Twitter @SFMaritimeNPS, and Facebook @SanFranciscoMaritimeNHP. The Park offers assisted listening services on request. Sign Language interpreter services need to be requested at least five days in advance. Contact Accessibility Coordinator/Chief of Interpretation for more information at 415-859-6797, or safr_accessibility@nps.gov.