Frequently Asked Questions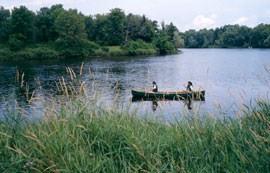 Q.What is there to do and see here?
A. Our emphasis is to get people out to experience the resources of the St. Croix Riverway. With that goal in mind we often suggest the following activities:
Outfitters are listed on the web site for canoeing, boating, fishing and hunting. These private companies can help you have a successful visit or you can bring your own boat or canoe. Look at maps for where you can launch a boat or a canoe.

Dalles of the St. Croix is one of the feature attractions along the river. It features hiking trails around the potholes and along the river as part of two state parks, Minnesota and Wisconsin Interstate.

Information on some of the nearby tourist attractions is available at

Things To Know Before You Come

and

Nearby Attractions
Q. Where can one eat?
A.Most of the communities along the Riverway and some of the roads connecting them have restaurants from fast food to sit down. The larger the town, the larger the selection.

Q.Are there any trails in the area?
A.Our website contains trail information regarding bicycle, horse, hiking and snowmobile trails. Brochures are available for many of the trails at visitor centers or the hiking brochure.

Q. Where are the fish biting?
A.Trout are usually found in the upper part of the St. Croix and the Namekagon. The St. Croix is known for its Smallmouth bass fishing. For more information visit fishing under Things to Do. A license is required. Where the St. Croix River is the Minnesota/Wisconsin state boundary, either state license is valid. Anglers may fish from the river or either shoreline.
Q.How do we get to the St. Croix Falls? A.The falls such as they were, came to an end when the hydroelectric dam was completed in 1906. The falls at St. Croix Falls and Taylor Falls were a series of cascading rapids that went upstream 4-5 miles. They blocked navigation and provided water power. The town of Osceola, WI still has a waterfall that can be viewed from Main Street. It is called Cascade Falls.

Q.Where is there to camp?
A.The majority of our campsites are river accessible only. There are some campsites that you can drive to, but you must walk in to the campsites. These are primitive campsites that can not be reserved. There are State Parks, State Forests, County Parks, and Private campgrounds that provide drive in accessibility and more amenities.
Q: Can I have a campfire?
A: Open fires at campsites and picnic areas are permitted, but only in steel fire rings or grills provided by the Riverway, or in barbecues and cooking grills brought from home. All restrictions must be observed during fire bans to protect the area from wildfire.
Q: Can I gather firewood?
A: Dead and down wood may be collected for firewood, but we ask that you bring your own firewood whenever possible. Firewood may not be gathered from any island due to concern about erosion.
Q: Can I pick and eat berries?
A: Yes. It is legal to collect berries for personal consumption on site.
Q: Can I collect wildflowers, mussel shells and other Riverway souvenirs?
A: No. It is not legal to disturb mussels or any Riverway plants or animals-including wildflowers and mussel shells. Leave these items in the Riverway for others to enjoy!
Q: What about fireworks?
A: It is illegal to shoot-or even possess-fireworks on the river or adjacent park lands.
Q: Can I operate a vehicle or bicycle off road?
A: No. Off road travel by any mechanical means is prohibited, including ATV and snowmobiles. Snowmobiles are allowed on the frozen river surface of the St. Croix River from the north city limits of Stillwater to the Highway 243 Bridge near Osceola, WI and from upstream of the hydroelectric dam at St. Croix Falls, WI north to the Highway 35 Bridge at Riverside, WI.
Q: Can I use my jet ski or other personal watercraft?
A: No. Personal watercraft are prohibited on the St. Croix River from the north city limits of Stillwater, Minnesota, upstream to the Gordon Dam and along the entire length of the Namekagon River to the Namekagon Dam. Personal watercraft are allowed on the St. Croix River south of Stillwater.


Last updated: April 10, 2015