Hiking
Seven hiking trails are maintained by the National Park Service along the St. Croix and Namekagon rivers. Trails are open year-round and are not groomed during the winter season. Additional Trails exist in the St. Croix Valley at state parks, forest and wildlife areas, county and city public properties.
Safety
Hunting

is permitted in the St. Croix National Scenic Riverway. Wear blaze orange during hunting seasons.

Trail surfaces are uneven and may be steep. Watch your step.

Check for ticks often and know the symptoms of Lyme disease. Wood and deer ticks are common along the Riverway and some carry the bacteria that cause the disease.
Know how to identify poison ivy and avoid contact.
Blastomycosis is a fungal infection that is commonly contracted by dogs and sometimes by humans. Avoid digging in moist soils.
Regulations
Trails are for foot traffic only. No motorized vehicles or bicycles.

Berry and mushroom picking for personal use is permitted.

Flowers and other plants are protected.

Historical artifacts are not to be disturbed.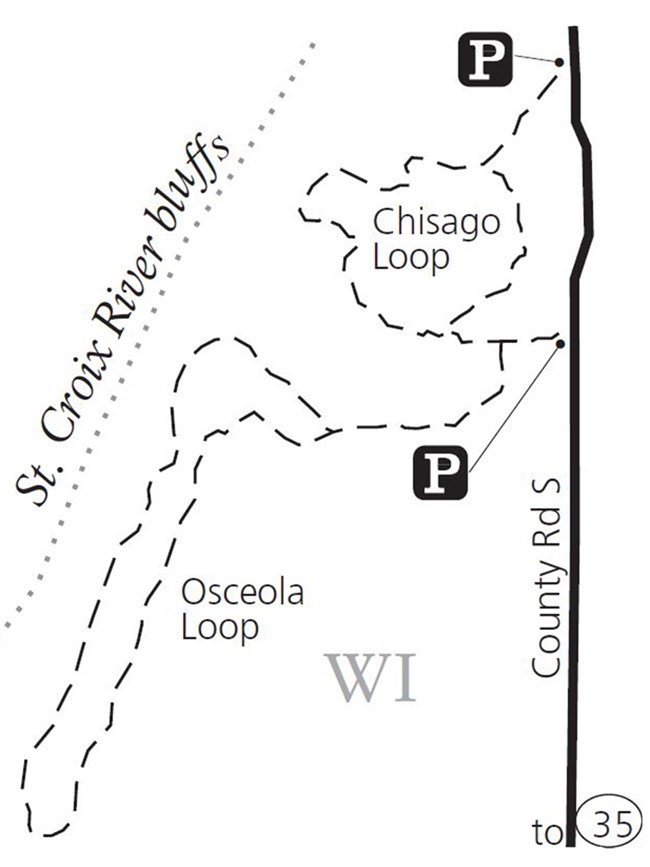 Ridge View Trail
Length: 3 miles, 2 loops
Duration: 1 to 2 hours
Difficulty: easy to moderate
Newest town: Osceola, Wisconsin
Location: 45.348905, -92.682537
Off of County Road S
The Chisage Loop traverses basalt rock outcroppings; the Osceola Loop is more level as you hike through pine and decisuous woods. Vistas of St. Croix River backwaters are visible from the bluff side of the trail.

This trail is a great place to see scarlet tangers, bald eagles, turkey, grouse, and other forest-loving wildlife. Forest plants include marsh marigolds and large maple trees.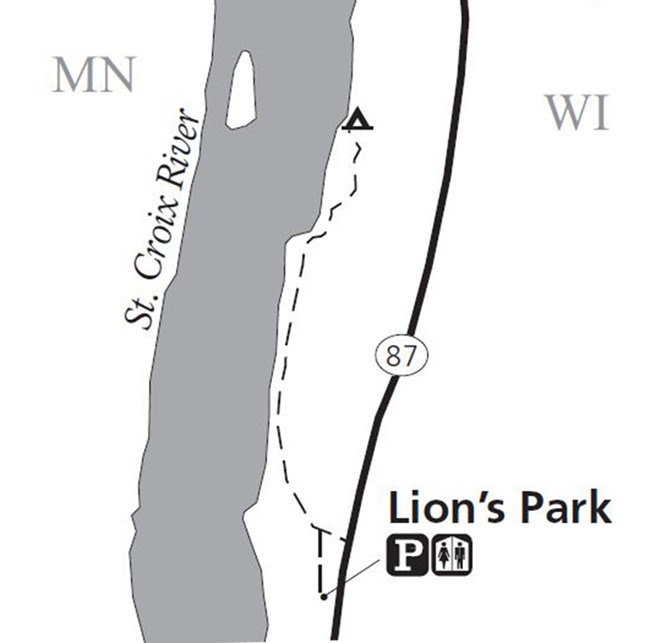 Indianhead Flowage Trail
Length: 3/4 mile one-way
Difficulty: easy
Nearest Town: St. Croix Falls, Wisconsin
Location: 45.429103, -92.645623

This level trail crosses bridged streams as it winds its ways through woods and wetlands to the river. Spring wildflowers create spectacular splashes of color with marsh marigolds, trilliums, blue flag iris, wild geraniums, and more. Summer flowers are subdued by greenery and late-summer raspberries make a nice treat.

This trail is adjacent to Lion's Club Park, a large picnic area, and a boat launch.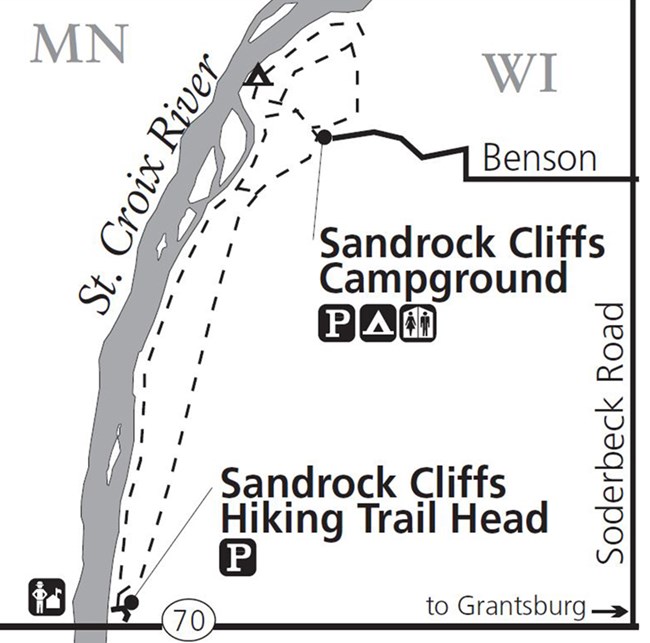 Sandrock Cliffs Trail
Length: 5 miles, 4 loops
Difficulty: easy to moderate depending on the loop
Nearest Town: Grantsburg, Wisconsin
Location: 45.793974, -92.767927
The lower loop of this trail follows the river closely, then turns onto a ridge providing a variety of terrain and scenery. The highlight of the trail system is the sandstone cliffs located in a side channel of the river. The story of this area begins 600 million years ago when warm seas evaporated, laying down what became sandstone. Then, at the end of the last ice age, glaciear meltwater carved this ridge into cliffs.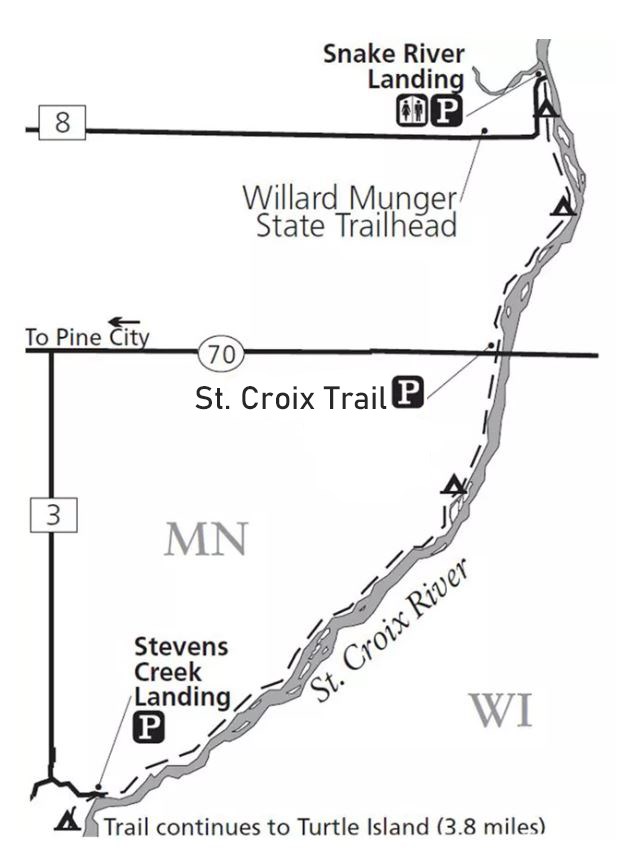 St. Croix Trail
Length: 12 miles one-way
Difficulty: easy
Nearest Town: Pine City, Minnesota
Locations:
Snake River Landing Trailhead: 45.823000, -92.765036
Old Railroad Bridge Landing Trailhead: 45.715865, -92.872676
There are several primitive shoreline campsites available to hikers along this mostly level trail. Small streams frequently cross the trail and spring wildflowers are abundand in the moist streamsides.

Beaver activity is common along the trail. Look for their lodges drooping down the side of the bank. The river is too large for the beaves to dam so they build lodges by digging into the riverbank. Several bald eagle nests are located near the St. Croix. Immature bald eagles are as large as the adults when they take their first flight.

At the norther end of the trail (Snake River Landing), you can hike a half mile along the road to the Willard Munger State Trail. Be prepared for short up and down stretches and stream crossings between Highway 70 and Old Railroad Bridge Landing where bridges have been removed.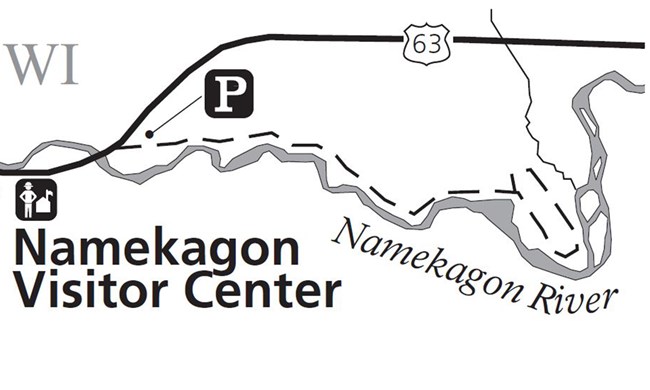 Trego Nature Trail
Length: 2.8 miles round-trip
Difficulty: easy
Nearest Town: Trego, Wisconsin
Location: 45.906445, -91.810747

Walk through a beautiful forest and glimpse breathtaking views of the Namekagon River on this trail. The diversity of life is one of the best features here. Wildlife seen can include deer, fox, otters, wolves, and bobcat.

In winter, this trail is an excellent location for snowshoeing with an abundance of animal tracks and otter slides.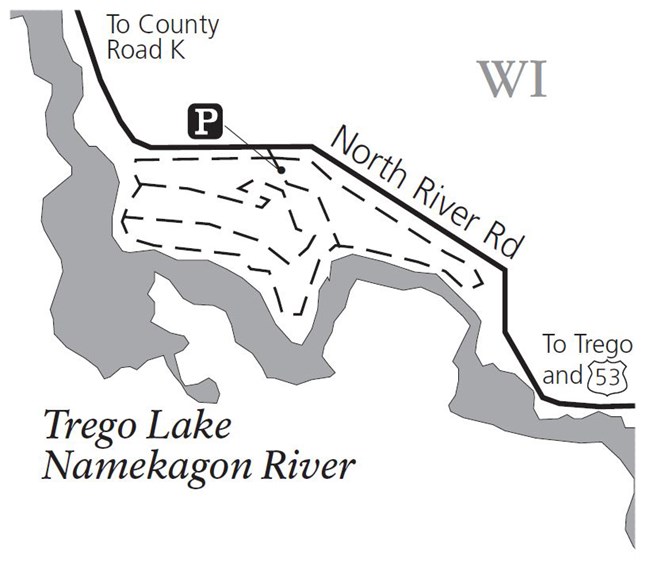 Trego Lake Trail
Length: 3.6 miles, 3 loops
Difficulty: easy to moderate
Nearest Town: Trego, Wisconsin
Location: 45.928110, -91.867798

This trail offers hikers many scenic overlooks of Trego Lake. The area has a large population of white-tailed deer and ruffed grouse. Watch the ground for signs left by these animals.

This trail is not groomed for crosscountry skiing. Hiking and snowshoeing are permitted.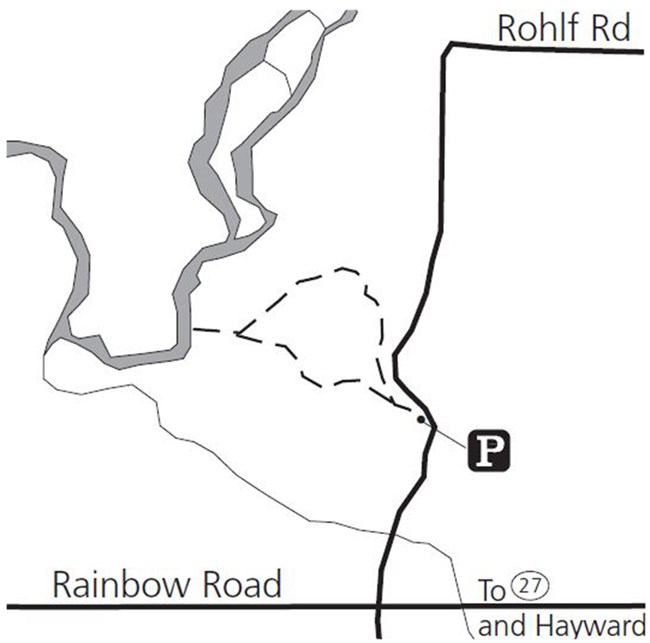 Namekagon-Lac Courte Oreilles Portage Trail
Length: 0.8 mile loop
Difficulty: easy
Nearest Town: Hayward, Wisconsin
Location: 45 56.072′, -91° 29.551′

The trail passes through a second growth forest, which has various fungi, plants, wildflowers, and animals. A boardwalk allows hikers to walk through a wetland without damaging the delicate habitat.

The northwest section of the historic Namekagon-Courte Oreilles Portage Trail was located near the present trail. The original trail was used by American Indians, fur traders, and explorers to connect the St. Croix and Chippewa river systems. In 1784, Michel Cadotte operated a winter fur training post near the trail.

More information
Additional Trails
St. Croix Valley
Minnesota State Parks
Wisconsin State Parks
Forests and Wildlife Areas
National Scenic Trails
Last updated: December 7, 2023