Fishing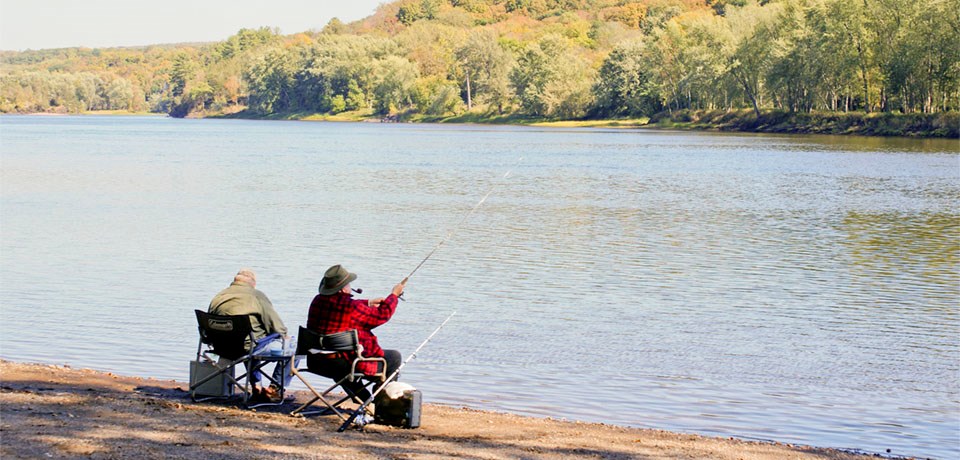 The St. Croix National Scenic Riverway is a great place to fish!
Clean water and a wide variety of underwater habitats make for outstanding fishing opportunities on the St. Croix and Namekagon rivers. On the Namekagon River upstream of Hayward, Wisconsin, the cold water habitat has received national recognition for the naturally reproducing brown and brook trout fisheries.

Areas of the St. Croix River are fast with a rocky bottom. The stretch from Danbury, Wisconsin, down to the Indian Head Flowage north of St. Croix Falls, Wisconsin, is recognized as one of the finest smallmouth bass fisheries in the country. Downstream of Taylors Falls, Minnesota, the river is home to many warmer water species: bass, walleyes, saugers, northern pike, muskellunge, catfish, suckers, sturgeon, carp, and pan fish abound.
Do you know the rules?
Because the St. Croix River is a boundary between Minnesota and Wisconsin for much of its length, anglers need to know where they are fishing to be legal. The state boundary begins approximately 2.5 miles downstream of Riverside Landing. Upstream of this point, the St. Croix flows in Wisconsin. The entire Namekagon River is in Wisconsin.

Minnesota and Wisconsin fishing licenses are good from shoreline to shoreline of border waters.
Residents of Minnesota must possess a Minnesota license to fish border waters.

Residents of Wisconsin must possess a Wisconsin license to fish border waters.

Residents of other states must possess a Minnesota or Wisconsin license.
Anglers must have a copy of the license in possession showing fishing endorsement and dates valid while fishing border waters. Drivers license will not be accepted.

Anglers are responsible for:
obtaining a license,

knowing in which state they are fishing,

understanding Minnesota and/or Wisconsin fishing regulations,

and

following the regulation of the state in which they are fishing

, not the state in which they hold a license.
NOTE: When landing a boat, you will be inspected for catch by the state where you are landing. Please take this into consideration when choosing which boat ramp to use.

This information should only be used as a reference. Please refer to the websites for the Department of Natural Resources for Minnesota and for Wisconsin for the most up-to-date regulations and changes: www.dnr.state.mn.us; www.dnr.state.wi.us.
Do you need the services of a guide?
A number of fishing guides hold permits to operate on the Riverway. The outfitters page lists these guides.

If you plan to eat the fish you catch here, be aware there are consumption guidelines. The Wisconsin DNR Fishing Consumption page offers information specific to the St. Croix River. Search using the online query tool.

Don't let aquatic invasive species hitch a ride.
Your help is needed to keep the Riverway a premier fishing area. Follow all the steps to prevent the spread of aquatic invasive species. Never dump or release live bait into the river. The use of live crayfish for bait is prohibited on the Riverway.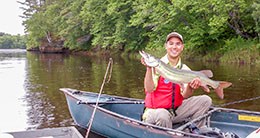 Get the lead out!
Lead tackle can be harmful to wildlife and to people, especially kids. The Minnesota Pollution Control Agency has information about safer alternatives.