Places To Go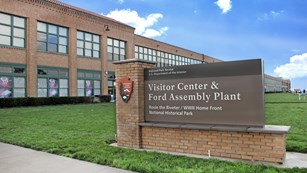 Directions and Maps
Need directions to the Visitor Education Center or other areas of interest from the Home Front?
Rosie the Riveter Visitor Education Center
The Visitor Education Center for the Rosie the Riveter/WWII Home Front National Historical Park is located at 1414 Harbour Way South in Richmond, California. Plan on staying at least one to two hours to enjoy the interactive exhibits and to watch one of several orientation films that are shown in our theater. Rangers and docents are always available to answer any questions. You can pick up a free driving map which will help to guide you to the various locations listed on this page.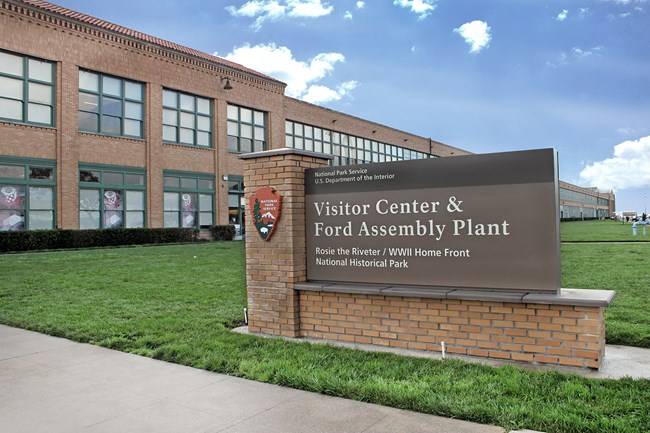 Ford Assembly Plant
The Ford Assembly Plant assembled 49,000 jeeps, but it's "claim to fame" was becoming one of only three tank depots in the entire United States. Every combat vehicle used in WWII was processed by one of these three depots. Here the finishing touches were put on 91,000 tanks, half-tracks, armored cars and other military vehicles destined for combat.This Assembly Plant was one cog in that mobilization of the "Arsenal of Democracy" and a historical part of what is today's industrial culture of the United States.
The City of Richmond has repaired and prepared the Ford Assembly Plant for use. Title to the building has passed to Orton Development and the majority of the building is now leased to various businesses including Craneway Pavilion, Assemble Restaurant and more.
Rosie the Riveter Memorial
Three years before the national park was created, the City of Richmond initiated the Rosie Memorial to celebrate the important aspect of their community's history. The design uses abstracted forms of Liberty ships in sculptures reminiscent of the prefabricated ships assembled by shipyard workers. Meant to draw parallels between the acts of constructing ships and reconstructing memories, the Memorial's form is that of a vessel in the process of being built. Quotes from "Rosies" and a World War II timeline are incised into the granite walkway of the memorial. This memorial is the touchstone of the national park here in Richmond, and is located in Marina Bay Park.
Shipyard No. 3
As you drive to the SS Red Oak Victory, you will see the remaining historic buildings of WWII Shipyard No. 3. These include the cafeteria, first aid station, forge, machine shop, warehouse and paint shop. You will be able to also glimpse the 5 dry docks where the ships were assembled. Henry Kaiser applied mass assembly line techniques to buildings the ships.This production line technique, bringing pre-made parts together and moving them into place with huge cranes and having them welded together by "Rosies" allowed unskilled laborers to do repetitive jobs requiring relatively little training to accomplish. This not only increased the speed of construction but also opened up jobs to women and people of color. Shipyard No. 3 is one of the locations where this concept of new opportunities thrived.
SS Red Oak Victory
The SS Red Oak Victory Ship is the last surviving ship built in the Kaiser Shipyards, and is owned by the non-profit Richmond Museum Association. Today, the Red Oak Victory remains a monument to the men and women who worked in war related industries as part of the World War II Home Front. In 1998, the ship was saved from the Naval Reserve Fleet in Suisun Bay by a courageous group of men and women and has been under restoration since that time. When visiting, take the time to talk to the volunteers on boards the ship. If you are lucky enough to find one who actually served on Merchant Marine vessels during the war, find out what that life was like - ask them how they felt to be on board ships built by women.
Please note: The SS Red Oak Victory ship is now in a different orientation and is not anchored to the dock as depicted in the photo. For more information about hours, please visit: www.redoakvictory.us
Richmond Museum of History
The Richmond Museum of History is a little known jewel and the most significant local history museum in the East Bay. The museum is housed in a Carnegie Library built in 1905 that boasts a permanent exhibit gallery and also the Seaver Gallery, a space for temporary exhibits and special events. The Museum draws from their extensive permanent collection of historically significant objects and documents to stage exhibits and host educational programs for the benefit of the public.
For more information about hours, please visit: http://richmondmuseum.org/richmond-museum-of-history/
More Places to Visit
Some of the following sites are either reservations only, closed to the public, active neighborhoods or only accessible by walking. These sites are significant to the history of the city. Spend some time driving by the following locations to explore more about Richmond's Home Front story! If you have a question about a specific site, you can contact the Visitor Education Center at 510-232-5050 ext. 0.
Maritime Child Development Center
In addition to health care, Henry J. Kaiser provided child care for families working in his four Richmond shipyards during WWII. The child care centers he built with funding provided by the United States
Maritime
Commission incorporated progressive educational programming, and innovative curriculum and services including art classes, well-balanced hot meals, health care, and family counseling.
One of the largest facilities in Richmond was the
Maritime
Child Development Center, opened in 1943. Completely restored and reopened as a multi-use building in 2011, today it houses a small exhibit by the National Park Service of a wartime preschool classroom. On regularly scheduled guided tours, visitors have the opportunity to explore the
vital role of federally funded childcare in bringing women into the WWII work force. Tours are available by appointment as well.
Lucretia Edwards Shoreline Park
Named for a local champion of open spaces, the park commemorates the other San Francisco Bay Area Shipyards. Explore and you will find exhibits that will show you were the other shipyards in the Bay Area are located. This park is a .01 mile walk from the Rosie the Riveter Visitor Education Center.
Historic Kaiser Hospital
More American workers died in Home Front accidents than US soldiers killed on WWII battlefields. This was true up to the invasion of Normandy in June of 1944. Henry J. Kaiser realized that only a healthy work force could meet the deadlines and construction needs of wartime America. He instituted a revolutionary idea, pre-paid medical care of workers, which soon expanded beyond workers. For many workers, this was the first time they had seen a doctor. Today, pre-paid medical care is central to American culture –it is a legacy of the WWII Home Front. The Kaiser Hospital is where many of these medical services originated.
Atchison Village
The opportunities in Richmond lead to an immediate growth in population. This lead to an intense strain on city infrastructure. One of these strains was lack of housing. Workers arriving in these rapidly expanding urban centers were forced to find what they could. In response to the need, government and industry combined to construct communities all over the nation that included housing, schools, fire/police stations, child care facilities and other amenities. Atchison Village was one of them. Today, Atchison Village is a collection of privately owned houses managed by cooperative of the homeowners. While most of the dormitories and other low income house of WWII is gone, Atchison Village, built as permanent housing, remains.
Barbara and Jay Vincent Park
This park sits on a breakwater in front of Marina Bay that was originally constructed for Kaiser Richmond Shipyard No. 2. It is home to a monument that interprets World War II experiences of shipyard workers. Tremendous views of the Ford Assembly Plant and Shipyard No. 3.
Shimada Peace (Friendship) Memorial Park
This park commemorates friendship between the city of Richmond, and its sister city, Shimada in Japan.
Sheridan Observation Point Park
Looking across the channel from Sheridan Observation Point at the foot of Harbour Way South, you can see some of the buildings of Henry J. Kaiser's Richmond Shipyard Number Three.
Last updated: August 18, 2022