Winter Recreation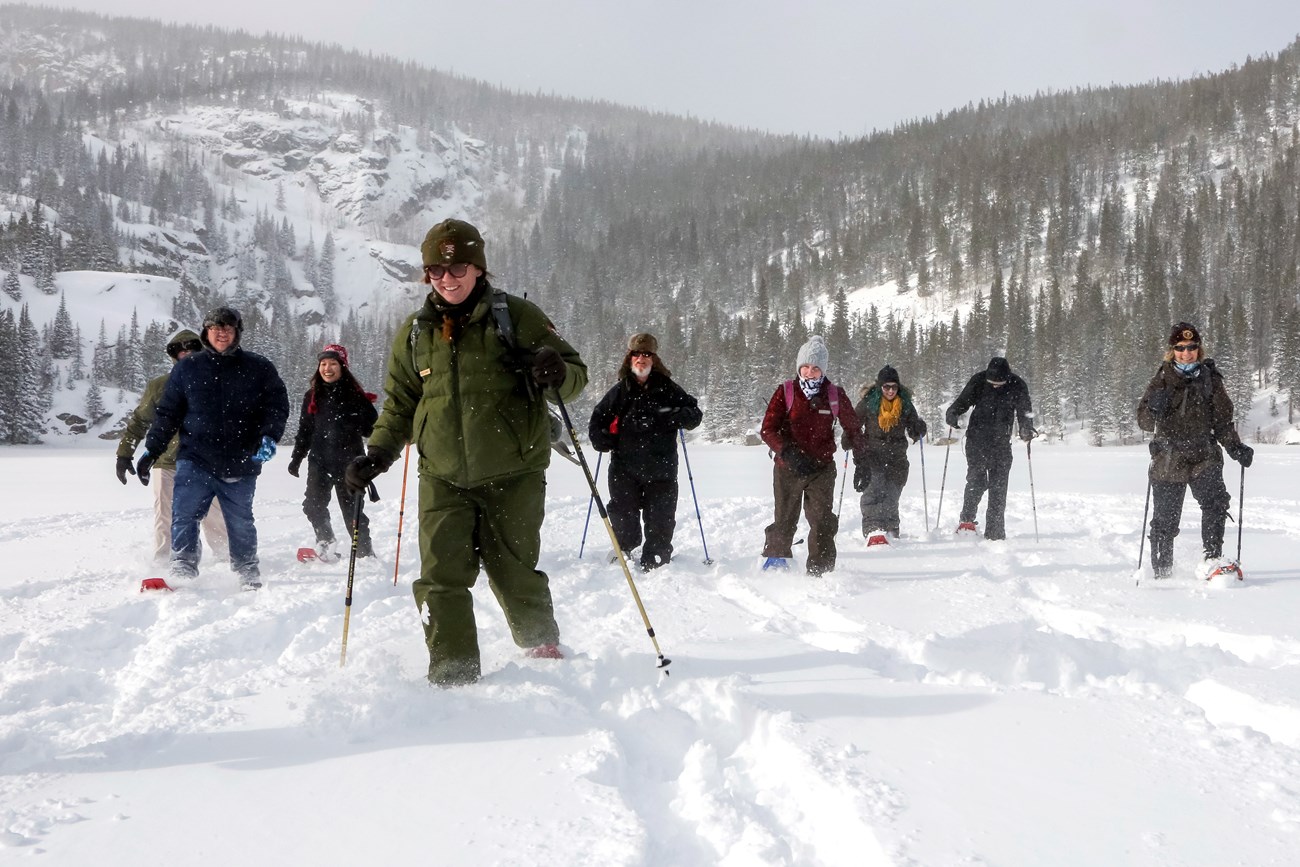 Winter is a spectacular time to visit Rocky Mountain National Park. When the park is covered with a blanket of snow, it is much quieter and places you know during the summer look dramatically different. Many fun winter-time adventures await for all visitors.

Some advance preparation is needed to help make your winter trip enjoyable. Take time to make you both you and your vehicle are ready for winter conditions. Check to make sure your vehicle is ready for winter driving in the mountains.

Please recreate responsibly, before heading out make sure that everyone in your group is ready for a winter trip. Be sure to layer up with insulating, waterproof clothing, wear sunglasses, use sunscreen and carry water.
Avalanche, Snow, and Trail Conditions
Rocky's avalanche risk, snow levels, and trail conditions are always changing. Read the current avalanche forecast, see how much snow is on the ground, and view trail condition reports by following these links.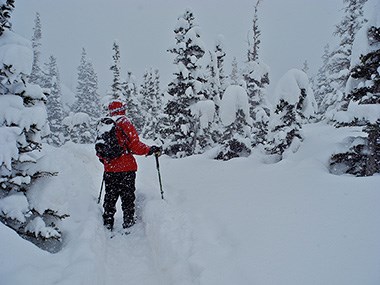 Snowshoeing
Ever thought how fun it would be to hike in the winter, but there's all that snow? Consider snowshoeing! It's as easy as strapping snowshoes on your boots and grabbing a couple of poles. No training is necessary and if you can hike, you can snowshoe. Most park trails can be explored with snowshoes. A few pieces of equipment are essential: you will need a pair of snowshoes and waterproof boots. Poles are helpful for maintaining balance, but optional. Waterproof pants or gaiters help keep you warm and dry.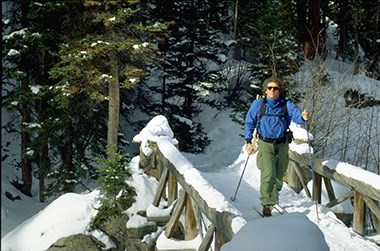 Cross-country Skiing
Picture yourself gliding through a silent forest full of fresh, white snow. Cross-country skiing is a rejuvenating sport that pairs physical exercise with the beauty of nature. You will need skis and poles with large baskets. Waterproof pants or gaiters help keep you warm and dry. In general, terrain and deeper snows on the west side of the park make for better for cross-country skiing, but you are welcome to strap on your skis throughout the park.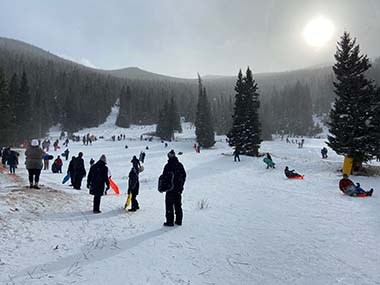 Sledding
Hidden Valley, located 7 miles from the Beaver Meadows Entrance and the Fall River Entrance on the east side of Rocky Mountain National Park, is the one place in the park where sledding is allowed.

No tows are provided, and you must provide your own plastic sled (sleds with metal runners are NOT allowed), saucer, or tube (if you don't bring your own they may be rented in Estes Park at most any outdoor shop).

To go sledding, participants walk their sled/saucer/tube up the hill and slide down. It's a pretty gentle hill, being the bottom of the bunny slope of the former Hidden Valley Ski Area. Skiers, snow boarders, and snowshoers may pass but must use caution around sledders, and slow down to yield the right-of-way.

There is a restroom (flush/running water) located at the bottom of the sledding hill, near the parking lot. Strong winter winds can scour the area, causing conditions to vary. All participatns should be ready for cold and windy conditions.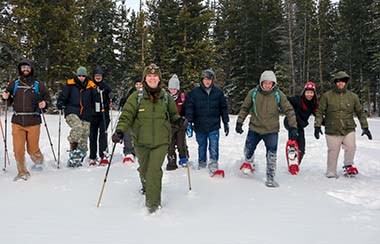 Join a Ranger-led Snowshoe Walk
Interested in snowshoeing with a Ranger? Free Ranger-led Snowshoe Hikes are offered January through March, as conditions allow. Programs are offered on both the East and West Side of the park. These programs are very popular and reservations are required. To learn more, please visit ourSnowshoe Walks page.
What if I don't have my own equipment?
The communities of Estes Park and Grand Lake have shops where winter recreation equipment, including snowshoes, cross-country skis, poles, boots, sleds, tubes, saucers, gaiters, stabilizers can be rented or purchased. For renting equipment in Estes Park see the Visit Estes Park website. For rentals in Grand Lake and the surrounding area, see the Visit Grand County website.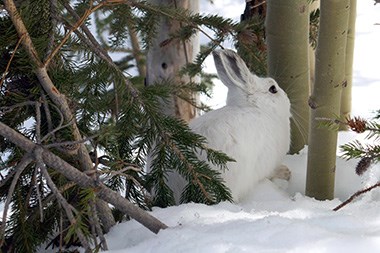 Wildlife Watching
Many park roads are open in winter to provide access to the wintry world park wildlife call home. Winter is an especially good time to look for snowshoe hare, ptarmigan, coyote, elk, and mule deer. Look for moose along the Colorado River on the park's west side. Elk and mule deer are most active at dusk and dawn, and are usually seen in meadow areas. Look for bighorn sheep along the Highway 34/Fall River corridor on the park's east side. Coyotes may be seen any time of day. Members of the Jay family, including Steller's jays, with their striking blue bodies and crested heads, gray jays, Clark's nutcrackers, and the iridescent, long-tailed black-billed magpies are commonly seen in the park.


Last updated: February 14, 2022