Trail Conditions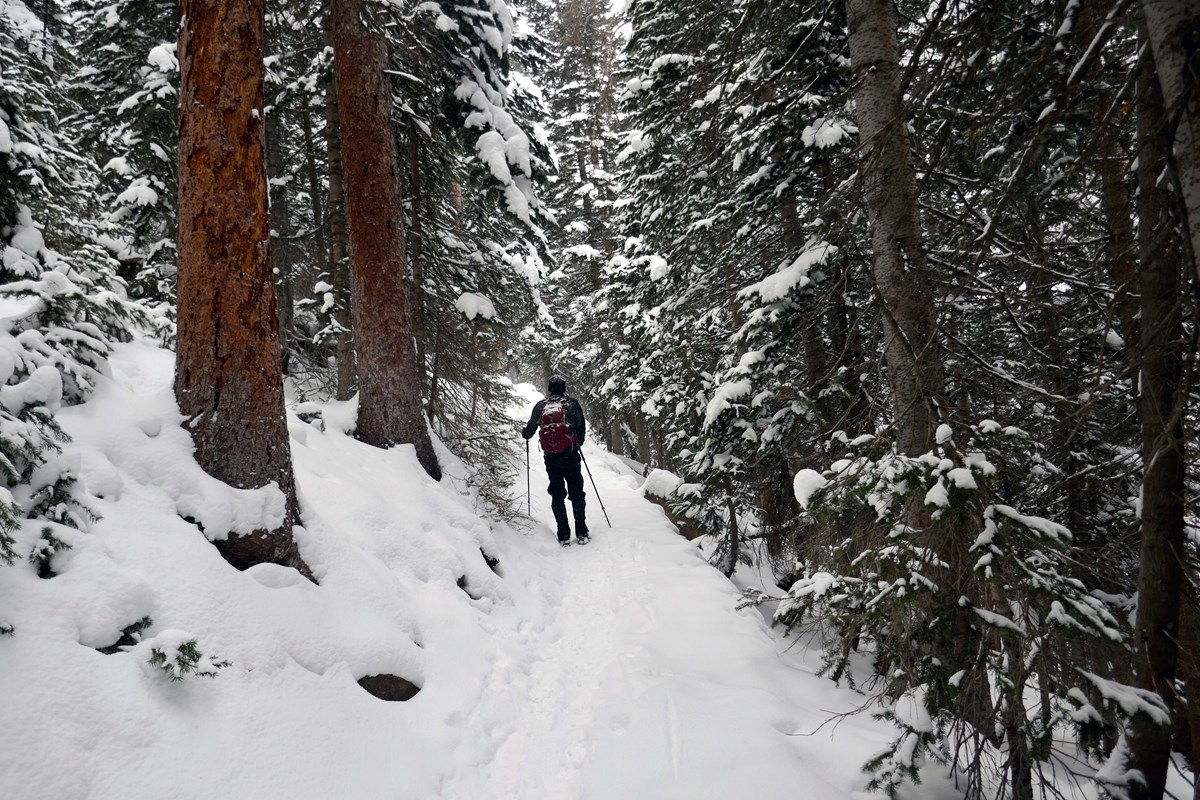 11/29/2018 Lake Haiyaha
It is very difficult and dangerous to go from Dream Lake up on the summer trail. Snow conditions are such that there is quite an exposure on the summer trail. Recommend going to Lake Haiyaha via Mills/Loch Junction (if you can find the trail). Snowshoes would be needed.
By a Volunteer

11/29/2018 Upper Beaver Meadows
You have to park off of Hwy 36 and walk into the trailhead either along the road or on the trail that goes to the left of the meadow. Regular boots are good that far. Restrooms are open. If you go up the Ute Trail for about 2 miles, you may need snowshoes as snow has drifted on the trail. The route around Beaver Mountain is also quite snow covered in places.
By a Volunteer

11/26/2018 Black Lake
Snow and ice the whole way.Traction to Mills Lake, then snowshoes beyond.
By a Visitor

11/25/2018 Storm Pass Trailhead to Glacier Gorge
Good snow coverage all the way. Good for cross-country skiing.
By a Volunteer

11/18/2018 Loch Vale
Microspikes were needed to get to The Loch. Really helpful to have gaitors also, but snowshoes weren't needed. If going past The Loch, snowshoes are a must.
By a Visitor

11/13/2018 East Inlet to Adams Falls
Trail is packed snow and ice. Traction devices are strongly recommended.
By a Ranger
Submit Your Own Trip Report
Send us an email, call (970) 586-1206, or stop by a park visitor center.
For Your Safety
These Trail Conditions reports are the viewpoints of the submitters, whether park staff, volunteers, or visitors. Conditions can change rapidly in the mountains. Use these reports only as guidelines. Be prepared for varying weather and trail conditions.
Falling trees are ever-present hazards when traveling in the forest. Be aware of your surroundings. Dead trees can fall without warning!
Due to the September 2013 Flood, missing foot bridges, uneven trail surfaces, unstable slopes, falling trees due to soil moisture, rutted trails, damaged water bars and steps, standing water, difficult water crossings, and missing directional signs could be encountered. Most of Rocky Mountain National Park is designated wilderness, where self-reliance and adventure are expected. Hikers should be prepared to take responsibility for their own actions; search and rescue may be delayed. Be prepared to stay overnight even if you are a day hiker. Hiking poles may be helpful on uneven trails. Route finding skills may be required. Carry a map and compass and other backcountry travel essentials. Hike at your own risk.
Last updated: November 29, 2018