Trail Conditions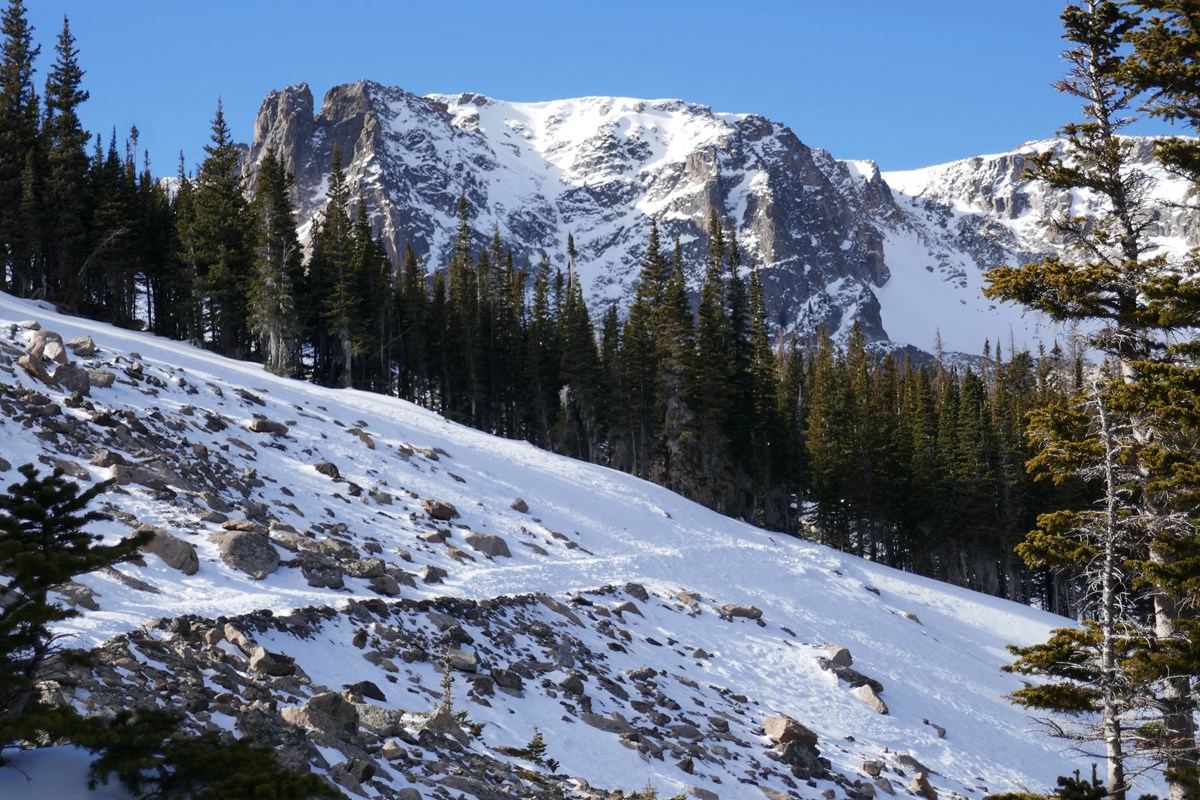 Trail Closures
East Troublesome and Cameron Peak Fire Closures
Some park trails and areas remain closed due to fire impacts. Park staff will continue to assess these areas for safety and downed trees, being mindful of high winds that occur this time of year causing more trees to fall. Learn more here.
Most park trails are icy and snowpacked. Traction devices and poles are recommended. Depending on your destination, and whether there has been recent snowfall, it may be wise to carry snowshoes. Be prepared for windy weather with blowing and drifting snow. Route-finding is important. For additional trail information please call the park's Information Office at (970) 586-1206. Winter hours are 8 a.m. to 4 p.m. Monday through Friday and 8 a.m. to noon on weekends.
Many lakes (for example, Bear Lake and Sprague Lake) may appear frozen but there could be open water at inlets, outlets, and along edges. Ice there may not be firm enough to walk on.
Any Time of Year: Choose Your Destination Wisely.
Always tell someone where you're going, where you will be parked, what your intended route is, when you plan to be back home; and then let them know when you return.
Approximately 30,000 acres or 9 percent of RMNP has been impacted by the East Troublesome and Cameron Peak Fires. Some park trails remain temporarily closed due to the level of fire impacts and ongoing safety assessments.
This website is updated as trails reopen.
Please see the link above
A link to the Longs Peak Conditions Report is above, including information on the Keyhole Route Conditions, plus conditions to hike to Chasm Lake.

REMEMBER, PETS ARE PROHIBITED ON ALL RMNP TRAILS, TUNDRA AND MEADOW AREAS

Submit Your Own Trip Report
Send us an email, call (970) 586-1206, or stop by a park visitor center.
For Your Safety
These Trail Conditions reports are the viewpoints of the submitters, whether park staff, volunteers, or visitors. Conditions can change rapidly in the mountains. Use these reports only as guidelines. Be prepared for varying weather and trail conditions.
Falling trees are ever-present hazards when traveling in the forest. Be aware of your surroundings. Dead trees can fall without warning!
Due to the September 2013 Flood, missing foot bridges, uneven trail surfaces, unstable slopes, falling trees due to soil moisture, rutted trails, damaged water bars and steps, standing water, difficult water crossings, and missing directional signs could be encountered. Most of Rocky Mountain National Park is designated wilderness, where self-reliance and adventure are expected. Hikers should be prepared to take responsibility for their own actions; search and rescue may be delayed. Be prepared to stay overnight even if you are a day hiker. Hiking poles may be helpful on uneven trails. Route finding skills may be required. Carry a map and compass and other backcountry travel essentials. Hike at your own risk.
Last updated: February 10, 2022