Trail Conditions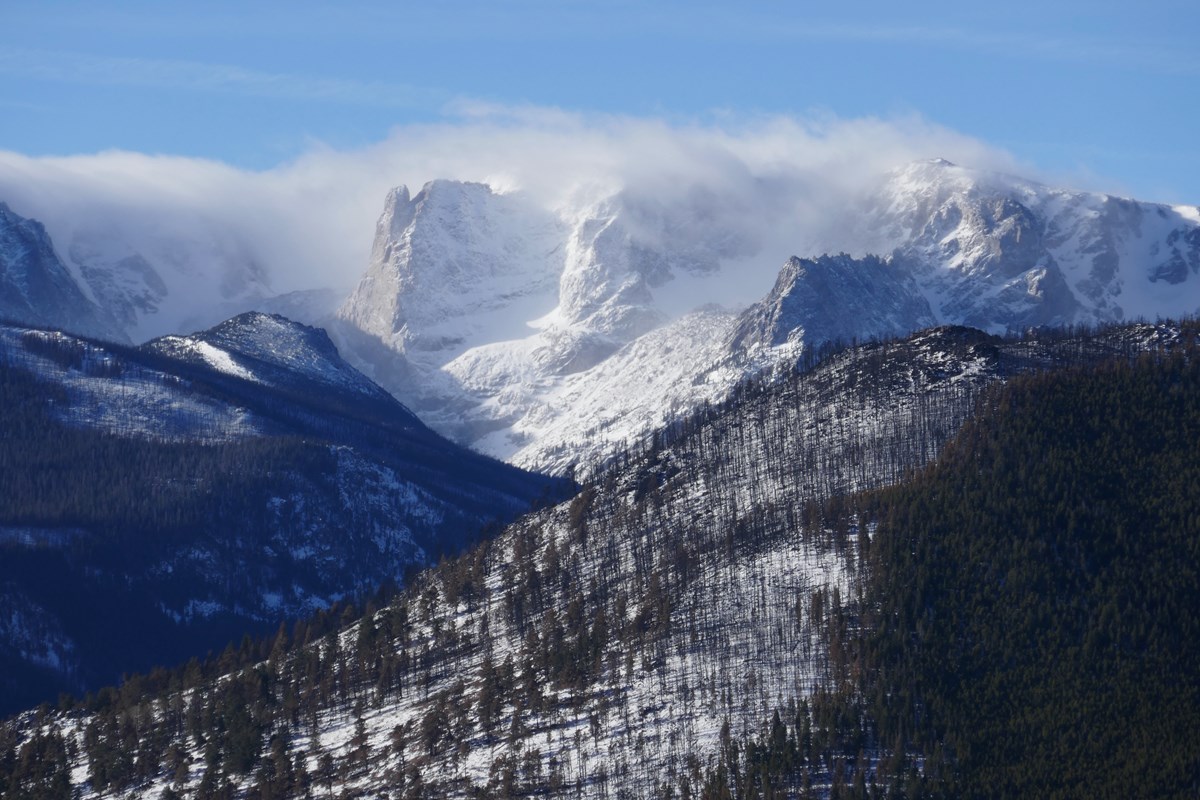 Trail Closures
East Troublesome and Cameron Peak Fire Closures
Many park trails and areas remain closed due to fire impacts. Park staff will continue to assess these areas for fire activity, safety and downed trees, being mindful of high winds that occur this time of year causing more trees to fall. Learn more here.
RMN
P Trail Conditions Report as of January 6, 2021
Any Time of Year: Choose Your Destination Wisely.
Always tell someone where you're going, where you will be parked, what your intended route is, when you plan to be back home; and then let them know when you return.
WINTER REMINDERS
Some areas that are easy adventures in the summer can become more arduous and dangerous with winter conditions. Most trails are snow packed. Traction devices are always useful this time of the year as they make walking enjoyable and safer.
Beware of frozen lakes. Even though a lake may have several inches of ice, the inlets and outlets may have running water that makes for thinner ice. Also beware of edges of lakes where the sun may reflect off rocks/trees and soften the snow. The center of lakes is often the safest place to go but beware of thin ice anywhere at any time of the year. Just because someone else went on the lake does not mean it is safe for you.
Route-finding is important, as RMNP trails are not marked in winter and following other tracks is not advised, as you don't know where they lead and the wind and snow obliterate tracks.
Approximately 30,000 acres or 9 percent of RMNP has been impacted by the East Troublesome and Cameron Peak Fires. Many park trails remain temporarily closed due to the level of fire impacts and ongoing safety assessments. Please see the interactive map
Current Fire Information & Regulations - Rocky Mountain National Park (U.S. National Park Service) (nps.gov)
This map will be updated as trails reopen.
RMNP Roads are often icy and snowy, especially in shady areas. Be prepared with 4WD/AWD/snow tires and know how to drive in wintery conditions.
1/6/2021 Deer Mountain Trail
Not much snow at the trailhead or for the first 3/4 mile. This part of the trail is through a south-facing grassy hillside and open forest. Beyond that point, the trail is snow-covered and packed. In the last mile of the trail, across the top of the mountain, there were many drifted areas of soft snow. We used traction devices on all of the trail except the first 3/4 mile.
By a Volunteer
1/5/2021 Storm Pass from Longs Peak Trailhead
Trail is snow-packed. Used traction devices the entire way with some areas of light drifts. Trail up to Estes Cone appeared to be very snowy.
By a Volunteer
1/3/2021 Sandbeach Lake
A wide variety of trail conditions exists, but we basically went the entire way with just traction devices. The beginning is very icy, hardpacked with sections of bare trail. In the trees, the trail was still packed down so spikes were great. The last mile or so was deeper (often drifted) snow where snowshoes might be nice. The beach is blown bare in spots with interspersed drifts.
By a Volunteer
1/1/2021 Deer Mountain to Little Horseshoe Park
The trail is snow-covered but easily done with just traction devices. The trail is more packed near Deer Mountain but still easily navigated as we hiked the loop around Little Horseshoe Park. Some folks had skied down in the meadow area, although it didn't look great due to a shallow depth of snow.
By a Volunteer
12/29/2020 Calypso Cascades
The trail from the winter trailhead to the summer trailhead was partially snow-covered. Past the summer trailhead the trail was entirely snow-covered with hard-packed snow. In two places before the first Copeland Falls trail junction there were ice flows. Between the large bridge and Calypso Cascades there were three large ice flows. Each ice flow was approximately 2 inches deep ice for 20 feet along the trail. Before the large bridge there is a large tree across the trail that you must climb over. We were glad we used traction devices, especially because of the ice (very bad place to wear sneakers!).
By a Volunteer
12/26/2020 Bear Lake to Lake Helene
The trail is now open after the fires (but still closed from Lake Helene to Odessa). The trail was snow-packed with some drifts. We used only spikes. The winter trail often goes across Twin Lakes but we found the summer trail was easier to follow to Lake Helene, although a little hard to follow and drifty.
By a Volunteer
Submit Your Own Trip Report
Send us an email, call (970) 586-1206, or stop by a park visitor center.
For Your Safety
These Trail Conditions reports are the viewpoints of the submitters, whether park staff, volunteers, or visitors. Conditions can change rapidly in the mountains. Use these reports only as guidelines. Be prepared for varying weather and trail conditions.
Falling trees are ever-present hazards when traveling in the forest. Be aware of your surroundings. Dead trees can fall without warning!
Due to the September 2013 Flood, missing foot bridges, uneven trail surfaces, unstable slopes, falling trees due to soil moisture, rutted trails, damaged water bars and steps, standing water, difficult water crossings, and missing directional signs could be encountered. Most of Rocky Mountain National Park is designated wilderness, where self-reliance and adventure are expected. Hikers should be prepared to take responsibility for their own actions; search and rescue may be delayed. Be prepared to stay overnight even if you are a day hiker. Hiking poles may be helpful on uneven trails. Route finding skills may be required. Carry a map and compass and other backcountry travel essentials. Hike at your own risk.
Last updated: January 6, 2021