Trail Conditions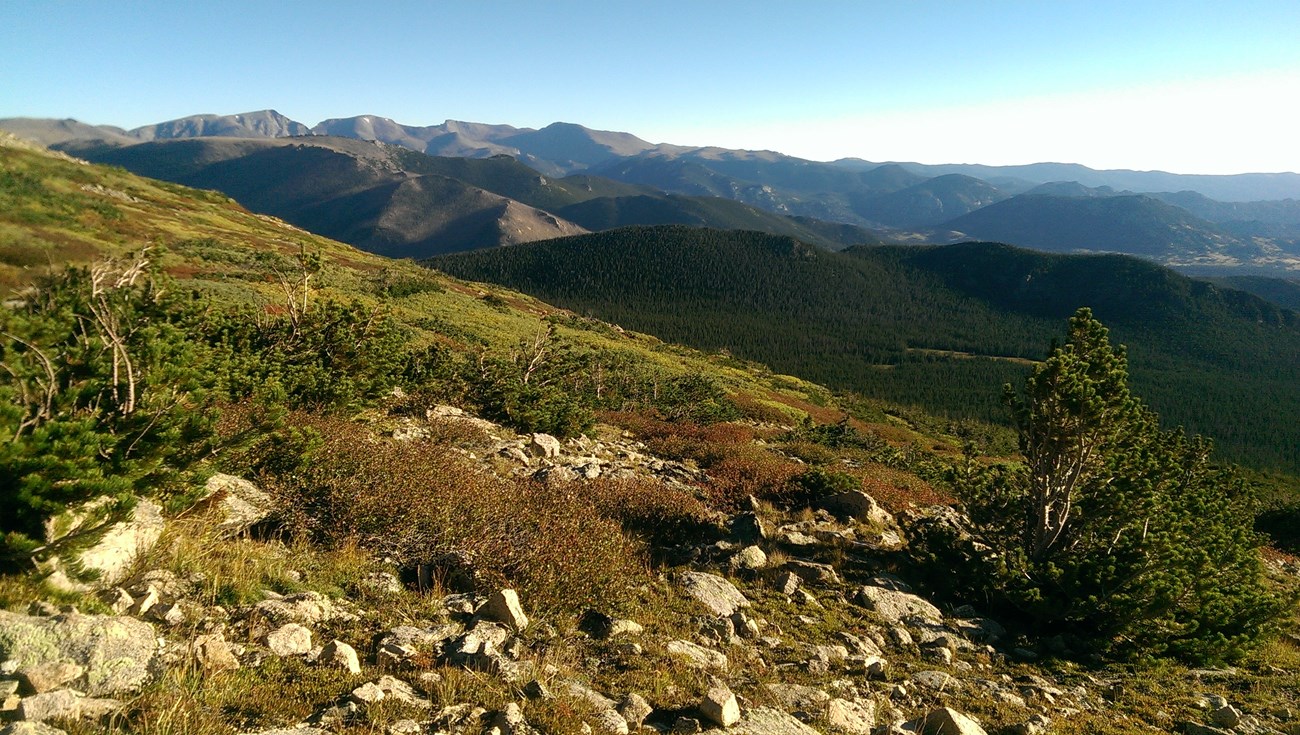 Trail Closures
East Troublesome and Cameron Peak Fire Closures
Some park trails and areas remain closed due to fire impacts. Park staff will continue to assess these areas for safety and downed trees, being mindful of high winds that occur this time of year causing more trees to fall. Learn more here.
Plan Ahead and Be Prepared
Any time of year, and affected by season, elevation, slope, and exposure, Rocky Mountain National Park (RMNP) can have extreme weather. In RMNP, all four seasons can happen in one day! Plan ahead and be prepared for weather to change rapidly.

Any Time of Year: Choose Your Destination Wisely. Always tell someone where you are going, where you will be parked, what your intended route is, when you plan to be back home, and then let them know when you return.

Be Prepared for Conditions with Essentials
It is important to bring and use the right gear, especially suitable gear for the season.
Plan that trails can be snowy much of the year. Depending on conditions and elevation, some trails can be icy and snowy September through midsummer. Do you have the right gear and equipment, and know how to use it?
Food and water are essential no matter how long your hike.

Layers of wicking clothing and extra socks.

Waterproof outer layers and extra layers for warmth; in summer, raingear.

A hat and gloves, sunglasses, and sunscreen any time of year. Sunlight can damage your eyes and skin, even on cloudy days.

A map and compass or GPS and know how to use them.

Wear closed-toed footwear with a treaded sole for hiking. Sandals, flip flops, plastic clogs, and slick-soled shoes without good traction (ex. sneakers) can lead to cold toes, wet feet, slips, trips and falls.
Summer (June – July – August)
Temperatures vary widely with elevation, from daytime temperatures in the 70s – 80sºF at lower elevations to twenty degrees less (or so) at higher elevations.

Summer afternoon thunderstorms are frequent and can produce dangerous lightning. Plan ahead and start early on your hike so you are not in exposed areas when lightning may occur. No place outside is safe if lightning is around. Avoid open areas and isolated tall objects. Go indoors or inside a vehicle, if possible. Get away from metal objects, including hiking poles and metal backpacks including baby carriers, which attract lightning.

On the alpine tundra, which in RMNP is about 11,500 feet to 14,259 feet (3,505 - 4,346 m) elevation, wildflowers bloom late June to early August. Protect these extremely fragile plants by always walking on trails.

Fall (September – October)
Fall comes early to the high country. September and October bring clear, crisp air, blue skies, and generally dry weather. Any storm is capable of producing sleet, hail, or snow, plus ice can form easily up at higher elevations when temperatures become colder.

Years vary, but fall colors usually begin in August when many alpine tundra plants turn gold and red. The first gold aspen leaves start showing up high on hillsides. In early September, leaves start turning gold in the Grand Lake area. On the east side, Bear Lake starts turning fall colors by mid-September, and in the Estes Park area in late-September into early October. Rain, snow, and wind can affect when trees turn, and can cause leaves to turn brown or fall early.

The elk rut generally is between early-September and mid-October. To prevent disturbance and harassment of elk during the fall mating period and to enhance visitor elk-viewing opportunities, annual meadow closures occur in RMNP, Area Closures to Protect Plants & Animals - Rocky Mountain National Park (U.S. National Park Service) (nps.gov)

Remember, it can always snow in fall, winter, and spring in RMNP.
Be prepared for occasional summer snow showers, which may occur at high elevations.

Especially in fall and spring, Trail Ridge Road can temporarily close if wintry conditions occur. The average date Trail Ridge closes for the season is October 23, but a season-closing storm can certainly happen before or after. Weather and conditions permitting, Trail Ridge Road opens for the season around Memorial Day Weekend in late May or early June.

Traction devices for the bottom of your boots and hiking poles are strongly recommended. Or depending on conditions after snowstorms or at higher elevations, the snow may be deep enough that snowshoes are advised.

Route-finding is important. RMNP trails are not marked in winter and following other tracks is not advised, as you don't know where they lead, and wind and new snow obliterate tracks.
SNOTEL SITES AS OF August 25, 2023

There are several SNOTEL sites in and around Rocky Mountain National Park. The USDA Natural Resources Conservation Service provides a website where monitoring results are available.

SNOTEL Website: https://wcc.sc.egov.usda.gov/nwcc/site?sitenum= and every SNOTEL site has a unique Site Number. For example, Bear Lake is https://wcc.sc.egov.usda.gov/nwcc/site?sitenum=322
Bear Lake (Site #322)
elev 9500' 0" snow

Long Draw Reservoir (Site #1123)
elev 9980' 0" snow

Stillwater Creek (Site #793)
elev 8720' 0" snow

Copeland Lake (Site #412)
elev 8600' 0" snow

Never Summer (Site #1031)
elev 10,280' 0" snow

Wild Basin (Site #1042)
elev 9560' 0" snow

Lake Irene (Site #565)
elev 10,700' 0" snow

Phantom Valley (Site #688)
elev 9030' 0" snow

Willow Park (Site #870)
elev 10,700' 0" snow
Submit Your Own Trip Report
Send us an email, call (970) 586-1206, or stop by a park visitor center.
For Your Safety
These Trail Conditions reports are the viewpoints of the submitters, whether park staff, volunteers, or visitors. Conditions can change rapidly in the mountains. Use these reports only as guidelines. Be prepared for varying weather and trail conditions.
Falling trees are ever-present hazards when traveling in the forest. Be aware of your surroundings. Dead trees can fall without warning!
Due to the September 2013 Flood, missing foot bridges, uneven trail surfaces, unstable slopes, falling trees due to soil moisture, rutted trails, damaged water bars and steps, standing water, difficult water crossings, and missing directional signs could be encountered. Most of Rocky Mountain National Park is designated wilderness, where self-reliance and adventure are expected. Hikers should be prepared to take responsibility for their own actions; search and rescue may be delayed. Be prepared to stay overnight even if you are a day hiker. Hiking poles may be helpful on uneven trails. Route finding skills may be required. Carry a map and compass and other backcountry travel essentials. Hike at your own risk.
Last updated: August 25, 2023