Trail Conditions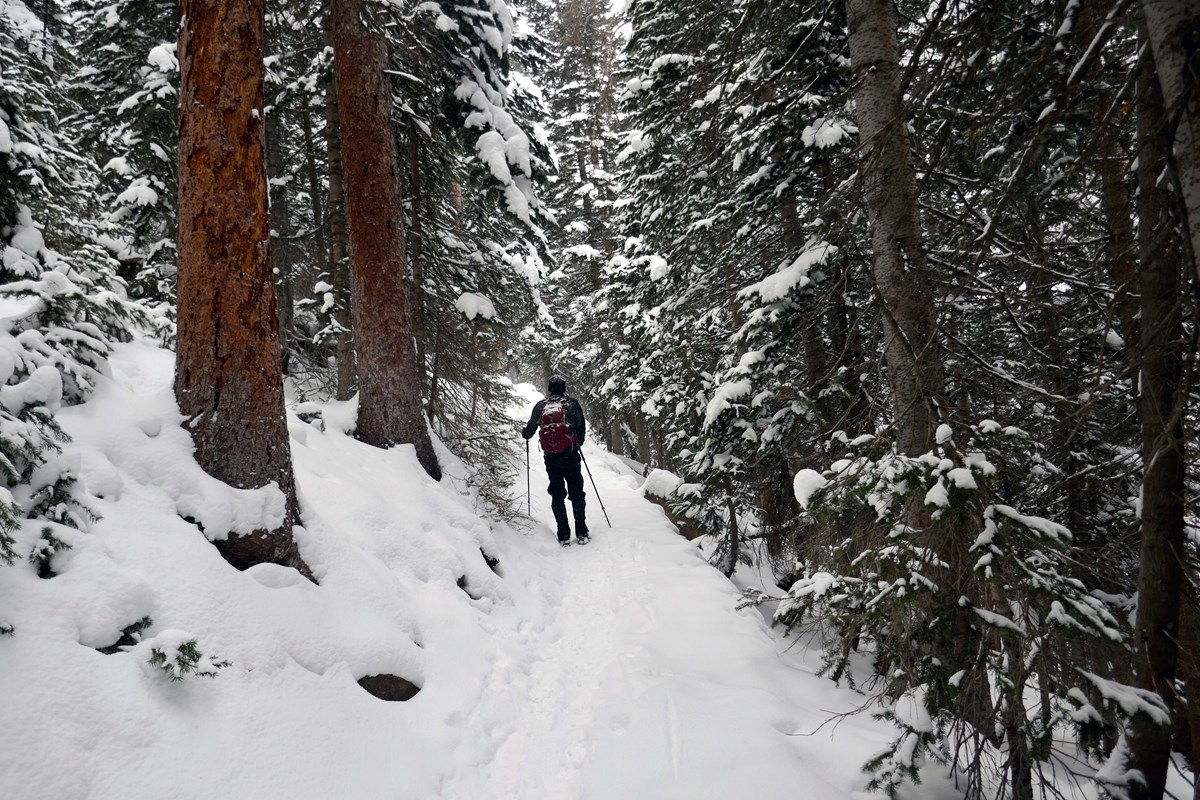 2/4/2019 Deer Mountain Trail
The first part of the trail has intermittent icy patches until you get into the trees, so boots are fine. Once into the trees, the trail is mostly icy/snowpacked so spikes are really nice to have all the way to the top. Snowshoes are not needed anywhere on the trail.
By a Visitor
2/1/2019 Cub Lake - Pool Loop
From the Cub Lake Trailhead, the first 1 3/4 mi is alternating snowpack, ice, and bare trail. The next 3/4 mi to Cub Lake is completely snowpacked. Did not use traction devices, but it was early and cold, so they may be desirable as the day warms up. From Cub Lake to Mill Creek Jct it is alternating bare trail and snowpack. From there to The Pool it is snowpacked. From The Pool to the winter parking, it is alternating snowpack, ice, and bare trail; the ice in places was quite difficult to cross.
By a Volunteer
2/1/2019 Boulder Field
Packed snow until treeline, after that it was about 50/50 snow or bare trail. Traction devices needed, but snowshoes would be overkill.
By a Visitor
2/1/2019 Mills Lake
Mills Lake via winter route--mostly packed snow with shallow light loose top layer of snow and some icy sections--microspikes advised.
Drainage up from bridge over Glacier Creek to Lake--sections packed and sections loose, route drifted over in sections--snowshoes advised.
By a Volunteer
1/31/2019 Sandbeach Lake
Trail is snow-covered most of the way. Used spikes to Meeker Park junction and then snowshoes the rest of the way. Lots of drifting snow along the trail. It is a little hard to follow where drifting is heavy but a track is open all the way to Sandbeach Lake, but snowshoes needed.
By a Volunteer
1/31/2019 Wild Basin to Calypso Cascades and Ouzel Falls
Trail packed down to Calypso Cascades. Traction and poles recommended. Snowshoes highly desirable after the Cascades.
By a Volunteer
1/31/2019 Bear Lake
A path exists around Bear Lake but there is a lot of drifting on both south and north sides. Open water in southwest corner. Slushy ice under snow near ice falls and along north shore. Traction devices and poles would definitely be helpful. Go onto the ice at your own risk.
By a Volunteer
1/31/2019 Sprague Lake
Trail walkable but icy spots along north side. Traction and poles might be helpful.
By a Visitor
1/31/2019 Nymph, Dream, Emerald Lakes
Summer trail up to Nymph Lake is snow-packed. Summer trail (walk across lake and stay left) to Dream is passable with traction devices. Winter trail from Nymph to Dream (turn immediately left when you reach Nymph Lake) is evident and snowshoes highly recommended. Snowshoes highly desirable beyond Dream to Emerald.
By a Volunteer
Submit Your Own Trip Report
Send us an email, call (970) 586-1206, or stop by a park visitor center.
For Your Safety
These Trail Conditions reports are the viewpoints of the submitters, whether park staff, volunteers, or visitors. Conditions can change rapidly in the mountains. Use these reports only as guidelines. Be prepared for varying weather and trail conditions.
Falling trees are ever-present hazards when traveling in the forest. Be aware of your surroundings. Dead trees can fall without warning!
Due to the September 2013 Flood, missing foot bridges, uneven trail surfaces, unstable slopes, falling trees due to soil moisture, rutted trails, damaged water bars and steps, standing water, difficult water crossings, and missing directional signs could be encountered. Most of Rocky Mountain National Park is designated wilderness, where self-reliance and adventure are expected. Hikers should be prepared to take responsibility for their own actions; search and rescue may be delayed. Be prepared to stay overnight even if you are a day hiker. Hiking poles may be helpful on uneven trails. Route finding skills may be required. Carry a map and compass and other backcountry travel essentials. Hike at your own risk.
Last updated: February 5, 2019