Trail Conditions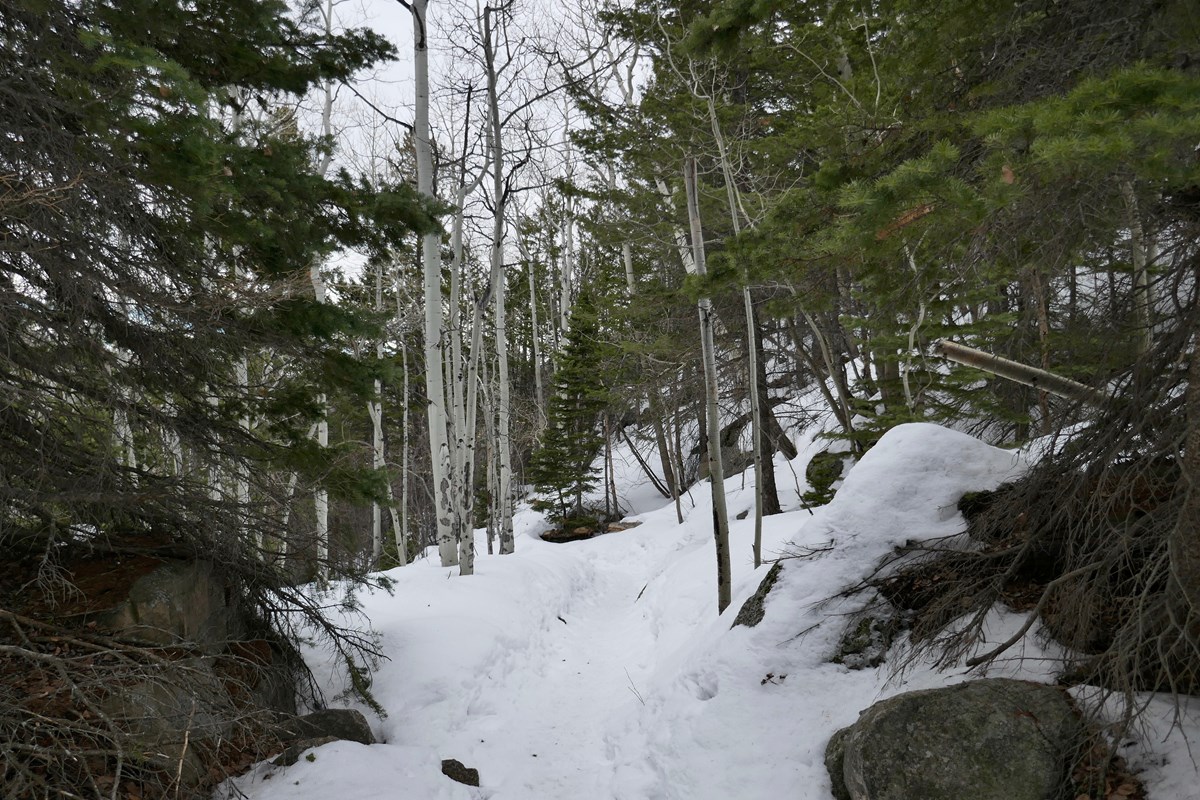 SPRING CONDITIONS
In general, for the first couple of miles, especially on popular trails, the snow may very packed down and quite slippery. Traction devices and poles may be enough, although as the days warm up, snow gets soft and mushy and hikers can posthole. CAUTION! The park does not mark trails for winter use and following other tracks can mislead visitors. Don't get lost! Proper route-finding skills are essential. Also, if it is windy or there is new snow, tracks can disappear and visitors could lose their way unless they have good route-finding skills and proper equipment.
Also, ticks are out! Ti
c
ks most abundant in RMNP April – June. Ticks hang out at the tops of tall grasses and shrubs in areas where animals tend to travel. When an animal – or a human – passes by they will attach themselves to
feed on the blood of their hosts. Ticks can transmit diseases to human hosts; in this area, Colorado Tick Fever is the most commonly-transmitted disease (much moreso than Rocky Mountain Spotted Fever). Ticks like tight places, like waistbands and tops of socks, hairlines, underarms, crotch areas, etc. Do a "tick check" every few hours when outside, checking yourself carefully, head to toe. Ticks can take up to several hours to embed, which gives you time to find them first and remove them. If you find a tick, remove it as soon as possible, carefully and properly so you don't leave its head embedded which can cause infection. U
se tweezers and grab the tick as close to the skin as possible and slowly pull the tick straight out. Then wash and disinfect the area carefully and thoroughly.
4/11/2019 Colorado River Trail
Trail has 6+ inches of fresh snow, and with cold temperatures, the trail should be more snowpacked than normal. With warmer temperatures, the snow is deteriorating.
By a Visitor
4/11/2019 Green Mountain to Big Meadows
Still 2+ feet of snow on the Big Meadows trail. Packed the whole way to Big Meadows, with fresh snow (3+ inches) today.
By a Visitor
4/9/2019 Fern Lake
There is intermittent ice/slush/snow between Fern Lake Trailhead and The Pool. We used spikes above The Pool but snowshoes would have been useful. The trail is packed but there are numerous postholes along the trail which are difficult to avoid. The trail would be very icy in the mornings and we encountered a lot of water on the trail between The Pool and the trailhead in the afternoon.
By a Volunteer
4/9/2019 Bear Lake to Emerald Lake
Micro-spikes were helpful from Bear Lake to Nymph Lake. However, Snowshoes are recommended if headed further to Dream and Emerald Lake. The trail can be done in micro-spikes the whole way, but postholing when stepping just slightly off the trail can be expected.
By a Visitor
4/4/2019 Chasm Falls
Walk up to Chasm Falls mostly open road with a few icy/slushy spots yet. Falls are beginning to unthaw. The road 50 yards beyond Chasm Falls is very snow covered. Bicycles would not be able to get beyond Chasm Falls.
By a Volunteer
4/1/2019 The Loch
Spikes used to the Loch. Snowshoes for the return.
By a Visitor
4/1/2019 Finch Lake
Traction is need.
By a Visitor
3/26/2019 Sprague Lake trail
The ice on Sprague Lake is melting. The trail around Sprague Lake is very icy and slippery.
By a Park Ranger
3/25/2019 Bear Lake
Due to huge drifts on the east side of Bear Lake, many visitors were walking on the lake. Be advised that temperatures are getting warm during the day and lake ice is likely thinning - go on the lake at your own risk.
By a Volunteer
Submit Your Own Trip Report
Send us an email, call (970) 586-1206, or stop by a park visitor center.
For Your Safety
These Trail Conditions reports are the viewpoints of the submitters, whether park staff, volunteers, or visitors. Conditions can change rapidly in the mountains. Use these reports only as guidelines. Be prepared for varying weather and trail conditions.
Falling trees are ever-present hazards when traveling in the forest. Be aware of your surroundings. Dead trees can fall without warning!
Due to the September 2013 Flood, missing foot bridges, uneven trail surfaces, unstable slopes, falling trees due to soil moisture, rutted trails, damaged water bars and steps, standing water, difficult water crossings, and missing directional signs could be encountered. Most of Rocky Mountain National Park is designated wilderness, where self-reliance and adventure are expected. Hikers should be prepared to take responsibility for their own actions; search and rescue may be delayed. Be prepared to stay overnight even if you are a day hiker. Hiking poles may be helpful on uneven trails. Route finding skills may be required. Carry a map and compass and other backcountry travel essentials. Hike at your own risk.
Last updated: April 12, 2019