Trail Conditions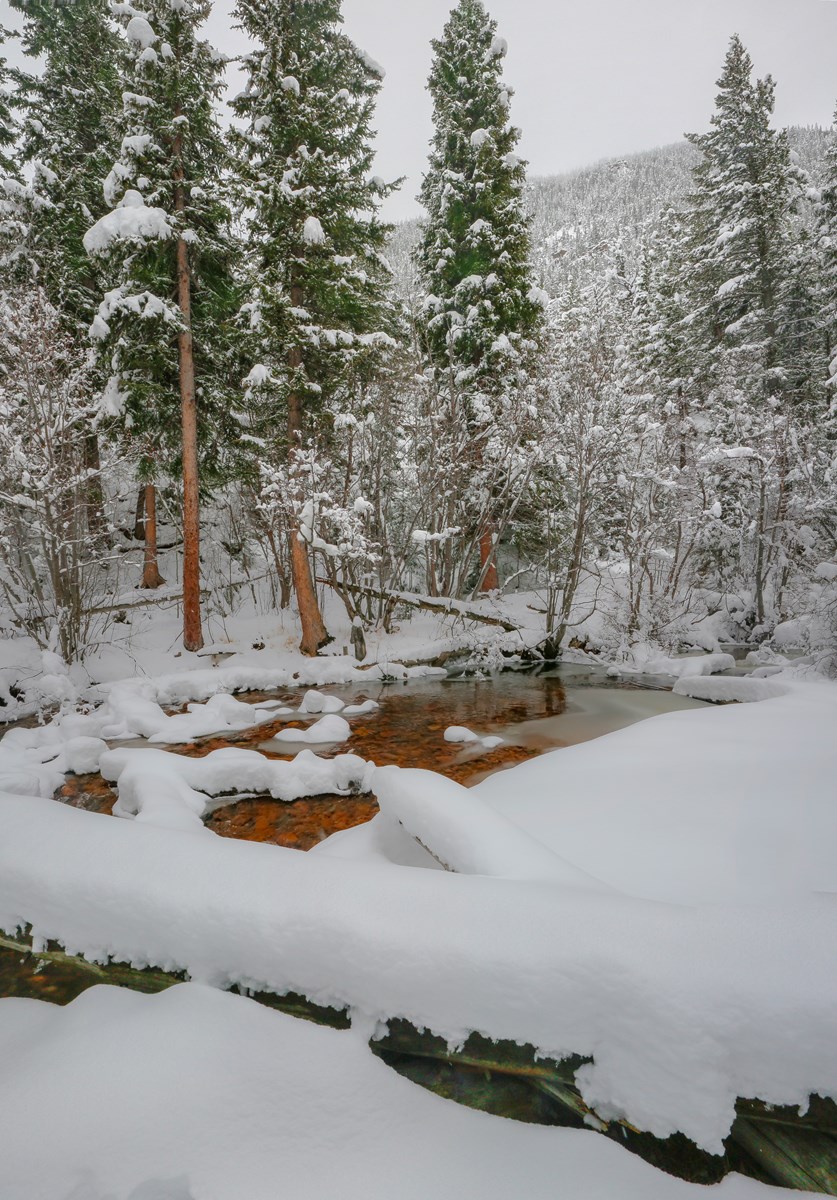 Trail Closures
East Troublesome and Cameron Peak Fire Closures
Many park trails and areas remain closed due to fire impacts. Park staff will continue to assess these areas for fire activity, safety and downed trees, being mindful of high winds that occur this time of year causing more trees to fall. Learn more here.
RMNP Trail Conditions Report as of April 9, 2021Any Time of Year: Choose Your Destination Wisely.
Always tell someone where you're going, where you will be parked, what your intended route is, when you plan to be back home; and then let them know when you return.
LATE WINTER REMINDERS
Some areas that are easy adventures in the summer can become more arduous and dangerous with late winter conditions. Most trails are icy and snow packed. Traction devices are always useful this time of the year as they make walking enjoyable and safer. Lakes are starting to thaw.
Route-finding is important, as RMNP trails are not marked in winter and following other tracks is not advised, as you don't know where they lead and the wind and snow obliterate tracks.
Approximately 30,000 acres or 9 percent of RMNP has been impacted by the East Troublesome and Cameron Peak Fires. Many park trails remain temporarily closed due to the level of fire impacts and ongoing safety assessments. Please see the interactive map
Current Fire Information & Regulations - Rocky Mountain National Park (U.S. National Park Service) (nps.gov)
This map will be updated as trails reopen.
RMNP Roads are often icy and snowy, especially in shady areas. Be prepared with 4WD/AWD/snow tires and know how to drive in wintery conditions.
4/9/2021 Bear Lake Area Lakes and Falls
Bear Lake remains mostly frozen but slushy on top during the daytime. Sprague Lake has an open stream at the inlet and two outlets to the lake--would not advise venturing onto the lake. Dream Lake is very soft at inlets and outlets so be cautious near those areas. Alberta Falls is still covered in snow with no water yet showing.
By a Volunteer
4/9/21 West Side Trails
West side trails are icy in the morning and slushy-sloppy in the afternoon.
By a Park Ranger
4/9/2021 Boulder Brook Trail
Snowshoes are needed on the trail as it is quite soft in places. You can still cross the brook at the first bridge but it was starting to get quite soft. The second bridge can be walked across and the stream is open at that point. Snow gets deeper and trail less used the higher up you go.
By a Volunteer
4/9/2021 The Loch
The winter trail up to the Loch still seems quite firm. The summer trail is easily usable for those who do not wish to do the winter trail. Spikes are sufficient for either--it is quite icy in the morning and slushy by afternoon.
By a Volunteer
4/9/2021 Lake Haiyaha from Glacier Gorge
Going up the winter trail from Glacier Gorge is still solid and spikes were enough. At the junction with Haiyaha, The Loch, and Mills, there is a post-holed trail leading toward Haiyaha but the conditions were not good as it was easy to continue to post hole. We did not go more than 1/2 mile up that trail before turning around.
By a Volunteer
4/5/2021 Attempted Lake Helene and ended up at Dream Overlook
Tried to go up to Lake Helene. Traction needed to Banana Bowls and then snowshoes would have been helpful. We were sans snowshoes so turned around and went with spikes up to Dream Lake Overlook. The trail was easily done with spikes as long as you didn't step off the trail. The sign was covered at Dream Lake Overlook but you could peer over a snowdrift to see the action at Dream Lake. The trail went on but seemed to be less tracked beyond so we turned around.
By a Volunteer
4/3/2021 Emerald Lake Trail and Lake Haiyaha
Traction devices STRONGLY advised for trail to Dream and Emerald. Many people were falling and unable to navigate the trail on the way down without microspikes or yaktrax. Snowshoes not needed. The trail to Lake Haiyaha is manageable with traction devices and poles. Snowshoes may be helpful in spots near the lake where postholing is possible. Tracks off trail make route finding skills helpful.
By a Park Ranger
3/28/2021 Loop - Storm Pass parking/trail-Bear Lake-Bierstadt-down
This trail was nice to do in spikes most of the time and pretty protected from the winds. A bit of drifting in several places where some postholing occurred. Trail down from Bierstadt was extremely icy in spots and had spots where people were short-cutting.
By a Volunteer
3/27/2021 Chasm Junction
The trail is good up to Lightning Bridge where if you don't have snowshoes on, you probably will want them. The treeline drifting is pretty prevalent so a lot of postholing if in spikes. Above treeline, the trail is discernible most of the time although it doesn't always follow the summer trail. The winds have been fierce, so often wipes about the tracked trail. There is quite a bit of snow above treeline, so folks have been skiing up high. The trail veers a bit left of usual, and then pretty much straight up to the Battle Mountain/Jim's Grove junction. No one had been over to Chasm Lake (the steep slope is treacherous) and the trail over to the pass had not been broken yet either. Definitely recommend snowshoes and good sense (the white-outs were fairly intense with any winds).
By a Volunteer
3/26/2021 Mills Lake
As it has been most of the winter, the trail is snowy and not very icy. The snow can be packed, but route finding skills are still important.
By a Volunteer
Submit Your Own Trip Report
Send us an email, call (970) 586-1206, or stop by a park visitor center.
For Your Safety
These Trail Conditions reports are the viewpoints of the submitters, whether park staff, volunteers, or visitors. Conditions can change rapidly in the mountains. Use these reports only as guidelines. Be prepared for varying weather and trail conditions.
Falling trees are ever-present hazards when traveling in the forest. Be aware of your surroundings. Dead trees can fall without warning!
Due to the September 2013 Flood, missing foot bridges, uneven trail surfaces, unstable slopes, falling trees due to soil moisture, rutted trails, damaged water bars and steps, standing water, difficult water crossings, and missing directional signs could be encountered. Most of Rocky Mountain National Park is designated wilderness, where self-reliance and adventure are expected. Hikers should be prepared to take responsibility for their own actions; search and rescue may be delayed. Be prepared to stay overnight even if you are a day hiker. Hiking poles may be helpful on uneven trails. Route finding skills may be required. Carry a map and compass and other backcountry travel essentials. Hike at your own risk.
Last updated: April 9, 2021