Trail Conditions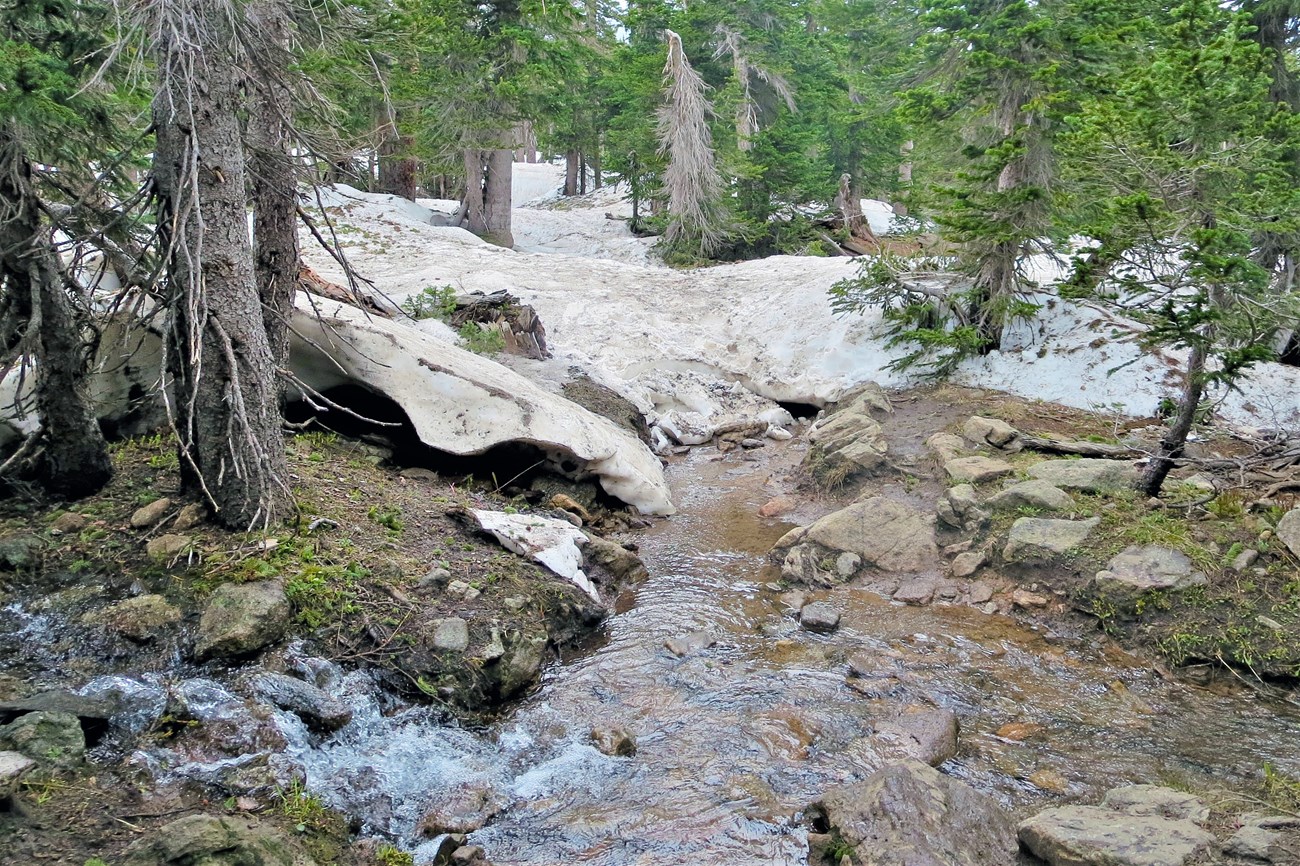 Trail Closures
East Troublesome and Cameron Peak Fire Closures
Some park trails and areas remain closed due to fire impacts. Park staff will continue to assess these areas for safety and downed trees, being mindful of high winds that occur this time of year causing more trees to fall. Learn more here.
RMNP Trail Conditions Report as of May 24, 2023

All higher trails in Rocky Mountain National Park are snow-packed and icy. Expect that it can still snow parkwide with snow, winds causing blowing snow, and cold temperatures. When coming to higher elevations in the park, be prepared for winter conditions. Traction devices for the bottom of your boots and hiking poles are strongly recommended. At higher elevations, the snow may be deep enough that snowshoes are advised.

Waterfalls are rushing and higher lakes are thawing and ice is thinning.

Route-finding on snow and ice-covered trails is important, as RMNP trails are not marked in winter and following other tracks is not advised, as you don't know where they lead, and wind and new snow obliterate tracks.

All secondary roads to trailheads are open for the summer.

Any Time of Year: Choose Your Destination Wisely. Always tell someone where you're going, where you will be parked, what your intended route is, when you plan to be back home; and then let them know when you return.

Approximately 30,000 acres or 10 percent of RMNP has been impacted by the East Troublesome and Cameron Peak Fires. Some park trails remain temporarily closed due to the level of fire impacts and ongoing safety assessments. This website is updated as trails reopen. Please see the link above.

REMEMBER, PETS ARE PROHIBITED ON ALL RMNP TRAILS, TUNDRA AND MEADOW AREAS
| | | | |
| --- | --- | --- | --- |
| Date of Hike | Destination | Description of Conditions Found | Hiked By |
| 5/23/2023 | Bear Lake to Fern Lake Trailhead | Visitor was not familiar with the trail and the snow is so deep that he did not see any signs along the trail. He did have spikes on his boots. Between the Lake Helene area and Odessa Lake he was very frightened. Visitor said he had to hug any rock or boulder so he wouldn't slide. Once at Odessa Lake, the snow was probably 6 ft deep or more.It was difficult to hike from Odessa to Fern lakes, and he was postholing. It was mostly snowfree from below Fern Lake to the trailhead. | Visitor |
| 5/23/2023 | Lone Pine Lake | Trail is mostly clear of snow for the first 3 miles. Then patchy packed snow. Snow at higher elevations including Lone Pine Lake. Snow is soft and hikers postholed. Waterproof boots recommended. | Park Ranger |
| 5/23/2023 | Sky Pond | The trail to Sky Pond is very icy and snowpacked the entire way from the trailhead, with deeper snowpack the further up the trail. Past The Loch, the snow is very deep up to Timberline Falls. Timberline Falls is icy, very slippery, with very cold, rushing water. The waterfall will be treacherous with slippery rocks and frigid water. Coming down was even more frightening. | Volunteer |
| 5/22/2023 | Family Friendly Hikes | Bear Lake Trail has 18" of snow on the ground. Conditions are icy and slippery.Sprague Lake Trail is mostly melted except for some patchy snow on the south side of the lake under the trees.Lily Lake Trail is melted.Coyote Valley Trail is melted. | Volunteer |
| 5/21/2023 | Emerald Lake and Lake Haiyaha | All trails in the Bear Lake area, including trails to Nymph, Dream, and Emerald Lake is snowpacked the entire way. Spikes are advised.The ridge from Dream Lake to Lake Haiyaha is treacherous when snow-covered, as it is now.The trail from Glacier Gorge to Lake Haiyaha s snowpacked the entire way. | Park Ranger |
| 5/21/2023 | Shadow Mountain Lookout | Trail is mostly clear of snow. The Lookout is closed to entry due to deteriorating and dangerous conditions. | Park Ranger |
| 5/15/2023 | Onahu, Onahu to Green Mountain | This loop hike is NOT available without snowshoes, and the ability to navigate off trail. There are numerous tracks in the Onahu creek area, making the trail difficult to follow. Snow is deep. Snowshoes are required. | Park Ranger |
| 5/8/2023 | Cub Lake Trailhead to Mill Creek | The path on the north side of Steep Mountain is for a good mile nearly completely covered in snow, mainly up to knee of even waist. You will sink into the snow and it is challenging to find the path. Also it is extremely exhausting. | Visitor |
| 5/8/2023 | East Shore Trail | Snow in shady areas, muddy. Trail is mostly melted along the lake but is not ready for biking. Please do not bike on this trail until it dries out. | Park Ranger |
| 5/3/2023 | Green Mountain | Snow has melted, extremely muddy and wet. Water flowing down the trail. | Park Ranger |
| 4/30/2023 | North Inlet | Snow has melted to the falls, first 3.5 miles. Trail is extremely muddy. Bring snowshoes if you are going beyond Cascade Falls. | Park Ranger |
SNOTEL SITES AS OF Wednesday, May 24, 2023
There are several SNOTEL sites in and around Rocky Mountain National Park. The USDA Natural Resources Conservation Service provides a website where monitoring results are available.
SNOTEL Website
https://wcc.sc.egov.usda.gov/nwcc/site?sitenum=
and every SNOTEL site has a unique Site Number. For example, Bear Lake is https://wcc.sc.egov.usda.gov/nwcc/site?sitenum=322
Bear Lake (Site #322) elev 9500' 15" snow
Long Draw Reservoir (Site #1123) elev 9980' 13" snow
Stillwater Creek (Site #793) elev 8720' 0" snow
Copeland Lake (Site #412) elev 8600' 0" snow
Never Summer (Site #1031) elev 10,280'
snow depth Not Available
Wild Basin (Site #1042) elev 9560' 10" snow
Lake Irene (Site #565) elev 10,700' 30" snow
Phantom Valley (Site #688) elev 9030' 0" snow
Willow Park (Site #870) elev 10,700' snow depth Not Available
Submit Your Own Trip Report
Send us an email, call (970) 586-1206, or stop by a park visitor center.
For Your Safety
These Trail Conditions reports are the viewpoints of the submitters, whether park staff, volunteers, or visitors. Conditions can change rapidly in the mountains. Use these reports only as guidelines. Be prepared for varying weather and trail conditions.
Falling trees are ever-present hazards when traveling in the forest. Be aware of your surroundings. Dead trees can fall without warning!
Due to the September 2013 Flood, missing foot bridges, uneven trail surfaces, unstable slopes, falling trees due to soil moisture, rutted trails, damaged water bars and steps, standing water, difficult water crossings, and missing directional signs could be encountered. Most of Rocky Mountain National Park is designated wilderness, where self-reliance and adventure are expected. Hikers should be prepared to take responsibility for their own actions; search and rescue may be delayed. Be prepared to stay overnight even if you are a day hiker. Hiking poles may be helpful on uneven trails. Route finding skills may be required. Carry a map and compass and other backcountry travel essentials. Hike at your own risk.
Last updated: May 24, 2023