Trail Conditions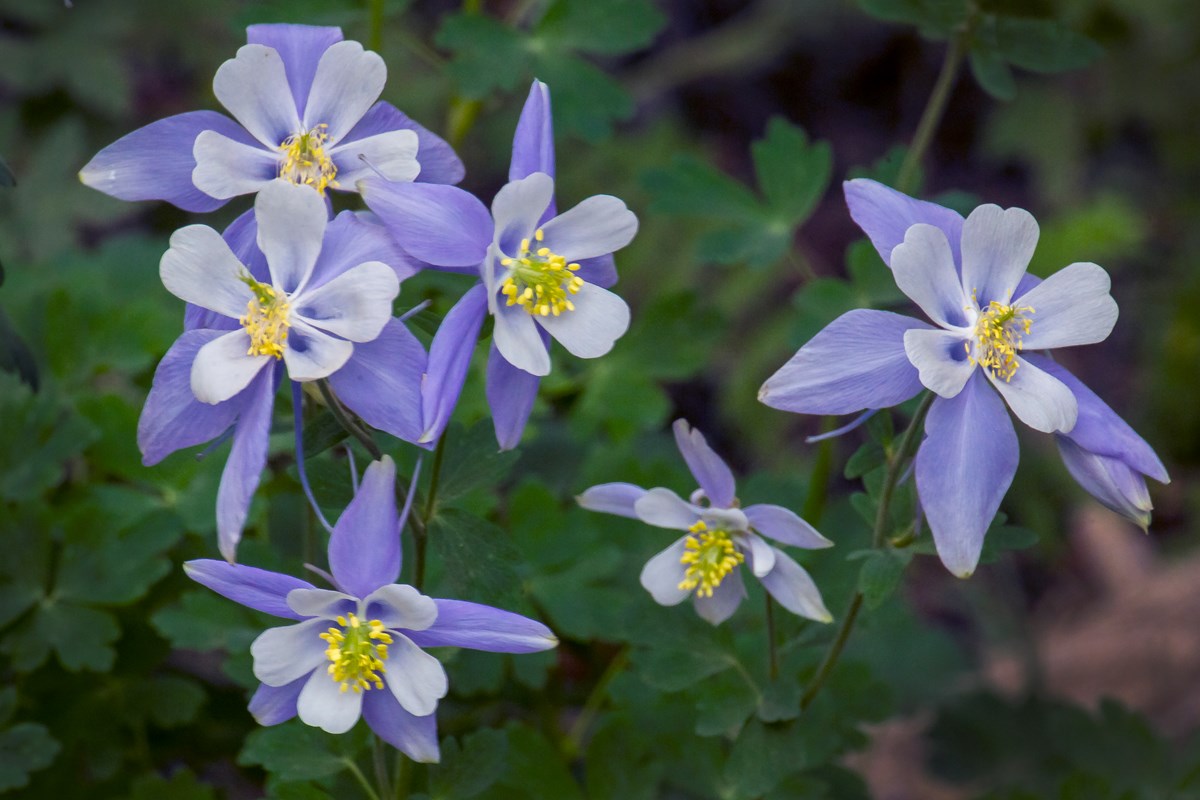 PAVEMENT PRESERVATION PROJECT CLOSURES will occur in numerous locations throughout the summer in Rocky Mountain National Park. Plan ahead!
Expect a busy summer, including full parking lots, congested roadways and entrance stations, busy trails, and wait times to board the park shuttle buses.
HIGH WATER ADVISORY
Streams are powerful, cold and relentless. Use extreme caution when approaching the water. Water levels generally rise in the afternoon and following thunderstorms. Due to rapid snowmelt, area trails and bridges may become impassable due to rising water levels.
Powerful currents can knock a person over and pull them downstream or underwater, where they may become trapped. Streamside rocks are often slippery, and nearby water may be deep. Always closely supervise children around all water, but especially near rivers and streams. Enjoy these beautiful streams and rivers from a distance.
County Road 663 between West Portal Road & North Inlet/Tonahutu Trailheads
washed out & not recommended for 2-wheel drive vehicles
7/11/2019 Emerald Lake (via Nympth and Dream Lakes)
Clear all the way to Dream and then a few little patches of snow between Dream and Emerald. They are easy to get through and don't require any traction devices.
By a Volunteer
7/11/2019 Lake Haiyaha and Haiyaha Loop
A bit of snow starting at Dream up the trail toward Lake Haiyaha for a few feet but easily passable. The rest of the trail up to Lake Haiyaha is fine and the descending trail on the south side through Glacier Gorge is pretty much snow free.
By a Volunteer
7/10/2019 Andrews Creek campsite
Backcountry campsite is snow free.
By a Visitor
7/10/2019 Bluebird Lake
Hiked up to near Bluebird Lake, but turned around due to snow. Snow patches show up near the first stream crossing past the junction with Ouzel Lake trail (and past view of that lake); fairly easy to traverse or go around. Stopped 1/2 mile from lake near 10,600' near notch between hill to left and valley wall to right--much larger snowfields start here. Spoke with 2 hikers descending--said it was patchy but worse in the last half mile, final pitch to lake was steep and entirely snow covered. They recommended traction if attempting. One tree down across trail.
By a Visitor
7/10/2019 From July campsite to over Flattop Mountain
July wilderness campsites snow-free (patchy snow leading to campsite #3 as of 7/8/19)
Switchbacks above July have steep angles of deteriorating snow patches. Snow was encountered on 3rd switchback above July Campsite, and trail was lost several times after traversing the first 3 snow patches.
Post holing in knee-deep snow was nearly constant in traversing snow above switchbacks above July. Snow is not stable and at some sections possibly much deeper.
Recommended tools: hiking poles for stability on snow; gaiters to keep snow out of boots; possibly snowshoes for stability for sections above switchbacks.
Visitors are losing the trail going up to July wilderness campsite, so use caution when crossing the higher up snow-covered switchbacks. They also stated kicking into the snow with each step and using microspikes was helpful.
By a Park Ranger
7/10/2019 Timber Lake Trail
A landslide occurred summer 2014 and continues to worsen each year. T
he landslide continues to be active, and multiple trees were witnessed falling into the slide from the top. Extreme caution must be used in deciding whether to cross the slide or not.

The slide is located two miles beyond the trailhead; caution is advised negotiating around the slide area. Hike above the point of release, as hiking through the landslide is
not recommended. The hike around the landslide is arduous and exceptionally difficult, as it is steep, muddy, and slippery. It is not recommended for those who have difficulty with wilderness off-trail travel. Allow a minimum of 6-7 hours round-trip for this steep hike.
Due to trail damage from the landslide, trail closed to public stock above the landslide
Snow is covering trail in several areas and is wet, deteriorating, and deep at parts (knee height or deeper). Trail is wet with snowmelt running across the trail where there is no snow. Waterproof boots and extra socks recommended.
By a Park Ranger
7/10/2019 Renegade Wilderness Campsite
Wilderness campsite is snow free
By a Visitor
7/10/2019 Bighorn Flats North of Tonahutu / Flattop Mountain Junction
Trail is 50% snow-covered. Post holing hip-deep along the way. Visitors stated the wind was constant, high speed, cold, and a drain on the experience; wind can catch your backpack, and may push hikers over. Trekking poles helped with stability and gauging snow depth.
Trail is do-able, but energy-draining
By a Visitor
7/8/2019 Lost Lake
Patches of snow just before the lake. Two wilderness campsites still more than half snow-covered.
By a Visitor
7/8/2019 Odessa Lake from Bear Lake
The trail to Odessa Lake from Bear Lake remains snow covered at several points making route finding difficult especially right before the Lake Helene turn off. After the trail turns north following Lake Helene 2 large snow fields cover the trail at steep inclines. We made it across with microspikes on. Would not recommend this route currently without good navigational skills, spikes and poles.
By a Visitor
7/8/2019 Flattop Mountain Trail
A few snow patches, both above and below treeline. One long (about 100 yards) snowfield on the final approach toward the summit. Navigation is not a problem. Traction devices not necessary.
By a Park Ranger
7/8/2019 Red Mountain, Dutch Town, Ditch Camp, Skeleton Gulch and Colorado River Trail
No snow from Red Mountain to the Grand Ditch. Snow starts about halfway up trail to Dutch Town. Visitors reported having a hard time finding trail from the Ditch. Site was clear of snow except in the tent site. Road to Ditch Camp was clear and camp was as well. Trail up to Skeleton Gulch was very wet and washed out. Colorado River Trail down was snow-free.
By a Visitor
7/8/2019 Mirror Lake
Trail is mostly snow-free up to Mirror Lake from the Mummy Pass/Mirror Lake Junction.
By a Park Ranger
7/8/2019 Ute Trail West
There are two snowfields before the tarns--each are about forty to fifty yards long. Besides that it's clear just beyond Forest Canyon Pass. About a third of a mile past the pass there is some snow mixed with a couple long clearings. After that however it is all snow-covered. Between the fork in the Ute Trail from the Alpine Visitor Center to either Milner Pass or Mt. Ida, there was deep snow (~3-5 ft deep) and he lost the trail and turned around. Several other visitors did the same thing. Was expecting snow but not that much.
[the trail to Mt Ida was covered with deep snow]
By a Volunteer
7/7/2019 Continental Divide Trail Loop
They went over Flattop early enough that they utilized microspikes and gaiters, but also mentioned going around some snow fields. On top of Flattop there is still loads of snow. Some areas people have post holed waist deep. Heading down there is still a fair amount of snow however it is rotten during the warmer parts of the day.
By a Visitor
**Friendly reminder: please do not go off of trail and onto the tundra to avoid the trail conditions. Be prepared for what is on the trail, and proceed with caution**
7/6/2019 Trail to Loch
The trail to The Loch is clear of snow except for near the lake. There's still a drift across the trail below the lake. Also still snow on the outlet that one must walk on to get to the viewpoint to the left. A portion of that snowbank cracked off this morning, according to a couple we spoke with on the trail. The trail around the lake has some snowdrifts, some bare ground, some mud. For the most part, the path follows the trail. Beyond the west end of the lake is more of the same--be prepared to get your feet muddy. More snow as one gets father west.
By a Visitor
Submit Your Own Trip Report
Send us an email, call (970) 586-1206, or stop by a park visitor center.
For Your Safety
These Trail Conditions reports are the viewpoints of the submitters, whether park staff, volunteers, or visitors. Conditions can change rapidly in the mountains. Use these reports only as guidelines. Be prepared for varying weather and trail conditions.
Falling trees are ever-present hazards when traveling in the forest. Be aware of your surroundings. Dead trees can fall without warning!
Due to the September 2013 Flood, missing foot bridges, uneven trail surfaces, unstable slopes, falling trees due to soil moisture, rutted trails, damaged water bars and steps, standing water, difficult water crossings, and missing directional signs could be encountered. Most of Rocky Mountain National Park is designated wilderness, where self-reliance and adventure are expected. Hikers should be prepared to take responsibility for their own actions; search and rescue may be delayed. Be prepared to stay overnight even if you are a day hiker. Hiking poles may be helpful on uneven trails. Route finding skills may be required. Carry a map and compass and other backcountry travel essentials. Hike at your own risk.
Last updated: July 11, 2019