Trail Conditions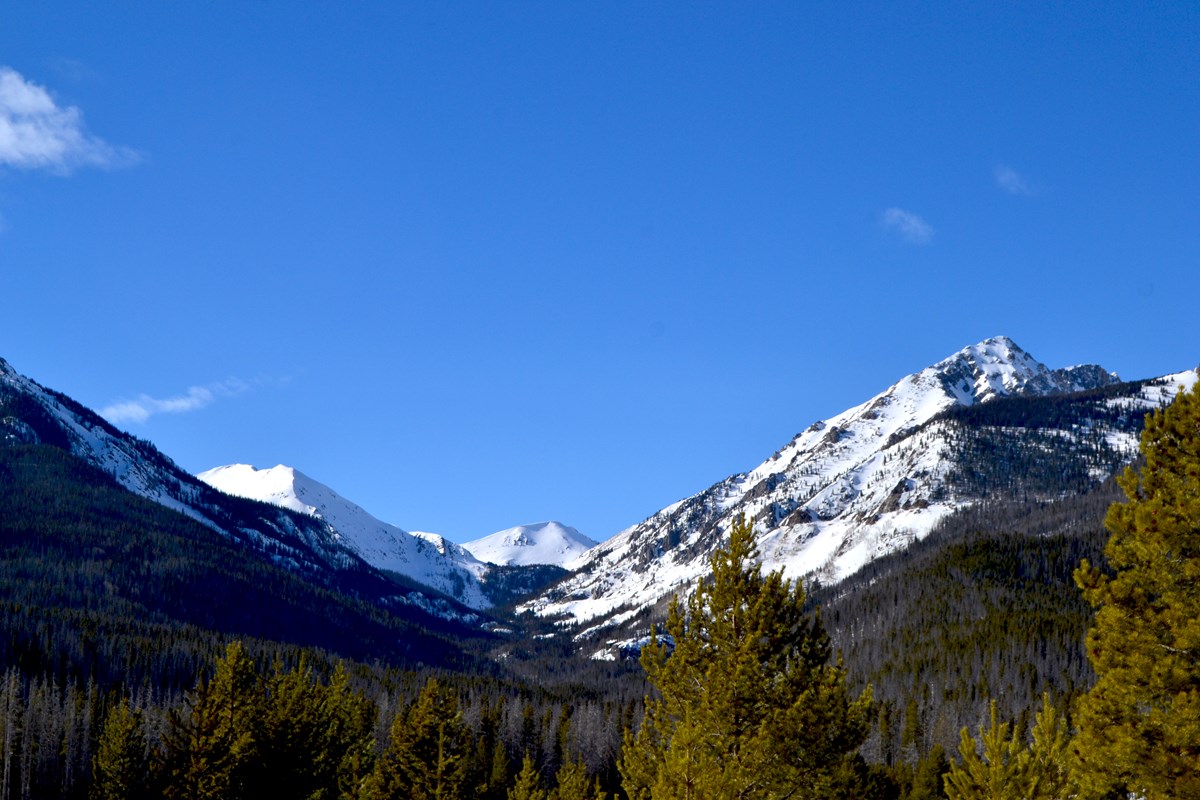 RMNP Trail Conditions Report as of November 15, 2019
RMNP TRAIL CONDITIONS
Trails in RMNP, east and west sides, are hard-packed and icy, so traction devices and poles are advised. Remember: r
oute-finding is important, as RMNP trails are not marked in winter and following other tracks is not advised, as you don't know where they lead.
11/15/19 Sprague Lake
Trail around Sprague Lake is mostly clear, except for the south-southwest portion of the loop, which is icepacked with thick ice. Traction devices advised on this section.
By a Ranger
11/14/2019 Glacier Gorge to the Loch to Andrews Tarn
Snowpacked. Traction needed. Snowshoes necessary from the Loch to Andrews Tarn. Andrews Tarn appears to be frozen.
By a Visitor
11/13/2019 Bear Lake to Bierstadt Lake
Snowy the entire way. Two signs down due to fallen trees. 1: 1-mi to Bierstadt Lake sign on trail from Bear Lake. 2: Trail junction by Bierstadt Lake to Park & Ride or trail to Bierstadt Trailhead.
By a Visitor
11/12/2019 Lawn Lake Trail
Icy/snow packed after turn up into Roaring Fork drainage; traction devices helpful. Need snowshoes if going all the way to Lawn Lake, as lots of loose and drifting snow.
By a Volunteer
11/8/2019 Bear Lake to Lake Helene
Packed snow and ice from Bear Lake to Lake Bierstadt turnoff. Packed snow rest of way. Wore micro spikes which were very helpful.
By a Visitor
11/8/19 Bear Lake to Dream Lake
Trail from Bear Lake to Dream Lake is very icy and several people without traction (yak tracks, micro spikes) have fallen.
By a Visitor
11/7/2019 Cub Lake Loop
Mix of dry, packed snow, ice, and mud. Trail tracked all the way around. Slippery from Cub Lake down to old beaver ponds. Didn't use traction device on shoes but would have been nice below Cub Lake.
By a Visitor
11/6/2019 Gem Lake
Trail to Gem Lake has some icy spots and traction devices and poles would be helpful. Gem Lake to Balanced Rock requires traction devices.
By a Volunteer
11/2/2019 Wild Basin Trail
Wild Basin Road is closed at the winter parking area. Trail has packed snow/ice to Calypso Cascades; traction devices helpful. Then softer snow to Ouzel Falls. Traction devices or snowshoes and poles helpful. Beyond Ouzel Falls, snowshoes needed. Three small to medium size trees down across trail to Calypso Cascades.
By a Volunteer
11/3/2019 Alberta Falls and Bear Lake Nature Trail
Trail to and past Alberta Falls is snowpacked. There was little ice, although hiker still used traction devices and poles. There is a large tree down across the trail above Alberta Falls.
By a Park Ranger
The Bear Lake Nature Trail was also very snowpacked, with a bit more ice on it. Doable in good snow boots, but traction devices and poles are recommend. Lake is frozen, but THE ICE IS NOT AT ALL SAFE TO WALK ON.
By a Park Ranger
Lake Helene – Odessa Lake
There is a lot of snow past Lake Helene toward Odessa Lake. This trail is not recommended until it melts out next summer.
Submit Your Own Trip Report
Send us an email, call (970) 586-1206, or stop by a park visitor center.
For Your Safety
These Trail Conditions reports are the viewpoints of the submitters, whether park staff, volunteers, or visitors. Conditions can change rapidly in the mountains. Use these reports only as guidelines. Be prepared for varying weather and trail conditions.
Falling trees are ever-present hazards when traveling in the forest. Be aware of your surroundings. Dead trees can fall without warning!
Due to the September 2013 Flood, missing foot bridges, uneven trail surfaces, unstable slopes, falling trees due to soil moisture, rutted trails, damaged water bars and steps, standing water, difficult water crossings, and missing directional signs could be encountered. Most of Rocky Mountain National Park is designated wilderness, where self-reliance and adventure are expected. Hikers should be prepared to take responsibility for their own actions; search and rescue may be delayed. Be prepared to stay overnight even if you are a day hiker. Hiking poles may be helpful on uneven trails. Route finding skills may be required. Carry a map and compass and other backcountry travel essentials. Hike at your own risk.
Last updated: November 15, 2019