Safety
Your Safety is Your Responsibility
Before heading out on any trip, take time to check the weather, make sure everyone in your group is prepared for the anticipated conditions, and be prepared to turn back if conditions change.

For detailed safety tips when recreating in Rocky Mountain National Park, please review the information below: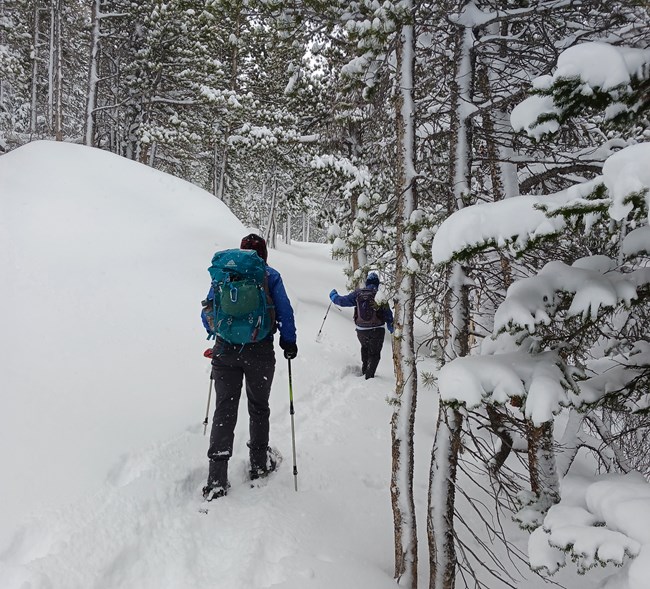 Weather & Elevation Safety
Weather
Weather and conditions can change rapidly when recreating at high elevations in the mountians. For details, visit the park's All About Weather page.

Be prepared for changing conditions and carry these essentials:
Winter Gear/Rain Gear
Pack extra layers of clothing
Map and compass (and know how to use them)
Flashlight or headlamp
Sunglasses and sunscreen
Extra food and water
Pocketknife
First aid kit
Snow and Ice Fields
Stay back from steep snow slopes and cornices. Snow avalanche danger is often high. Ask a ranger about current avalanche potential. Know how to recognize dangerous snow conditions.

Elevation
Altitude sickness affects many visitors every year. Symptoms include headache, nausea, fatigue, dizziness, vomiting, and even unconsciousness. Altitude can also aggravate pre-existing conditions like heart and lung disease. Take your time, drink water, eat, and rest. The only cure for altitude sickness is to go down to a lower altitude.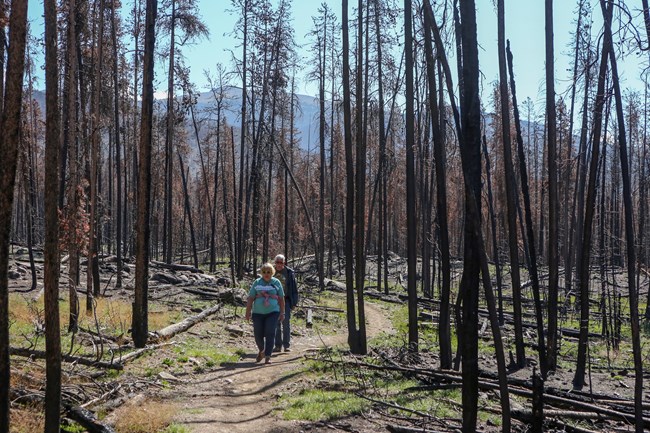 Safety Tips when
Recreating in Burn Areas
Park visitors should be aware of additional hazards when recreating in burn areas including:
Burned-out stump holes where the ground may be weak and unstable
Unstable dead trees, especially in windy conditions
Loose rocks, logs and rolling debris
Flash flooding and significant debris flow possible in burn areas
Dry, hot conditions with little forest canopy to provide shade
Park staff will continue to assess closed areas on both sides of the park for fire impacts, safety and downed trees, erosion and rock fall.

It is unknown when all park trails impacted by the fires of 2020 will reopen.

For maps and information on current area closures due to fires, visit https://www.nps.gov/romo/learn/fire-information-and-regulations.htm
COVID-19 Precautions
Rocky is modifying visitor services to help prevent the spread of infectious diseases. Check locally for current information and continue to follow CDC guidelines. As circumstances continue to change and we modify our operations as necessary, we thank you for your patience and cooperation.
When recreating, park visitors should follow local area health orders and avoid crowding and high-risk outdoor activities. Please don't visit if you are sick or were recently exposed to COVID-19. Park staff will continue to monitor all park functions to ensure that visitors adhere to CDC guidance for mitigating risks associated with the transmission of COVID-19 and take any additional steps necessary to protect public health.
Keep your distance. Give others plenty of room whether you are on a trail or in a parking lot.
Keep it with you. If you brought it, take it with you. Trash pickup and restroom facilities will continue to be limited in many park areas. Follow Leave No Trace principles.
Know your limits. Rocky Mountain National Park is one of the busiest search and rescue parks in the country. Many of these incidents could be avoided with visitors planning and making responsible decisions. Winter-like conditions exist in high elevation areas of the park. Bear Lake currently has 14 inches of snow. During the ongoing health crisis, it is critical to make wise choices to keep our national park rangers and first responders out of harm's way.
Protect wildlife. Obey speed limits and be aware of wildlife.


Last updated: February 13, 2023