Ranger-led Snowshoe Walks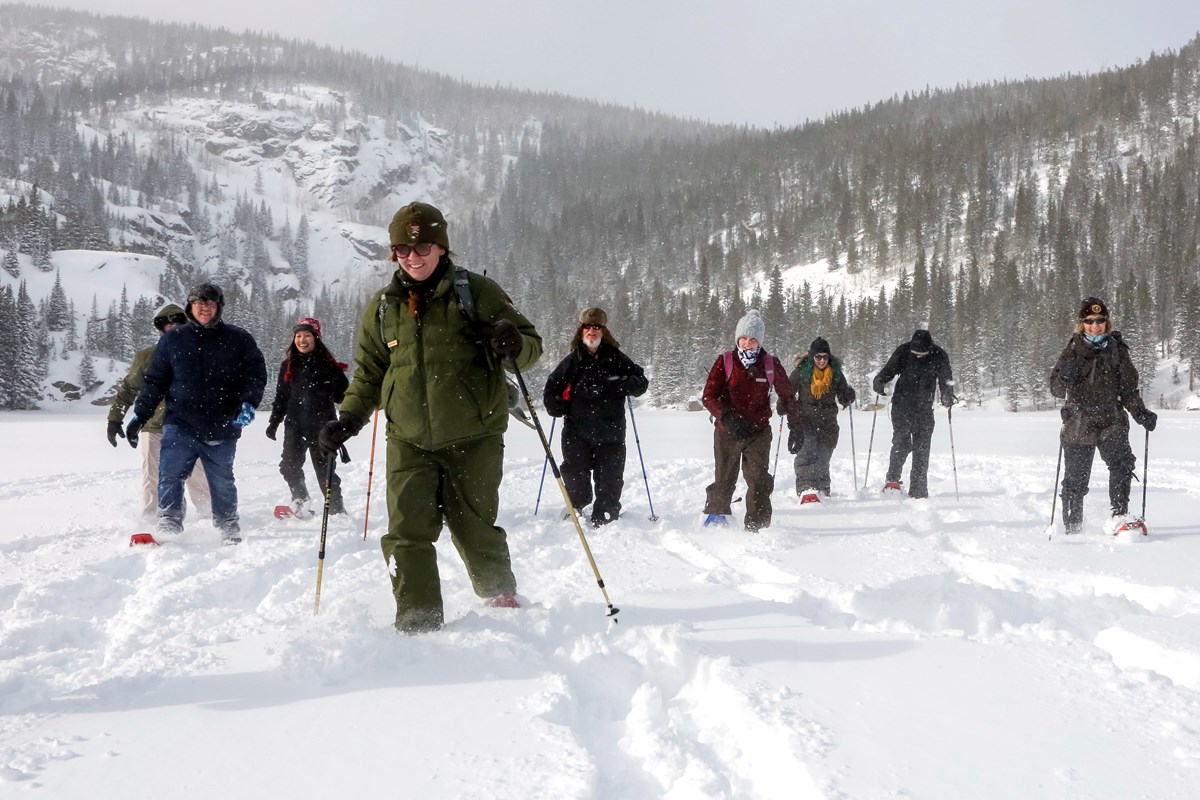 Ranger-led snowshoe walks are offered at Rocky Mountain National Park from January through March.
Snowshoe walks are currently offered only on the east side of Rocky Mountain National Park.
Join a ranger-led snowshoe walk and explore the park off-trail.
First, a ranger will demonstrate how to put on your snowshoes and how to move safely on the snow. Once basic techniques are covered, the group will head out into the snow and the adventure begins!
Snowshoe walks travel through hilly, uneven, snow-covered meadows or mixed conifer forests within Rocky Mountain Naitonal Park.
East Side Snowshoe Walks (via Estes Park)
How to Participate:
Reservations are required.
Call 970-586-1223 to reserve a spot. Reservations may be scheduled up to 7 days in advance. There is a limit of 6 people per reservation. Space is limited to a total of 15 people per program. Snowshoe walks often fill, especially if the day is forecast to be warm and sunny. We strongly recommend reserving a spot early.
When:
Starting January 18, every Tuesday and Thursday, at 12:30 pm. Ranger-led snowshoe walks begin promptly at 12:30 pm and are appriximately two hours long. Since the walks do not follow a distinct route or visible trail, we are not able to accommodate late-comers. Please plan to arrive at least 10-15 minutes early.
Where:
Location and Directions will be provided when reservations are made.
Additional Details:
Snowshoes are
NOT
provided for East Side programs. Participants must bring their own snowshoes or rent snowshoes prior to arriving. This program takes place at 9,449 feet of elevation and may not be suitable for individuals sensitive to high elevations.
General Information about Ranger-Led Snowshoe Walks
Ranger-led snowshoe walks can be considered "moderately strenuous" but are open to all skill levels (Beginners are welcome!).
Ranger-led snowshoe walks are open to participants eight years of age and older; children in carriers are not allowed due to safety concerns.
Participants are required to wear a face mask while putting on and taking off snowshoes, but do not have to wear one while social distancing during the actual program.
Appropriate clothing is essential; this includes water-resistant hiking boots or snow boots, layered clothing, and water/wind resistant outer layers, hats, and gloves. Sunscreen and sunglasses are recommended. Water resistant hiking boots or snow boots are required. Due to safety concerns (hypothermia and frost bite), participants wearing tennis/gym shoes will not be allowed to participate in the guided snowshoe hike.
Ranger-led snowshoe programs don't follow a trail. The exact route can vary with snow and weather conditions. The program time is generally two hours and the distance travelled is about one mile.
Participants must have a baseline fitness level that allows them to snowshoe approximately one mile over hilly terrain at 8,800-9,500 feet of elevation. One mile of snowshoeing is more strenuous than a typical hike in the park. You may consider this activity level equal to hiking at least two miles on a summer trail, jogging one mile, or biking three miles.
All snowshoe programs are conducted by National Park Service park rangers, interns, and volunteers.
Snowshoes can be rented in nearby towns of Grand Lake or Estes Park. There are no snowshoe or winter equipment rentals available within park boundaries.
Snowshoe programs may be cancelled at the last minute due to poor weather or snow conditions.
All ranger-led snowshoe walks are by reservation or free ticket only! Please do not show up at the trailhead the day of the program without a reservation or free ticket.
Organized groups larger than 10 may request a ranger-led snowshoe walk outside of public programs. Requests are accommodated based on staff availability. To request a program, please call 970-586-1223 (East Side) or 970-627-3471 (West Side).
Last updated: March 14, 2022