Ranger-led Snowshoe Walks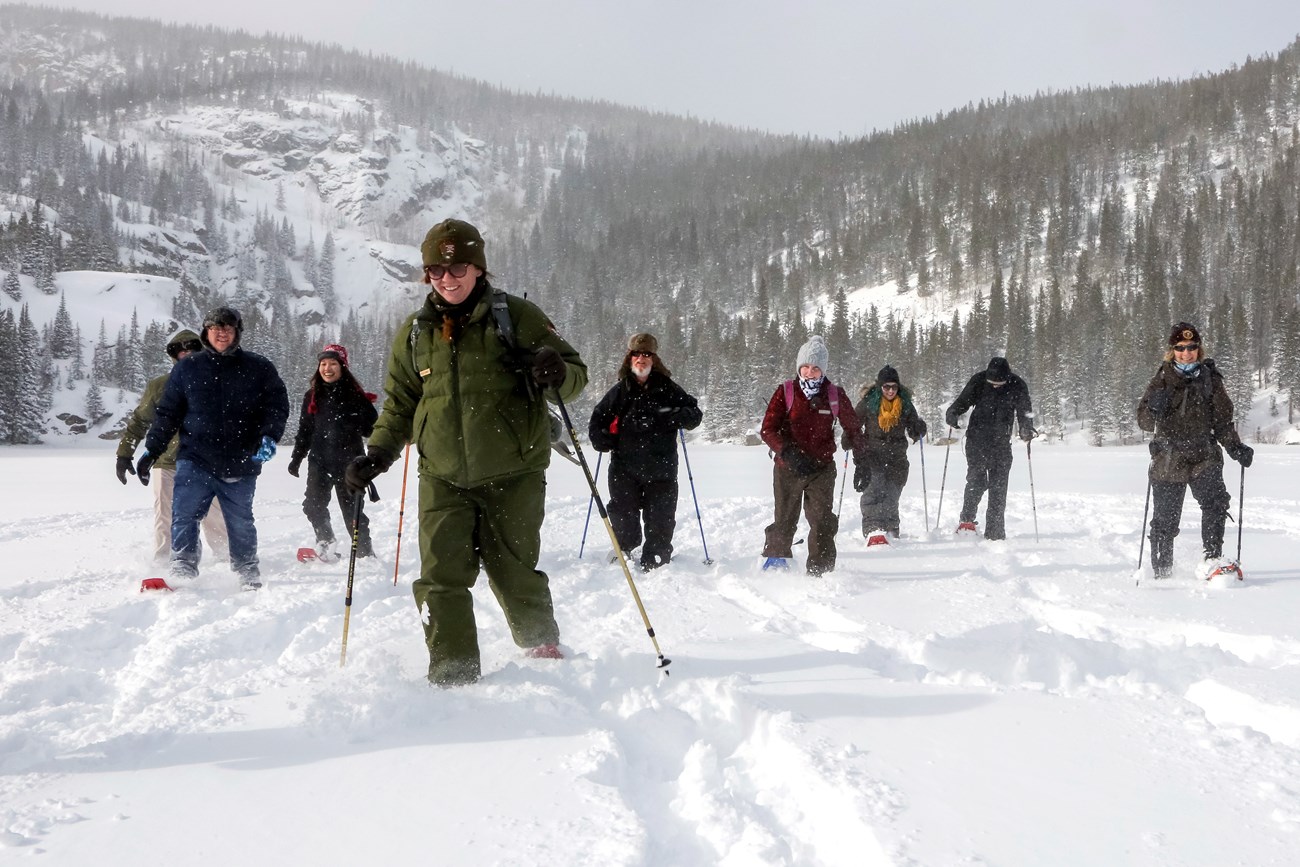 Ranger-led Snowshoe Walks have Ended for the 2023 Winter Season
Ranger-led snowshoe walks are offered in Rocky Mountain National Park typically from mid-January to early March.
If you are a teacher and are looking to book a snowshoe program as part of a school group, please go to our Education Page to make a reservation for a school program.
Reservations are REQUIRED for Ranger-Led Snowshoe Walks
Free reservations are required for all ranger-led snowshoe programs inside Rocky Mountain National Park.
Space is limited to a total of 20 people per program - for both sides of the park.
Due to limited space, a maximum of 6 members of the same group may sign up for a reservation.
Snowshoe walks often fill, especially if the day is forecast to be warm and sunny. We strongly recommend reserving a spot early.
Once reservations are full, a waiting list will be started. Please call if you need to cancel. Once a cancellation is received, we will contact the next person on the waiting list.
All ranger-led snowshoe walks are by reservation! Please do not show up at the trailhead the day of the program without a reservation.
General Information about Ranger-Led Snowshoe Walks
Ranger-led snowshoe programs don't follow a trail. The exact route can vary with snow and weather conditions. We need at least 8-10 inches of base snow to safely and effectively use snowshoes. Due to this, the season for offering ranger-led snowshoe programs may start late or end early, depending on snow levels.
Please plan to arrive 10-15 minutes early. Since the snowshoe walks do not follow a distinct route or visible trail, we are not able to accommodate late-comers.
These programs take place at 9,000-9,400 feet of elevation and may not be suitable for individuals sensitive to high elevations.
Ranger-led snowshoe walks are open to participants eight years of age and older; children in carriers are not allowed due to safety concerns.
Appropriate clothing is essential; this includes hiking boots or snow boots, layered clothing, and water/wind resistant outer layers, hats, and gloves. Sunscreen and sunglasses are recommended. Some participants prefer to use trekking poles, but please note that they are not provided. Water resistant hiking boots or snow boots are required. Due to safety concerns (hypothermia and frost bite), participants wearing tennis/gym shoes will not be allowed to participate in the guided snowshoe walk.
Participants must have a baseline fitness level that allows them to snowshoe approximately one mile over hilly terrain at high elevation. One mile of snowshoeing is more strenuous than a typical hike in the park. You may consider this activity level equal to hiking at least two miles on a summer trail, jogging one mile, or biking three miles.
All snowshoe programs are conducted by National Park Service rangers, interns, and/or volunteers.
Snowshoes can be rented in nearby towns of Grand Lake or Estes Park. There are no snowshoe or winter equipment rentals available within park boundaries. (For West Side programs, snowshoes are provided.)
Snowshoe programs may be cancelled at the last minute due to poor weather or snow conditions. If programs are cancelled, we will contact participants on the reservation list.
Organized groups larger than 10 may request a ranger-led snowshoe walk outside of public programs. Requests are accommodated based on staff availability. To request a program, please call 970-586-1223 (East Side/Estes Park) or 970-586-1513 (West Side/Grand Lake).
PLEASE NOTE: It is the responsibility of the group leader/person making the reservation to disseminate safety information to their entire group, including information about snowshoe walks being moderately strenuous and tennis shoes/gym shoes not being allowed. It is the leader's responsibility to ensure that their family/friend group arrives prepared for the snowshoe hike, so that the entire ranger-led group may have a safe, fun, and enjoyable experience.
Last updated: March 17, 2023