Longs Peak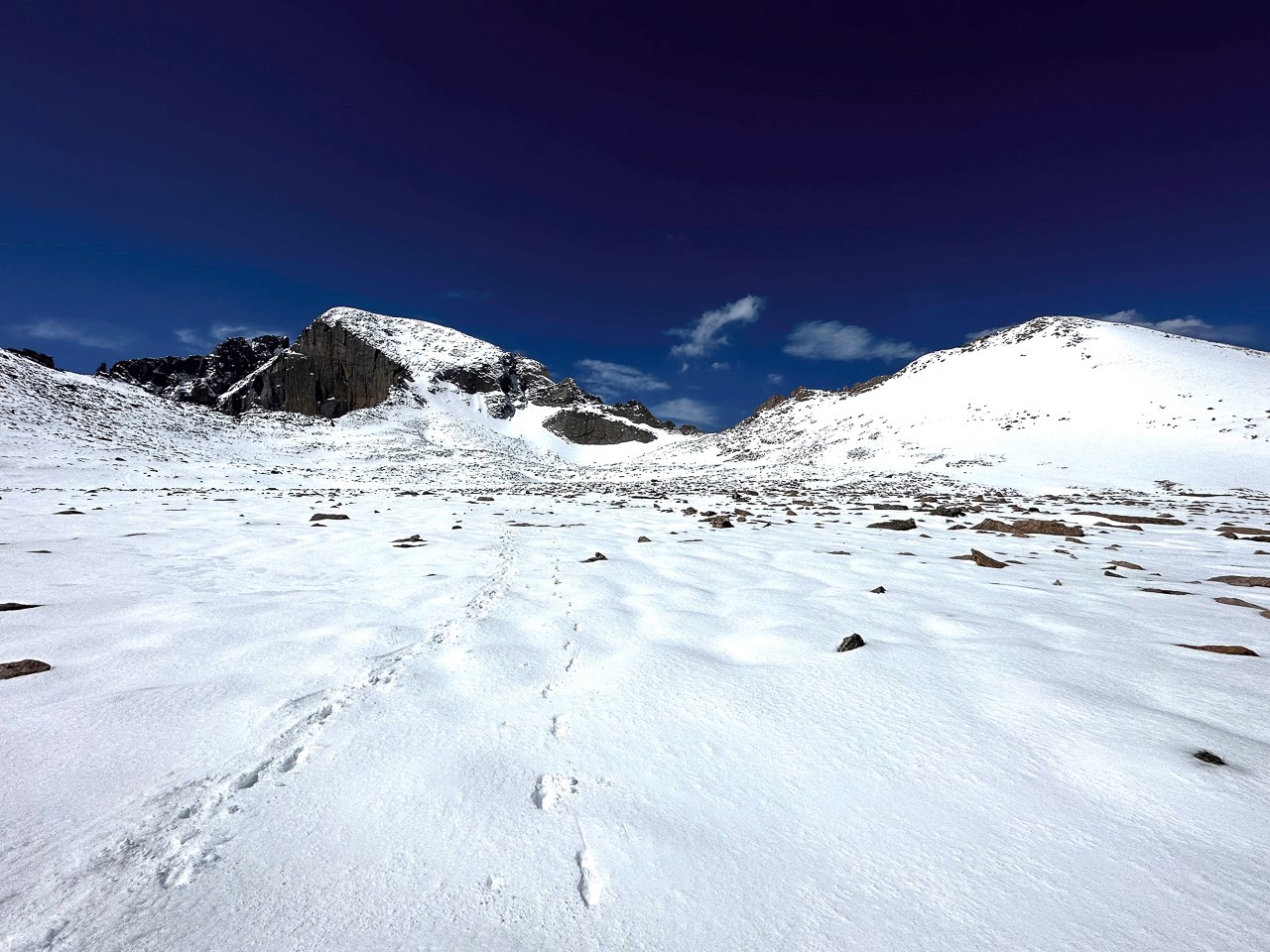 Longs Peak Conditions Report
5/21/23
Spring is finally arriving in the high country of RMNP, but winter conditions remain widespread on Longs Peak. The snowpack is beginning to melt out below treeline, but terrain above treeline is still largely covered in a few inches to several feet of snow. It is common to find very deep snow drifts adjacent to bare rock, and great care should be taken when navigating these types of conditions. Trails are still difficult to follow both above and below treeline, and as such any venture beyond the trailhead should involve proper planning and preparedness.
Traction such as Microspikes, Yaktrax, or crampons and an ice axe are highly recommended. Extra warm clothes, waterproof layers, extra food and water, a headlamp, personal first aid kit, and a cell phone are all strongly recommended. If you are traveling alone, please tell a friend or family member your plans and take extra care with decision making. Even a minor accident while traveling alone on the mountain can quickly turn into a serious situation. Hikers and climbers should expect to encounter cold temperatures, snow and ice, avalanche hazards, and high winds on all aspects of the mountain. As always, please be prepared to turn around when conditions exceed your abilities.
A current weather forecast for the Longs Peak high country can be found
HERE
For avalanche information visit the CAIC at
avalanche.state.co.us
Keyhole Route Conditions
Despite the arrival of spring in the mountains, conditions along the Keyhole Route remain wintery and hazardous. Expect winter conditions with extremely cold temperatures, drifting snow, and widespread ice formation. Avalanche hazards persist along the Keyhole Route as new snow and strong winds continue to dominate the terrain. Warming temperatures in the afternoon can cause widespread instability in the snowpack. Thin layers of snow on the surface can hide thicker layers of ice underneath, creating enormous potential for slips and falls. Crampons and an ice axe are highly recommended but are no substitute for proper training and experience in negotiating icy terrain.
Remember your safety is in your own hands.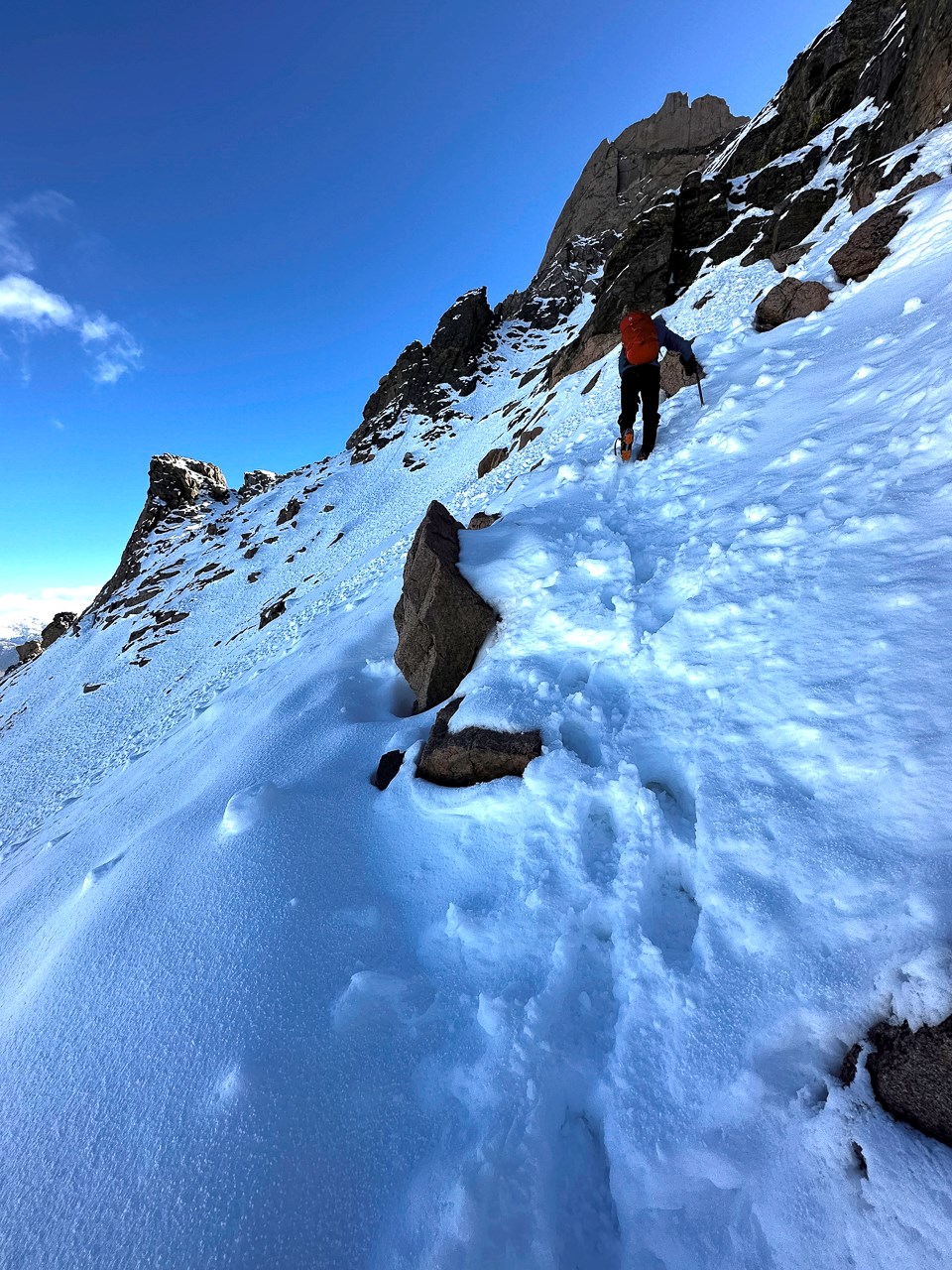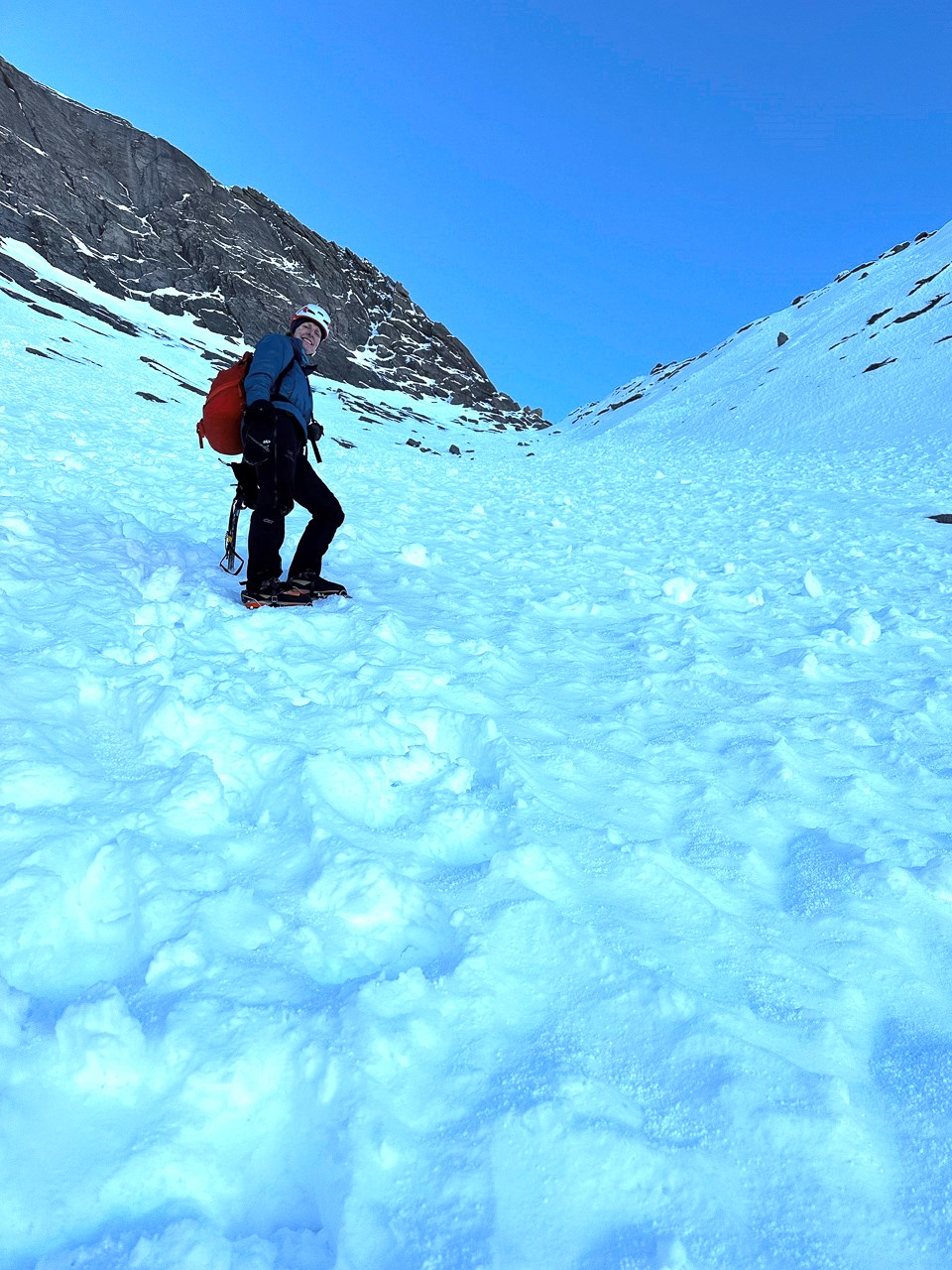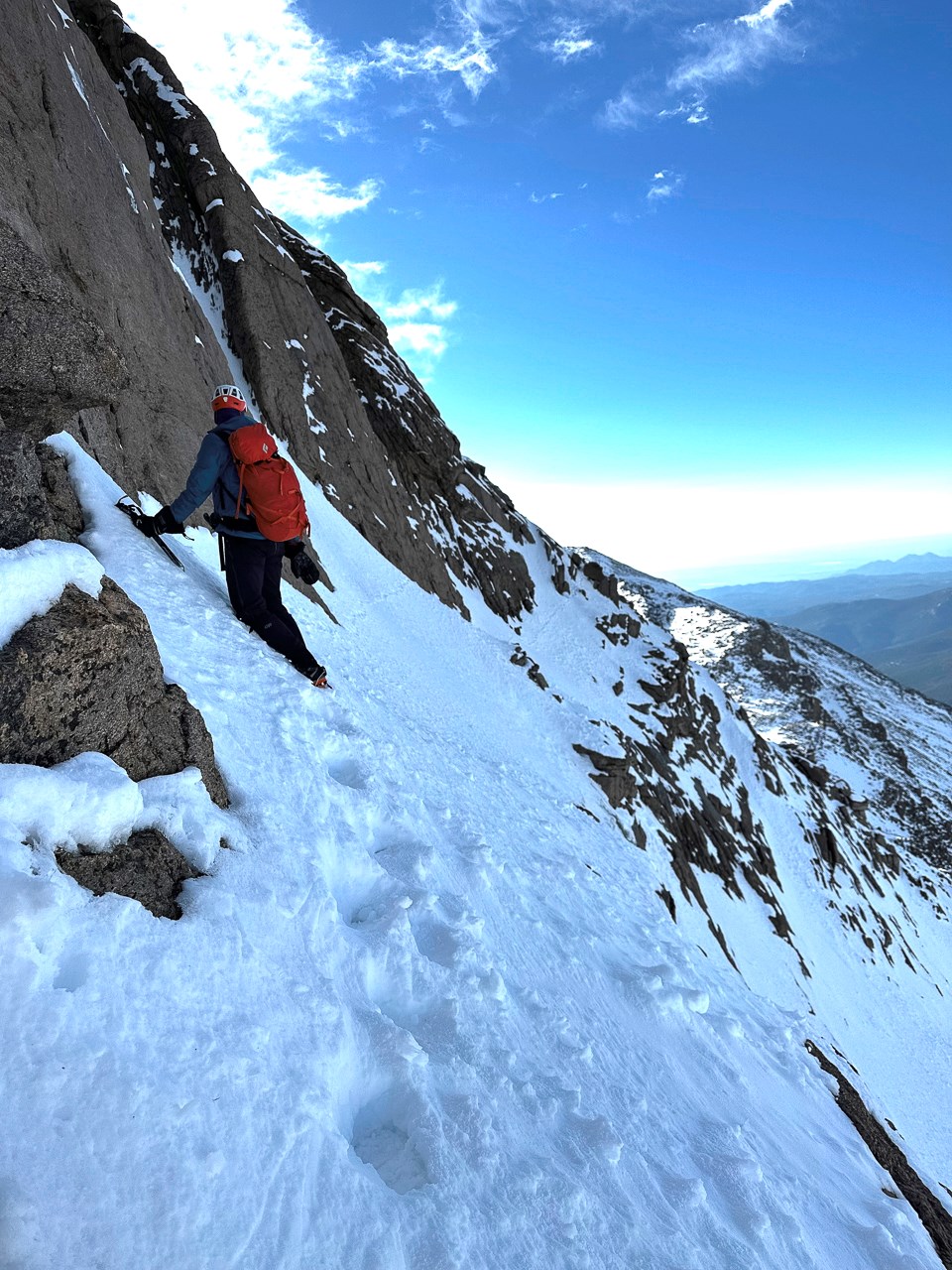 Chasm Crossing
The trail between Chasm Junction and Chasm Meadow is covered in snow. The conditions of this continuous snow slope vary greatly, from icy firm wind slab to deep, unconsolidated powder. Avalanche hazards on this slope will persist throughout the spring, and crampons and an ice axe may be necessary to cross safely.

The rock slabs leading up to Chasm Lake tend to hold snow and ice throughout the spring. Please exercise caution on this terrain and consider trekking poles and/or traction devices for safe travel.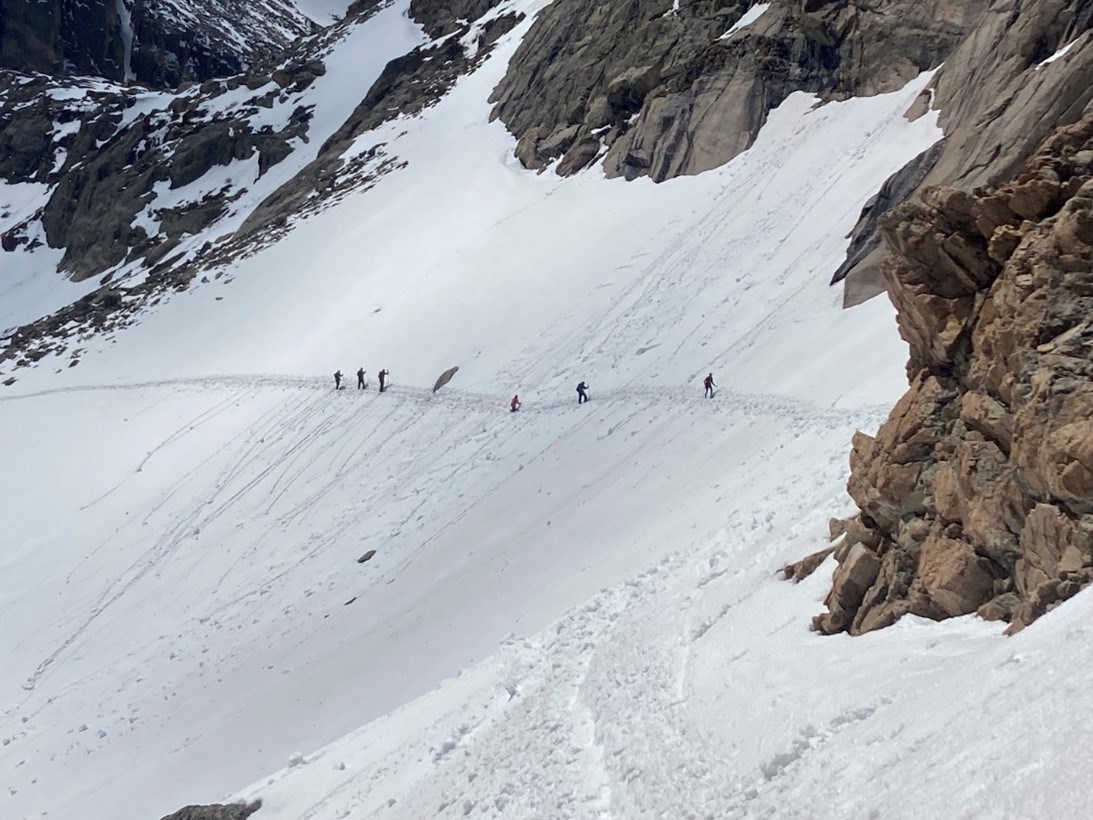 Last updated: May 21, 2023