Longs Peak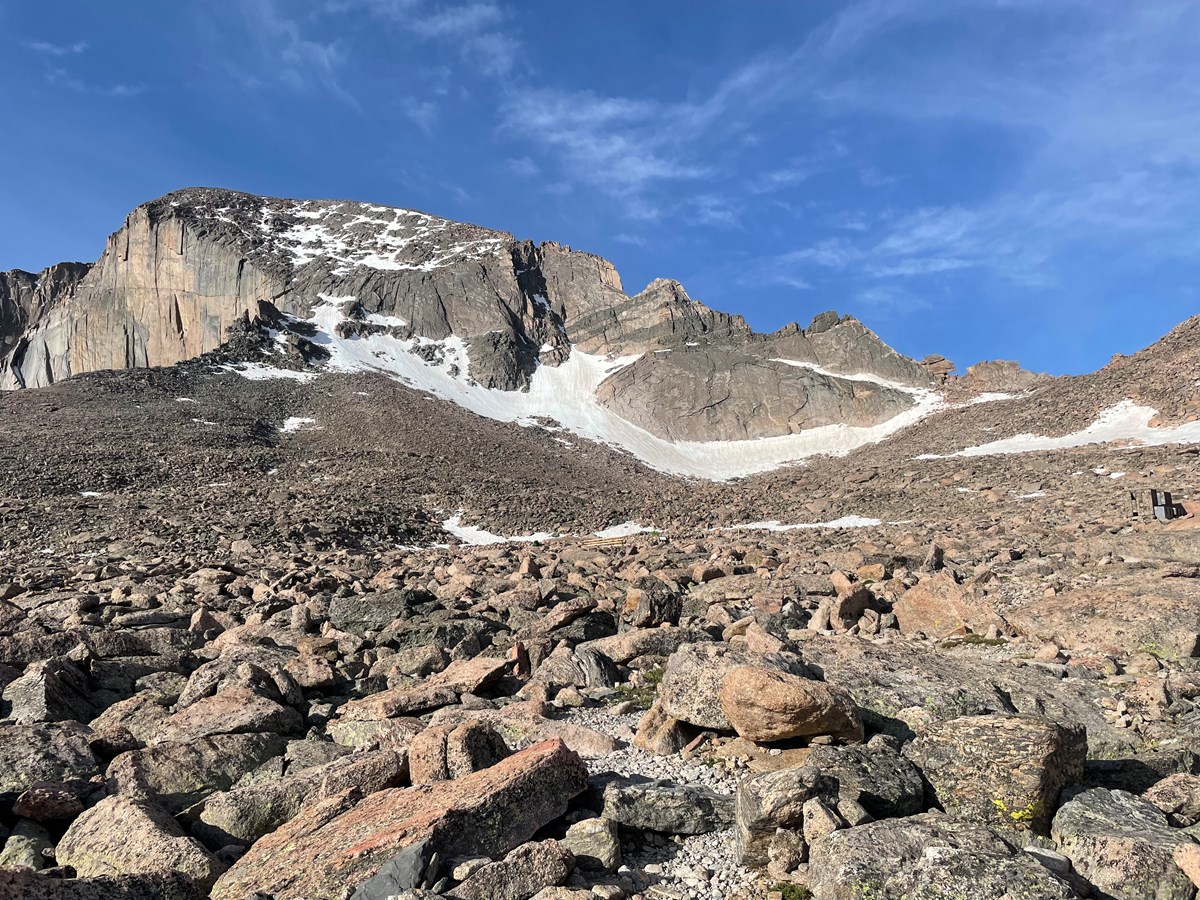 Longs Peak Conditions Report 6/26/22
*On Sunday, May 29th there was a large rock fall event that triggered a subsequent avalanche in the Dreamweaver couloir on Mt. Meeker. We continue to receive reports of significant and persistent rock fall in this area. Please exercise caution and consider avoiding the Dreamweaver couloir entirely.*
After a long spring we are finally transitioning to summer conditions on Longs Peak. Significant snow melt is occurring on a daily basis, and only a few large snow patches remain along the trail to the Boulderfield. However, there is still significant snow travel on many summit routes and proper planning for these conditions is critical. Rapidly changing conditions mean hazards like ice formation may still exist on the upper mountain. We are also transitioning into monsoon season, and afternoon thunderstorms will remain a real threat for the remainder of the summer season. Returning to treeline by noon is recommended to help mitigate exposure to lightning storms.
Traction such as Microspikes, Yaktrax, or crampons and an ice axe are still recommended for travel on the upper mountain. Extra warm clothes, waterproof layers, extra food and water, a headlamp, personal first aid kit, and a cell phone are all strongly recommended. If you are traveling alone, please tell a friend or family member your plans and take extra care with decision making. Even a minor accident while traveling alone on the mountain can quickly turn into a serious situation. As always, please be prepared to turn around when conditions exceed your abilities.
A current weather forecast for the Longs Peak high country can be found
HERE
For avalanche information visit the CAIC at
avalanche.state.co.us
Keyhole Route Conditions
Conditions along the Keyhole route are changing rapidly but still involve some snow travel, particularly near the top of the Trough. Various sections of the route are still seeing melt/freeze cycles, creating an enormous potential for slips on icy rock. These patches of ice may be hidden under thin layers of snow or obscured by shadows. Freshly exposed rocks tend to be loose and unstable, so please watch your step as you move about the mountain. Crampons and an ice axe, or other traction devices such as Microspikes or Yaktrax are highly recommended but are no substitute for proper training and experience in negotiating icy terrain.
Remember your safety is in your own hands.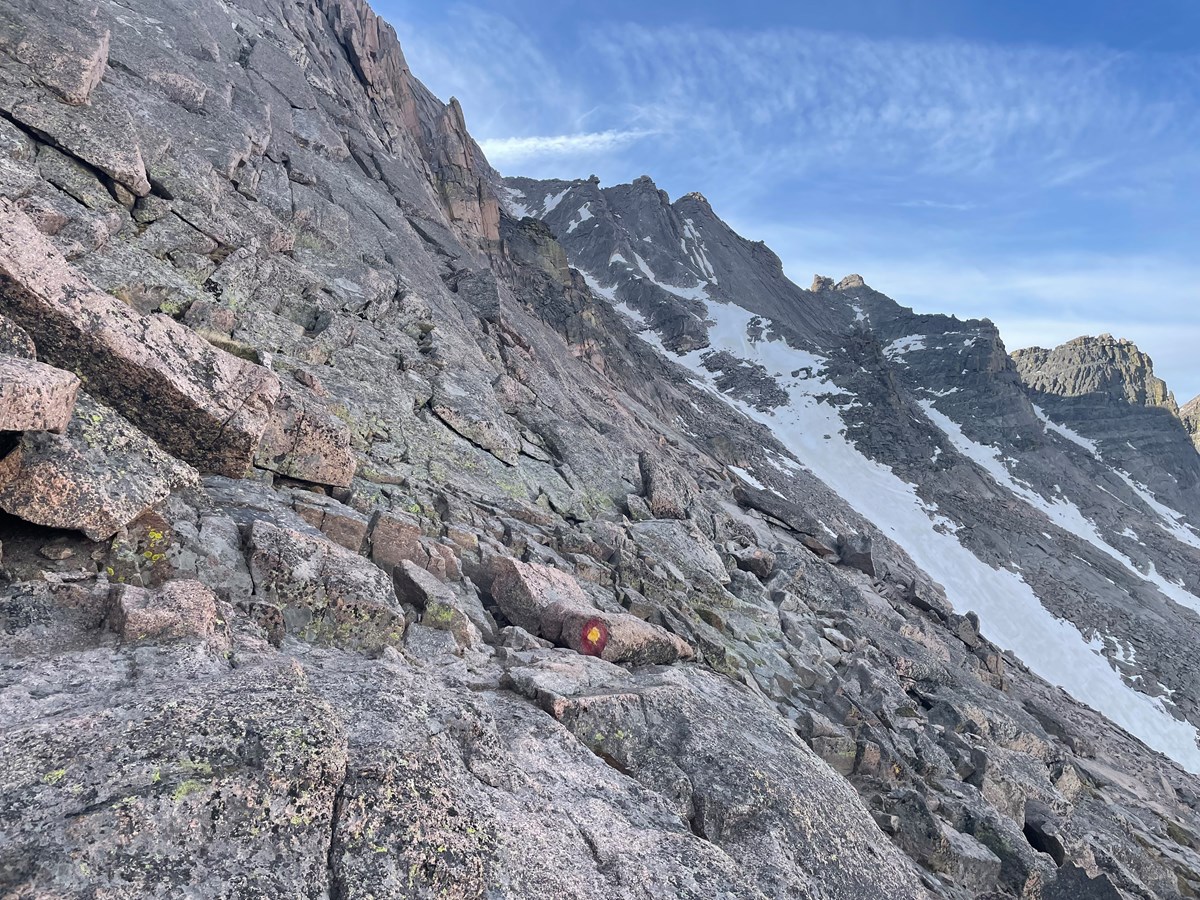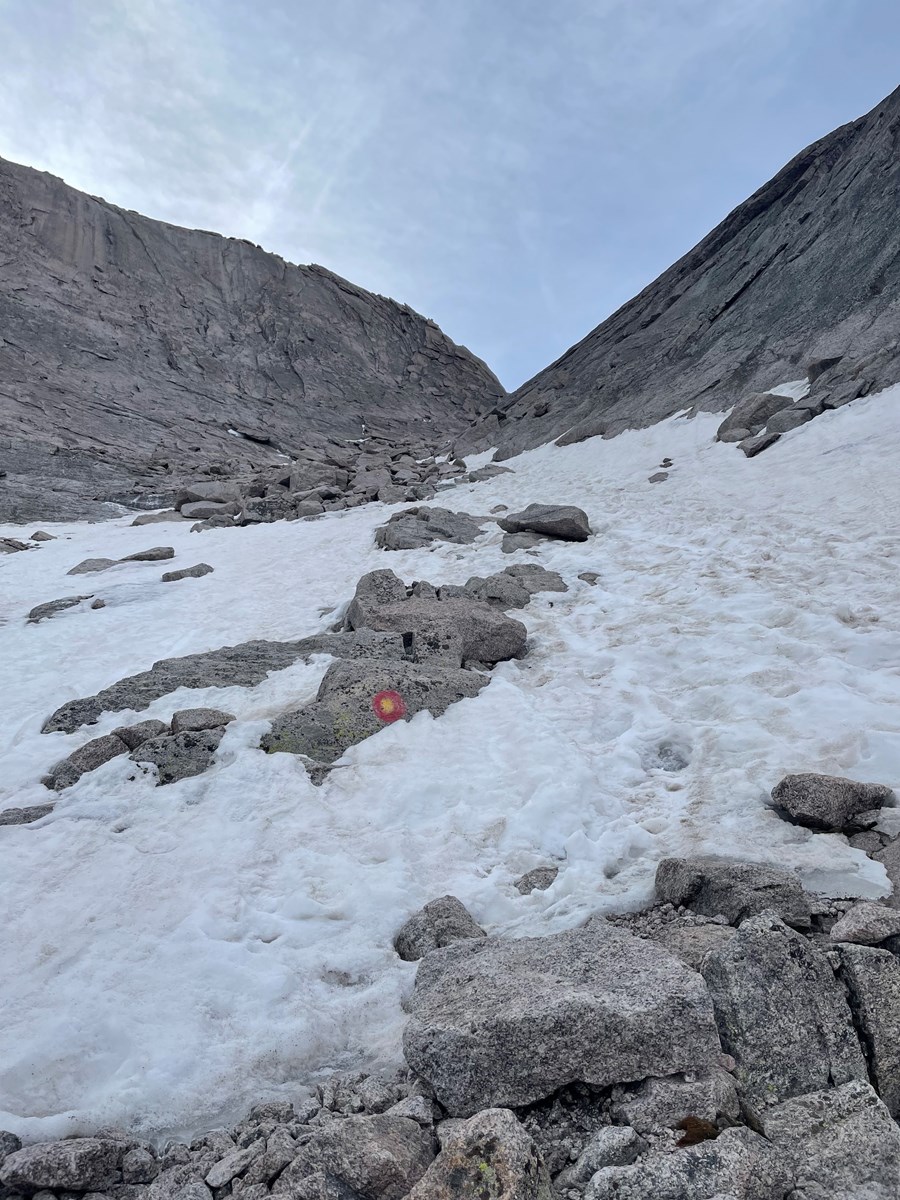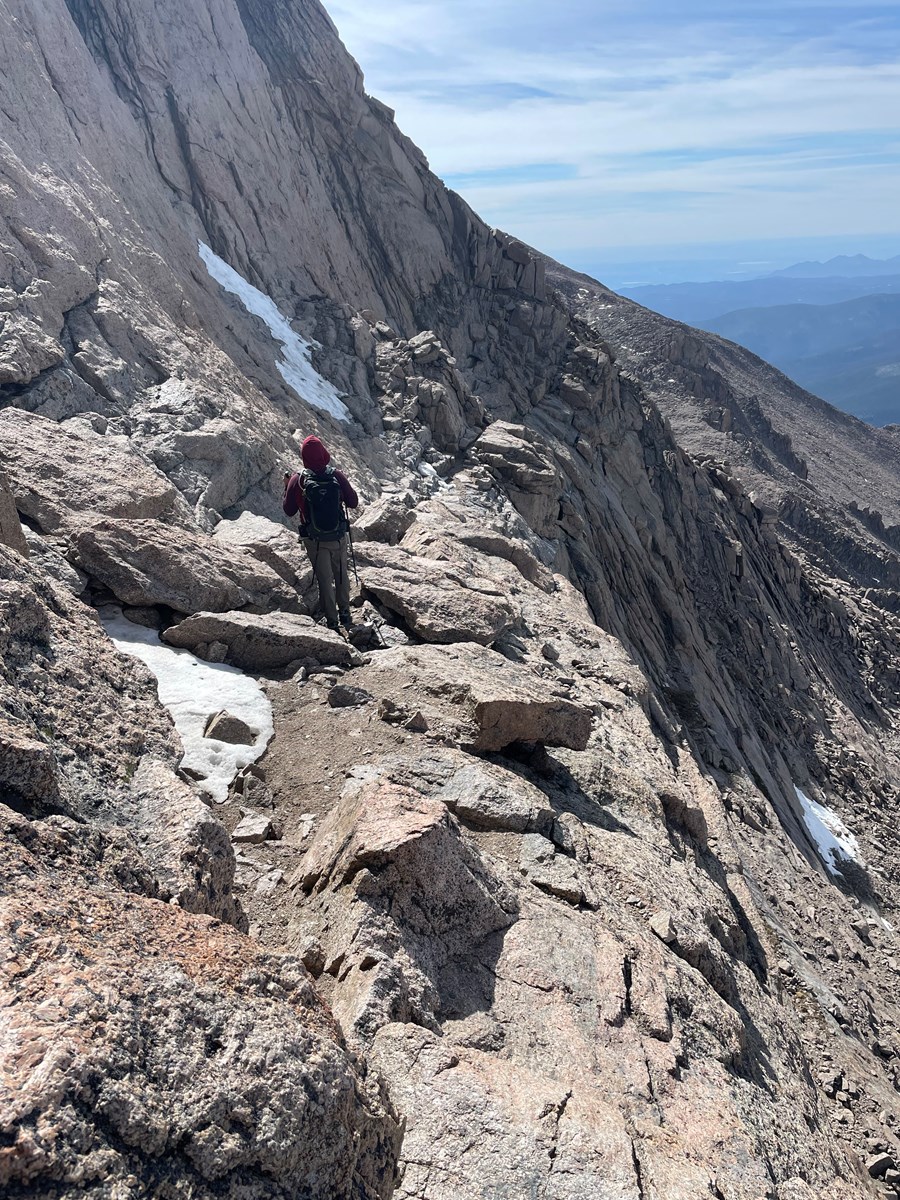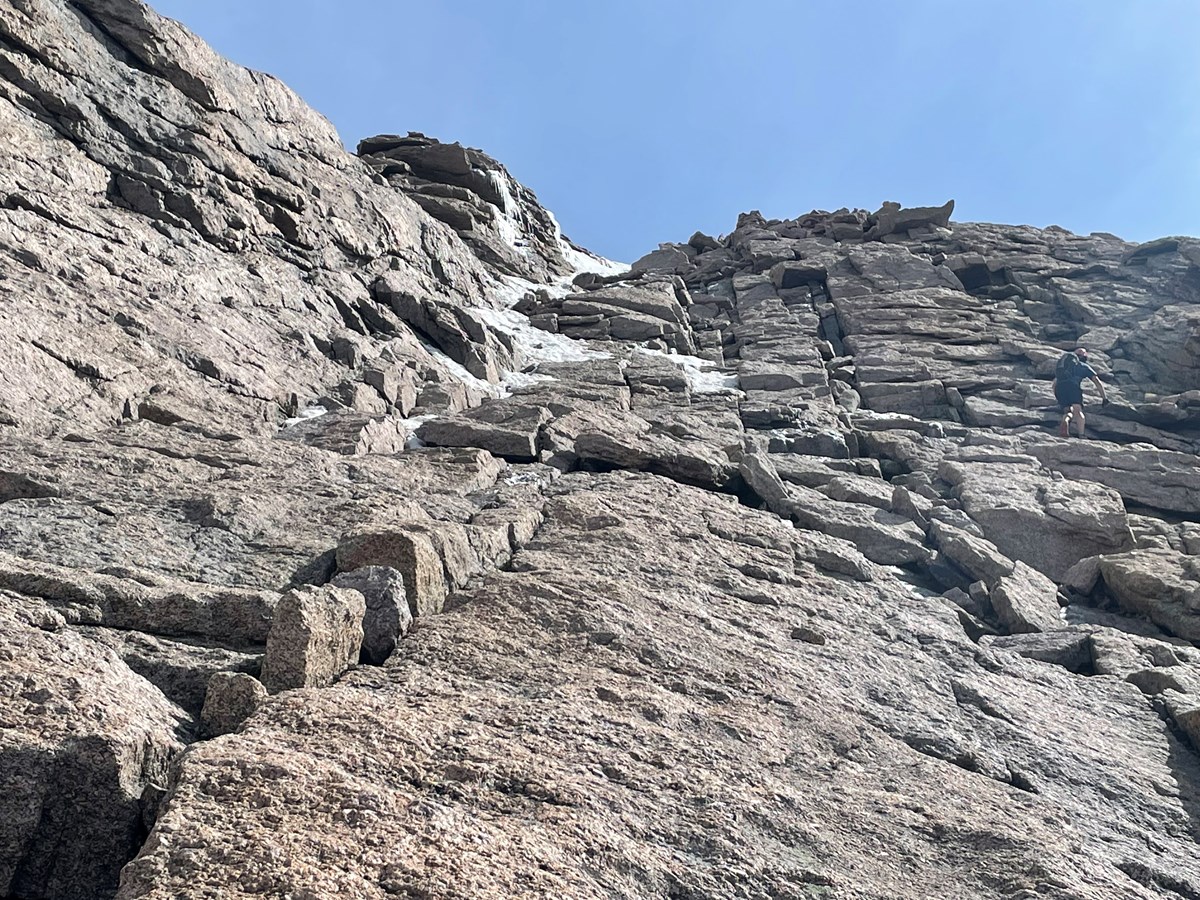 Chasm Crossing
The trail between Chasm Junction and Chasm Meadow is still holding some snow. Traction devices and/or trekking poles are recommended for safe travel across this slope. Additionally, the rock slabs leading up to Chasm Lake are often wet. Please exercise caution on this terrain.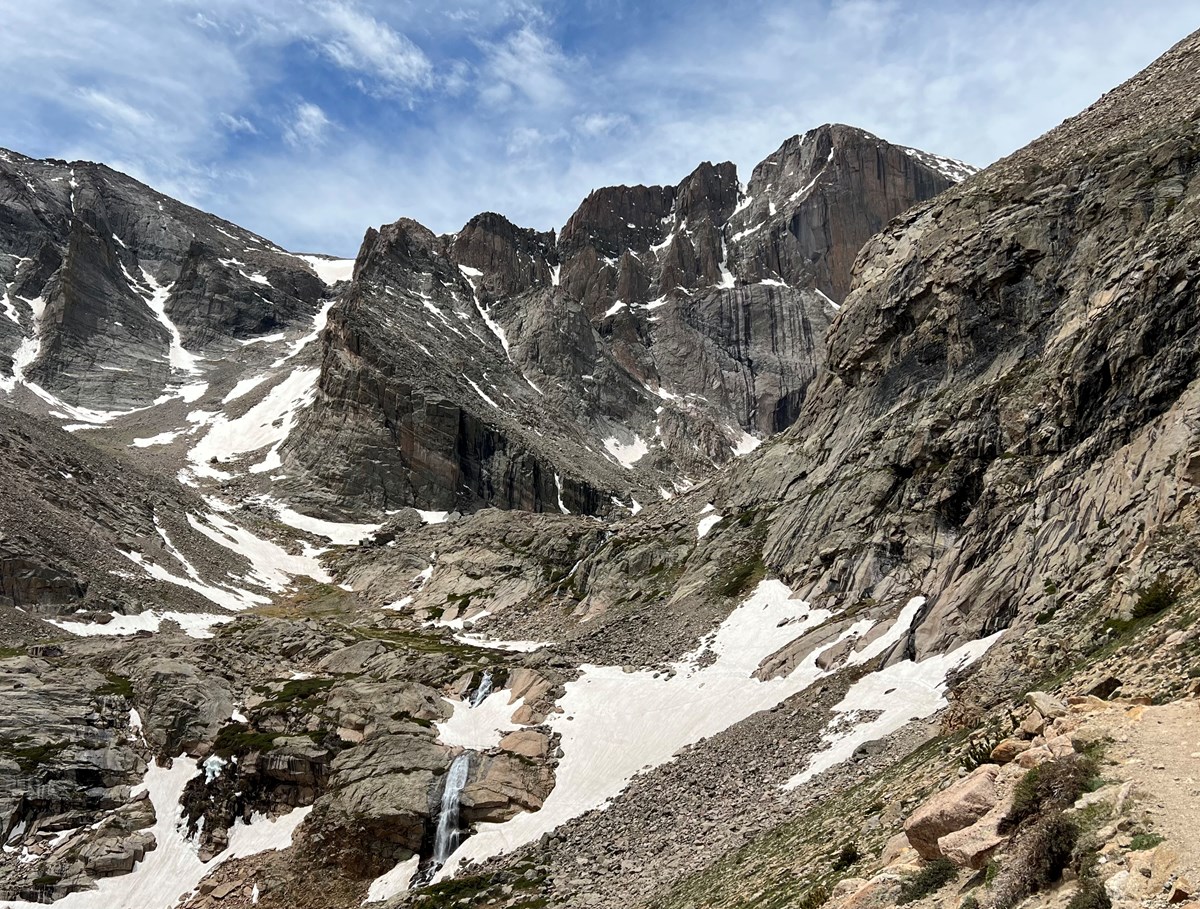 Last updated: June 26, 2022