Longs Peak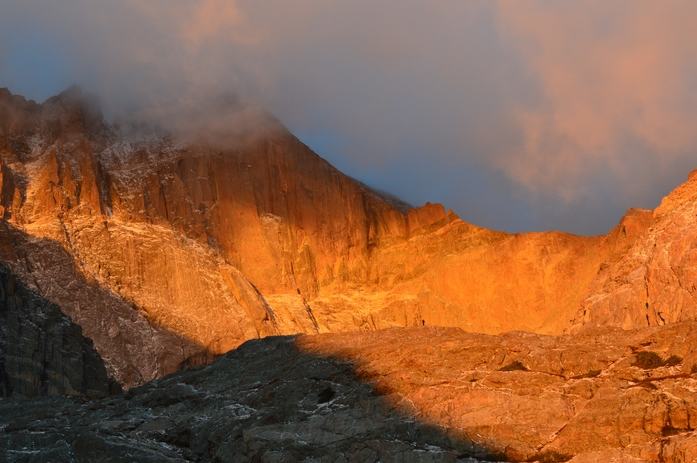 Longs Peak Winter Seasonal Advisory 10/13/16
Conditions in Rocky Mountain National Park can change at any time. Travelers should expect to encounter rain, hail, sleet, snow, lightning, and any other weather imaginable when travelling in the mountains. Please take appropriate gear to endure these changing conditions. Also, be prepared to turn around when conditions exceed your abilities.

Remember your safety is in your own hands.

Keyhole Route Conditions
Winter has arrived on Longs Peak. Recent storms have brought a mixture of snow, ice, and extreme winds to all aspects of the mountain. Winter conditions are now present on the Keyhole Route, including drifting snow, icy rock ledges, and winds gusting to 60+ mph. Avalanche danger will increase as wind slabs begin to form along the route. The threat of hypothermia is now severe, and any exposed skin may be subject to frostbite. Low temperatures are reaching single digits overnight and will continue to drop. Dressing appropriately for these conditions is extremely important, and clothing should consist of synthetic, down, or wool fabrics while avoiding cotton. Insulated, waterproof footwear such as mountaineering boots are highly recommended. It is advisable to carry additional warm layers including waterproof tops and bottoms, a winter-weight insulating jacket with down or synthetic fill, a warm hat or balaclava, and waterproof gloves.
Conditions will likely change from day to day along the Keyhole Route throughout the winter season, but climbers should expect to encounter snow, ice, and winter conditions regardless. Slick terrain will increase the hazard of slips, trips, and falls, and may warrant traction devices such as Microspikes or crampons and an ice axe. Climbers should also be aware of slippery, polished rock throughout the route. Be prepared to turn around when conditions exceed your abilities.