Current Fire Information & Regulations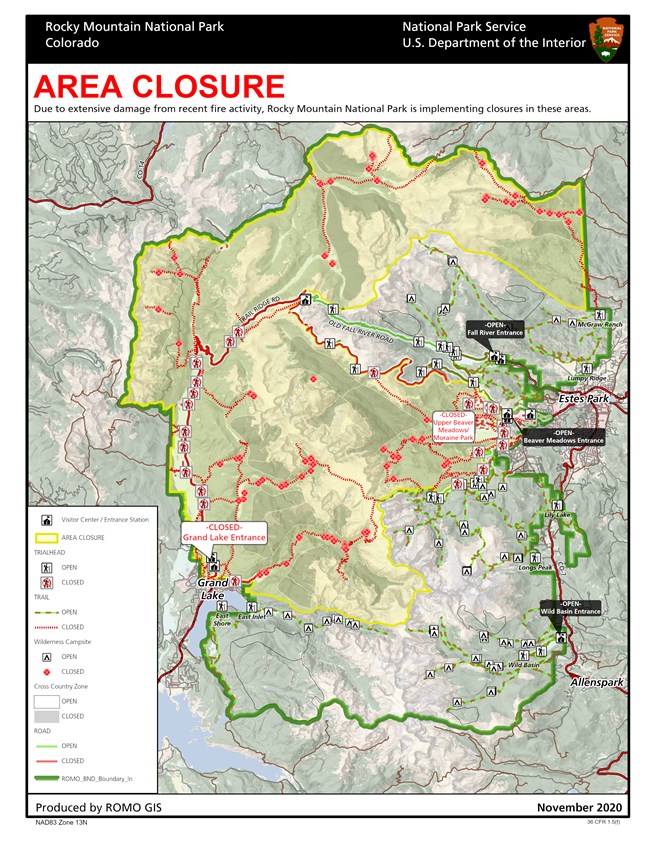 Area Closures
View an Interactive Map of Area Closures

Bear Lake Road in Rocky Mountain National Park reopened November 19 after being closed since October 22, due to the East Troublesome Fire. All areas and trails east of Bear Lake Road have reopened.

Most areas west of Bear Lake Road remain closed including the Moraine Park Road at the junction of Bear Lake Road and the Moraine Park Campground. Trails that remain closed include the Fern Lake Trail, Cub Lake Trail, the Mill Creek Basin, Hollowell Park, and Bierstadt Trail.

The trail system in the Bear Lake area has reopened. The Flattop Trail is open to the summit of Flattop Mountain but is closed past this point to the west of the Continental Divide. The Odessa/Fern Lake Trail is closed at the Odessa/Flattop Trail junction. The Bierstadt Trail is also closed at the Bear Lake/Bierstadt Trail junction.

The west side of Rocky Mountain National Park remains closed past the Grand Lake Entrance as does the North Inlet Trail and the Sun Valley Trail, due to the level of fire impacts and ongoing safety assessments.

Additional areas that will remain temporarily closed to park visitors on the east side of the park include Upper Beaver Meadows Road, the North Boundary Trail, the North Fork Trail, and Mummy Pass, Stormy Pass, Commanche Peak and Mirror Lake Trails. Park staff will continue to assess these areas for fire activity, safety and downed trees, being mindful of high winds that occur this time of year causing more trees to fall.

On Wednesday, October 21, the East Troublesome Fire ran approximately 18 miles before it moved into the west side of Rocky Mountain National Park, and then spotted approximately 1.5 miles from the head of Tonahutu Creek on the west side of the Continental Divide to the head of Spruce Creek on the east side of the Continental Divide. Rapid evacuations took place in Grand Lake on October 21. Evacuations for the majority of the Estes Valley were implemented on October 22, as weather predictions forecast major winds on the night of October 23 through October 24 pushing the fire further to the east. Firefighting actions and favorable weather on October 24 and 25, helped halt the major movement of the East Troublesome and Cameron Peak Fires.

Approximately 30,000 acres or 9 percent of Rocky Mountain National Park has been impacted by the East Troublesome and Cameron Peak Fires.

Rocky Mountain National Park's non-profit partner, The Rocky Mountain Conservancy, is accepting donations to support the park's future restoration efforts from this season's fires https://rmconservancy.org/join-or-give/donate/

For information on the East Troublesome Fire visit https://inciweb.nwcg.gov/incident/7242/
For information on the Cameron Peak Fire visit https://inciweb.nwcg.gov/incident/6964/
Fire Ban
All fires are banned in Rocky Mountain National Park until further notice.
Due to the continued extreme fire danger, extended weather forecast, and current level of fire activity in the state of Colorado, park officials have announced a ban on all fires within Rocky Mountain National Park. The ban will remain in effect until further notice.
Campfires, including charcoal briquette fires, are not permitted anywhere within the park. However, petroleum fueled stoves and grills will still be permitted in developed campgrounds, picnic areas, and in designated wilderness campsites. Stoves must be able to be turned on and off. Smoking is also prohibited, except within an enclosed vehicle, or stopped within a developed paved area devoid of vegetation for at least three feet. Visitors are reminded to properly extinguish all lighted smoking materials and dispose of properly. Fireworks are always prohibited within the park.
It is the responsibility of each person to know and obey the existing regulations about fire in Rocky Mountain National Park. There are always fire restrictions in the park.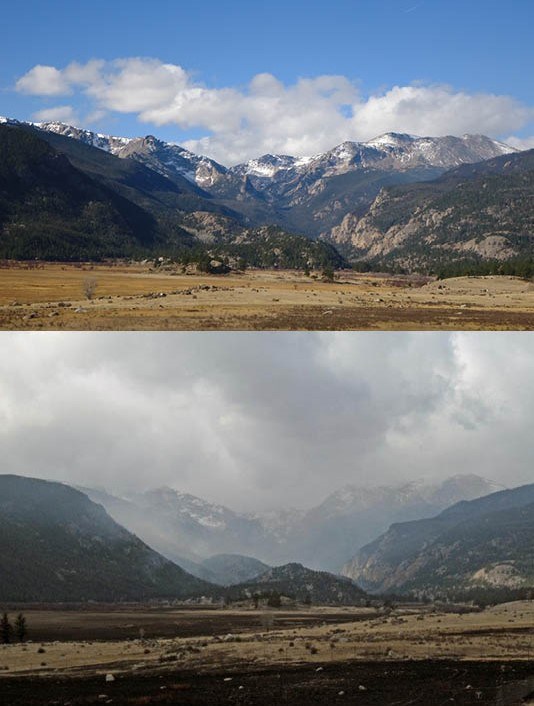 These rules are always in effect:
Fires, including grills and charcoal briquettes, are only allowed in designated areas and sites where a metal fire ring or grate is provided. These areas include developed campgrounds, some picnic areas, and some designated wilderness campsites. Campfires and grills are not allowed anywhere else in the park.
Petroleum-fueled stoves are allowed in developed campgrounds and picnic areas. A permit is required to use a petroleum-fueled stove in designated wilderness sites.
The park may enforce stricter fire regulations, including fire bans.
Fire safety tips:
To report a fire in the park, call 9-1-1.

Never leave a fire unattended. Before leaving or going to sleep, completely extinguish your fire by dousing it with water and stirring the ashes until there is no more heat, smoke, or embers.

Be careful with equipment such as stoves, lanterns, heaters, and grills. Avoid spilling flammable substances, store fuel away from appliances, and allow equipment to cool.

Discard cigarettes and matches properly. Completely extinguish and dispose of smoking materials in a cigarette receptacle or carry them out of the park with you.
Check out the National Weather Service's Rocky Mountain National Park weather decision support page to learn more about current weather conditions, including fire weather.
For further information regarding fire conditions, regulations, recent and ongoing fires in the park, please contact the Information Office at (970) 586-1206.
Last updated: December 2, 2020