Plan A Field Trip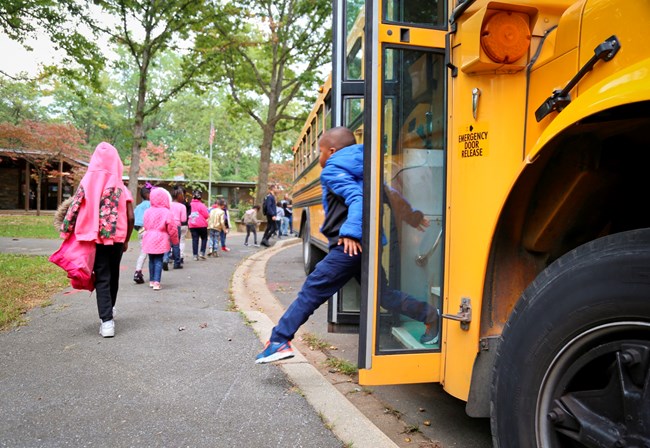 Extend classroom learning into the outdoors in your national park!

Touch live animals. Look at the starts in our planetarium. Hike to the creek at the heart of our park. Visit a historic flour mill, an 18th century home, or a civil war fort. These experiences, and many others, have been incorporated into curriculum-based programs to help bring your in-class lessons alive.

Need to make a reservation?

Programs must be scheduled a minimum of two weeks in advance. Call us at 202-895-6070 Wednesday-Sunday between 9:00 a.m. and 5:00 p.m.



Curriculum-based programs

Our curriculum-based programming includes environmental education, history, culture, and technology and planetarium offerings. These programs are free but must be booked at least two weeks in advance. Please keep in mind the Rock Creek park Nature Center is closed on Mondays and Tuesdays.

Parking
• Parking for cars, vans and busses is available at the Nature Center.
• Limited parking is available at Peirce Mill
• At Old Stone House in Georgetown there is metered street parking and paid lots, but no free parking during school hours. Also, spots may be difficult to find nearby.

Food
• There no food facilities in the park, if you plan to visit Peirce Mill or the Nature Center it is best to bring your lunch. Also, there are limited uncovered picnic areas nearby.
• You may also want to bring your lunch to the Old Stone House in Georgetown and picnic in our garden. There are restaurants in Georgetown, but very few low-cost options.

Getting there

Please be aware that the Beach Drive Rehabilitation Project is ongoing and work may affect your getting through Rock Creek Park
The Nature Center and Planetarium are located at 5200 Glover Road, NW, Washington, D.C.

• By school bus or van

Take Military Road, NW to Glover Road, NW. Turn onto Glover and stay to the left at the fork in the road. After the fork take the first left into the Nature Center parking lot.

• By Metro

Take the train to the Fort Totten or Friendship Heights station. Board an E2, E3, or E4 bus to the intersection of Military and Glover roads, NW. A paved path leads to the Nature Center and Planetarium.

Peirce Mill is at 2401 Tilden St., NW, Washington, D.C.

• By school bus or van:

Beach Drive is closed to bus traffic. Buses must access the mill by Tilden Street or Park Road. A bus turnaround is located next to Peirce Barn to drop off and pick up students.

From Connecticut Avenue turn east on to Tilden Street. Peirce Mill is at the bottom of the hill.

From 16th Street turn west onto Park Road which becomes Tilden Street when crossing Beach Drive. Go through the traffic light, cross the bridge. Peirce Mill is on your right.

• By Metro:

Take the Red Line to the Cleveland Park or Van Ness metro station

From Cleveland Park: Walk north on Connecticut Avenue and hike to the right (east) down the Melvin Hazen Trail to Peirce Mill.

From Van Ness: Walk south to Connecticut Avenue and turn left (east) on Tilden Street. Walk down the hill to Peirce Mill.

The Old Stone House is at 3051 M St., NW, Washington, D.C.

• By school bus or van:

The Old Stone House is in the heart of the Georgetown neighborhood. At the intersection of Wisconsin Avenue, NW and M Street NW, in Georgetown, turn left and go 1 1/2 blocks until you see the Old Stone House on your left. It is across from Jefferson Street, NW.

• By metro
The nearest metro station to the Old Stone House is Foggy Bottom -- about 1 mile away. from Foggy Bottom you can walk or take the Circulator Bus which stops across the street from the Old Stone House.

Stormy weather. Are we open?

During inclement weather, particularly snow storms and hurricanes, federal offices in the district may be closed. To check if we are open check the OPM website. Click on "operating status" along the top bar. Also check local television and radio broadcasts for announcements.

Need to contact us?

Running late?

need to change or cancel your reservation?

Call us at 202-895-6070 Wednesday through Sunday, 9:00 a.m. to 5:00 p.m.


Last updated: November 4, 2016