Weddings and Celebrations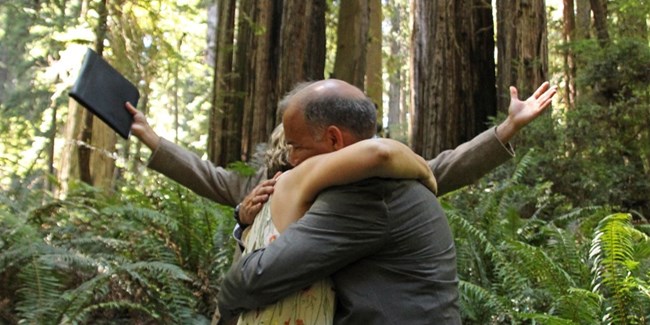 Congrats on your upcoming day!
All weddings, elopements, and vow-exchanges require a special use permit in Redwood National and State Parks (including Jedediah Smith Redwoods State Park, Del Norte Coast Redwoods State Park, and Prairie Creek Redwoods State Park) in order to protect park resources and public interest.
Permits are
non-exclusive
, access to locations for all visitors must be maintained at all times.
To Apply for a Permit:


1. Select a Location
*Locations on this list are 'pre-approved', meaning as long as group size and other factors fall within the normal conditions of special use (see 'Permit Conditions'), the application will not need to go out for review.

Other locations can be selected, but the application will need to go out for a two-week review with park staff.

Please be aware, many areas within the parks are heavily vegetated and have narrow trails. Accommodating larger groups on trails is often not feasible to prevent resource damage.

Note: Permits are not issued for Fern Canyon, James Irvine Trail, Stout Grove, or Lady Bird Johnson Grove Trail
2. Select a date and time block
Generally, ceremonies are scheduled in 1 - 3 hour time blocks. Permits can only be written for day use hours. Permits may not be granted during or around major holidays due to crowding.
3. Fill out and email the application forms
1) Fillable Special Use Permit Application (word document)
2) A threatened and endangered species addendum (PDF document)

Email both forms to the Permit Coordinator at REDW_Special_Use_Permits@nps.gov.
4. Pay the Application Fee
Once the application forms are received, an email from Pay.gov will be sent with instructions on how to pay the fee online.
Application Fee/Other Costs
A non-refundable application fee is charged through Pay.gov.

Fees vary based on the complexity of the application:
An application that falls within the normal conditions of a special use permit (see 'Permit Conditions'), location, and group size will have a non-refundable application fee of $100.
Applications with requests outside the normal conditions and/or approved locations have an application fee of $200.
For group sizes over 50 people, please contact the Permit Coordinator.

Once application forms are received, an email from Pay.gov will be sent with instructions on how to pay the application fee.

Additional costs may be charged in the event of:
Event monitoring - $80/hour for events that require resource monitoring by park rangers
Resource damage, site cleanup, etc. will be billed according to cost recovery
Permit Conditions
A list of conditions can be found here.

Time and Date:
Permits will be issued for day use hours only
Permits are not generally issued around major holidays due to crowding
Flowers and Decorations:
Live or dried natural plant/flower material is prohibited. This includes cut flowers for bouquets and potted plants. Live plant materials may contain insects or unwanted pests that could be introduced into the park. Silk or paper flowers are allowed
The releasing of doves, butterflies, balloons, or other types of items is prohibited
The throwing of birdseed, rice, flower petals, confetti, or other items is prohibited. Feeding wildlife is prohibited (36 CFR 2.2(a)(2)).
The use of arbors, arches, stands, risers, or other similar props is prohibited
The attaching of ribbons, flowers, balloons or signs to vegetation, rocks, or existing NPS signs within the park is prohibited
The placement of signs or other event notifications along roads or on signs is prohibited
Food service and alcohol are not permitted
Photography
Photographers and videographers are not required to obtain additional permits as long as they are providing a service to your wedding. Any commercial vendors should be listed as support personnel on your application.
The use of drones is not permitted
Music
The use of music under 60 dB may be permitted - please include any music on your application
San Francisco (SFO) and Portland, Oregon (PDX) are the closest major airports, both are a 6-8 hour drive from the respective ends of the parks.

Medford, OR (MFR) is a 2-hour drive east of Jedediah Smith Redwoods.

Eureka/Arcata, CA (ACV) airport is 1-hour drive south of Prairie Creek Redwoods.

Redding, CA airport (RDD) is about 4-hours east of Prairie Creek Redwoods.

There is also an airport in Crescent City (CEC) that is 15-minutes from Jedediah Smith Redwoods, but flights are very limited.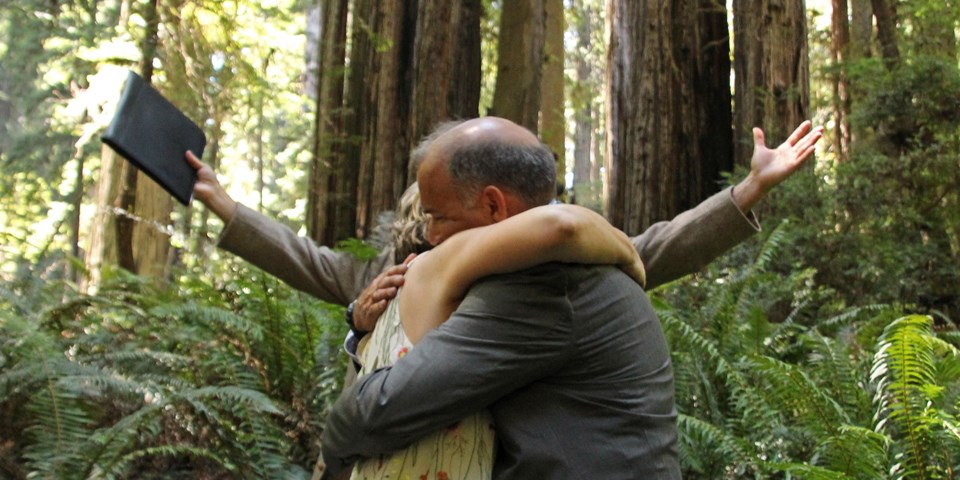 If you have any questions, please feel free to call, or e-mail.
Permit Coordinator
Ph (707) 465 - 7307
Last updated: April 19, 2023