Weddings and Celebrations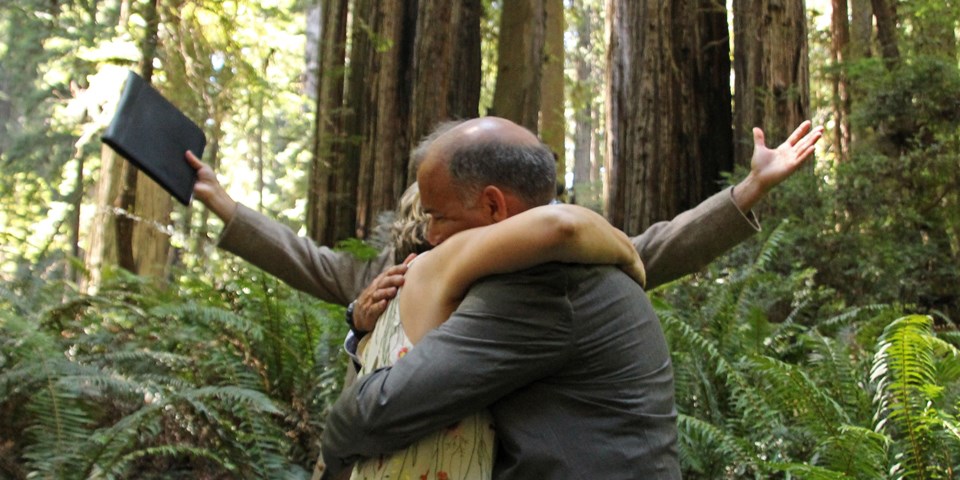 Do I Need A Permit?
Yes. Permits are required for activities that benefit an individual, group or organization rather than the public at large. These activities are not "typical" activities of visitors to the parks, which have the potential to impact the park resources or visitors, and/or occur in areas that the public is not generally permitted. So events involving large groups, or organized activities like weddings, require a special use permit.
What Areas Are Covered By This Permit?



The four parks included in the partnership that permits are issued through this office are Redwood National Park, Jedediah Smith Redwoods State Park, Del Norte Redwoods State Park, and Prairie Creek Redwoods State Park.




Are there specific times and places where an event may be held?




Are there times and places they cannot be held?
The following locations are pre-approved for weddings with the common conditions. "Pre-approved" does not guarantee that the time and date you are requesting will be available; events may be restricted before, during and after holidays or due to conflicting events. ("Attendees" includes all participants: wedding party, guests, photographer, musician, etc.)

1. Schmidt Grove: max number of attendees: 20
(access road closed to vehicles until futhur notice)
2. Berry Glen: max number of attendees 6
3. Templeman Grove: max number of attendees 20
4. Organ Donor's Grove: max number of attendees 20
5. Merriman Grove: max number of attendees 8
6. Prairie Creek Amphitheater: max number of attendees 20
(only available Oct 25 - May 1)
7. River Trail: max number of attendees 8
8. Crescent Beach Day Use: max number of attendees 20
(only available Oct 25 - May1)
9. Zig Zag 2 Trail: max number of attendees 10
10. High Bluff Overlook: max number of attendees 20
11. Lost Man Creek Gate: max number of attendees 20
12. Crescent Beach Overlook: max number of attendees 20
(only available Oct 25 – May 1)
What If I Want A Different Location?
The above locations with approved conditions are the only sites approved for weddings.
If you prefer a different location, you may submit a request under the tiered permitting process; times and locations are subject to review by park staff for suitability, group size, and impact of park resources and other visitors.

We regret, that at this time we do not issues special use permits for LBJ Grove, Stout Grove, Fern Canyon, or the James Irvine Trail.

We also do not normally issue permits during holiday time frames, the days before, during and following a public holiday.
How Much Does A Wedding Permit Cost?
Expedited weddings application fee: $100
Tier One: 1- 50 people, no unusual requests: $200
Tier Two: 51 – 100 people, OR unusual requets: $300
Tier Three: 100+ people or highly unusual requests: $400
Expedited weddings must comply with ALL the common conditions (see the attachment Common Conditions), group size limits, and in a pre-approved location; no exceptions. If you wish an exception to limits, conditions, or a different location, you will need to apply for a tiered event permit. When completing the forms, be sure to sign and return both forms.

Also, if a question does not apply to your event, please indicate "none," or "does not apply," or something similar, rather than leaving a blank. The more detail you provide the better. All park regulations apply to special events, unless a specific written exemption is approved and included in the permit, so please be sure to review the section on "common conditions" before submitting your request.

It is also important if you are including any "commercial" services (ie, photographer, paid musicians, catering, etc) that you let us know that in your application, or if you plan to serve alcohol at your event. These must be addressed during the review and in your permit and exceptions to common conditions are not guaranteed.
Your application fee must accompany your application. The application fee is non-refundable once we accept your application. We accept credit cards through Pay.gov, please ask the Permit Coordinator for more information on this process.
Are There Other Costs?
Generally, most special use permits will need only the application fee; however, sometimes there are additional cost recovery fees. If your event incurs a cost to the park, you may be asked to pay that up front, or be billed for it afterwards. For example, if an event requires monitoring, rangers are billed at $80/hour/monitor. If excessive trash is left, this is billed at the actual cost of clean-up and disposal. If natural or man-made features are damaged, the permittee is billed for the actual cost of restoration or rehabilitation.
Can I Close The Area Of My Event For Privacy?

All permits are issued on a non-exclusive basis; other visitors to the park may not be excluded from the area of your event.

How Long Does It Take To Process A Request?
Completed expedited wedding applications must be received NO LESS than 14 days before your event. Completed tiered event applications must be received NO LESS than 30 days before your event.
Please be sure to review the conditions before completing your application.
The review of your application is dependent on the location of your event, so you must indicate the specific place you wish to have your event; if you can include at least one alternate that is a big help too. Most locations in the park can accommodate a small group, up to 5 or 6 people, with no problems. If your group is larger, we will need to take that into consideration when selecting a site; we have only a few locations that can accommodate larger groups. A map (hand drawn, Google Earth, or USGS map) is very helpful for showing your desired location.

If you are unfamiliar with the parks, we will be happy to discuss locations with you. Let us know your date, the number in your group, and which airport you plan to use.
What Airports Are Close By?

San Francisco (SFO) and Portland, Oregon (PDX) are the closest major airports, both are a 6-8 hour drive from the respective ends of the parks.

Medford, OR (MFR) is a 2-hour drive east of Jedediah Smith Redwoods.

Eureka/Arcata, CA (ACV) airport is 1-hour drive south of Prairie Creek Redwoods.

Redding, CA airport (RDD) is about 4-hours east of Prairie Creek Redwoods.

There is also an airport in Crescent City (CEC) that is 15-minutes from Jedediah Smith Redwoods, but flights are very limited.
If you have any questions, please feel free to call, or e-mail.
Beth Hartwood
Ph 707- 465-7307
Last updated: May 10, 2021