News Release
Viewing Platforms To Protect Stout Tree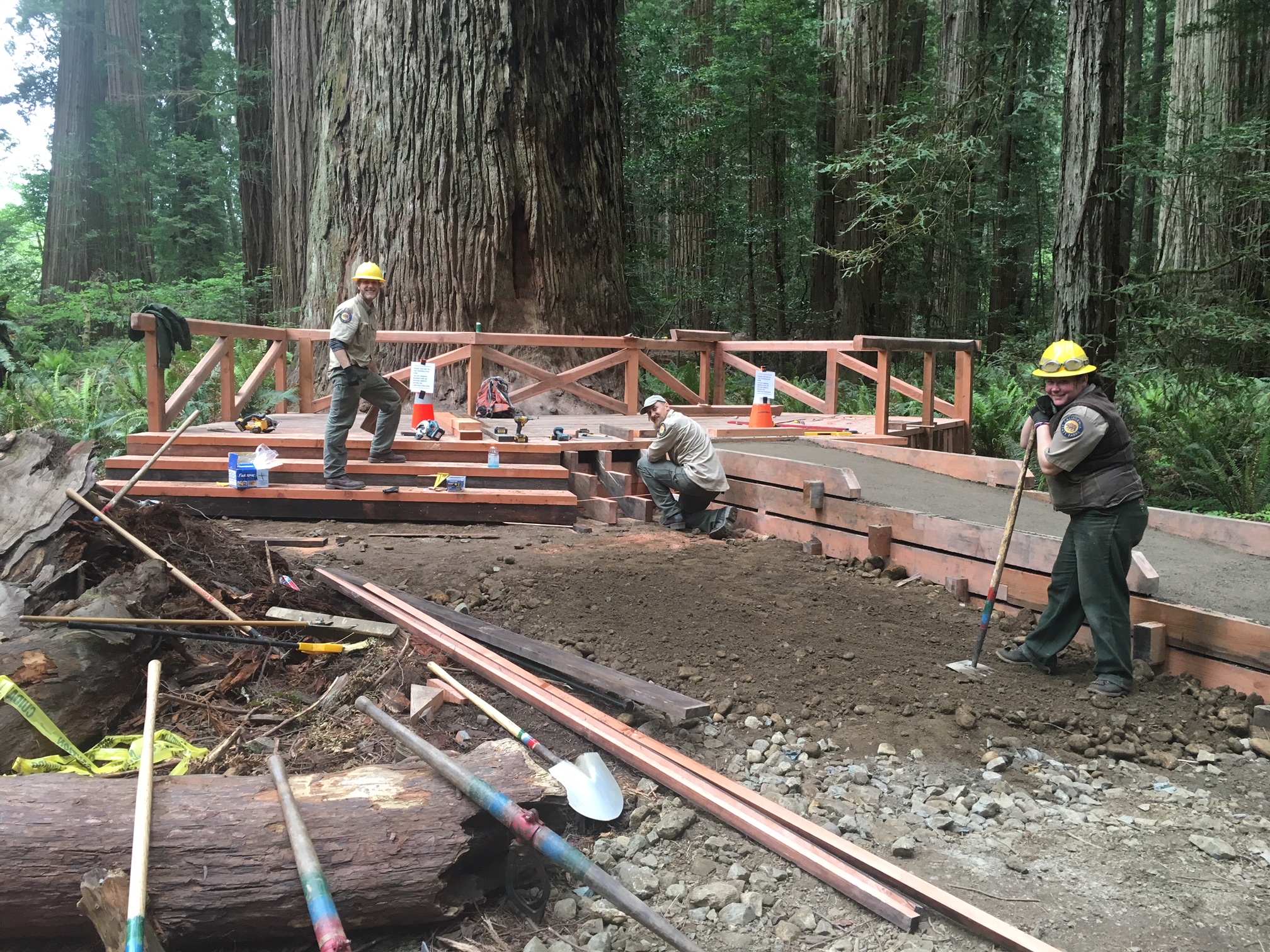 News Release Date:
June 11, 2018
Contact: Brett Silver, 707-465-7331
Visitors walking the popular Stout Grove Trail in the Jedediah Smith Redwoods State Park section of Redwood National and State Parks will discover a new wooden viewing platform has been built at the base of the venerable Stout Tree. The new platform was funded through donations and constructed by California State Parks employees. It is wheelchair-accessible and provides opportunities for park visitors to get close to the tree without damaging its bark, fragile base and root system.
Stout Grove was created when Clara Stout, widow of lumberman Frank Deming Stout, donated a tract of old-growth redwood forest to Save the Redwoods League in memory of her husband who died in 1927. In 1929 Stout Grove became the first dedicated grove in Jedediah Smith Redwoods State Park. Stout Tree is the largest tree in that grove. Since the 1929 dedication, nearly ninety years of well-intended footsteps, group photos, and tree hugs have culminated in severely compacted soil, damaged roots, and removal of the tree's protective foot-thick bark around its base.
As massive and timeless as coast redwood trees, the tallest living things on Earth, may seem to be on the outside, beneath the surface the roots of the tree are somewhat fragile. Most of the roots of a redwood tree are only three to ten feet below the soil surface. The shallow root systems extend over one hundred feet from the base, intertwining with the roots of other redwoods. This increases their stability during strong winds and floods. In addition, of course, the roots are an integral part of the tree's ability to pump water and nutrients into the tree to help it grow. Soil compaction caused by standing next to a redwood harms the roots. 
Damage is also caused by people stepping directly onto the tree. Broken bark leaves the redwoods vulnerable to insects and disease.
The new viewing platform protects the base of the Stout Tree while providing a fun, safe location for visitors to get closer to the trees they love. Just not, too close.
Please stop by any Redwood National and State Parks visitor center or learn more at the park website at: 
www.nps.gov/redw
.
Last updated: June 12, 2018