Salmon Spawning Tours, Nov. 27, 2010 - Jan. 2, 2011
Date:
November 9, 2010
Contact:
Candace Tinkler, 707-465-7304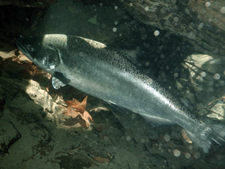 Salmon have returned to the rivers and streams of Redwood National and State Parks. Join park volunteer Rick Hiser for a morning of "silver magic" as we explore the Mill Creek Watershed on the lookout for spawning Chinook salmon. Each winter these extraordinary native fish return to the streams of their birth to pass their complex evolutionary lives on to the next generation.
The three-hour tours will take place on Saturday mornings from 9:00 a.m. to 12 noon from Saturday, November 27th through Saturday, December 18th. Two additional trips are scheduled for Sunday, December 26, 2010, and Sunday, January 2, 2011. Participants need to call 707-465-6191 to reserve their place on one of these tours.
Participants should expect to drive a short distance on gravel roads (4-wheel drive is not necessary.) There is a minimum of walking and some spots on the tour are highly accessible for those with walking difficulties. Visitors should bring polarized glasses and binoculars, and dress warmly. The program will be cancelled if it rains or if water clarity is otherwise altered. Please contact Rick Hiser at 707-465-6191 if you have questions and to reserve your spot on one of these tours.
For more than thirty years, the National Park Service, California State Parks and their partners have been working together on several watershed restoration projects in northern California. As freshwater and estuarine habitat conditions improve and return to natural conditions, more salmon are able to return to the streams of their birth and reproduce. Salmon are anadromous, meaning they return from the sea to breed. The adult salmon lay their eggs in the gravel and die shortly after spawning. The decomposing adult carcasses provide essential food and nutrients for numerous stream creatures, thereby benefitting the young salmon rearing in the stream. Sediment and water quality, clarity, and temperature, as well as absence of manmade barriers, in these natal streams largely determine the success of salmon reproduction.  For over100 years, overharvesting, dam construction, habitat destruction from logging, farming, and development, and water pollution from a variety of sources have all contributed to the dramatic decline of salmon populations throughout the Pacific Northwest. But, there is hope. As people work together to restore the streams, rivers and estuaries, the salmon return. Take advantage of this fun opportunity to see the salmon, in all their silver beauty and determination, complete their ageless journey.
This news release can be viewed, downloaded, and/or printed here (PDF, 30 KB).
Last updated: November 21, 2017