Social Media @redwoodnps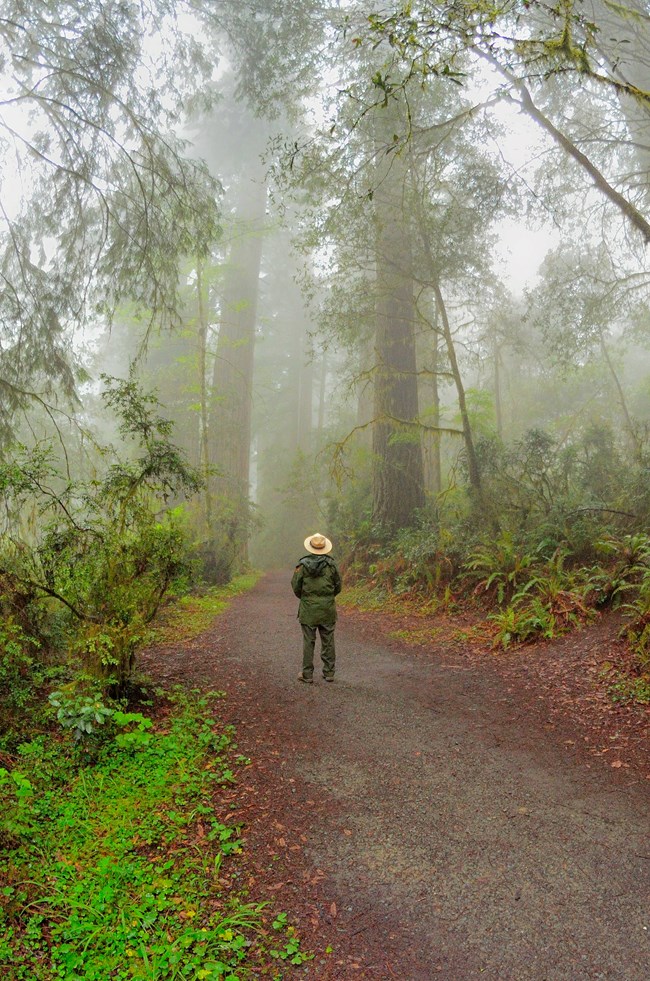 Who Are We and What Are Our Goals?
The Redwood National and State Parks social media team is a handful of seasonal and permanent park interpreters who volunteered to help. If you visit the Thomas H. Kuchel or Hiouchi Visitor Center, chances are you could be chatting with one us. Some of us are millenials, some of us have worked in parks across the country, some of us are managers, some of us are just starting off. All of us love sharing the parks with you.
Our social media program is very much field-driven. It runs on our passion to educate, connect, and inspire a global audience to be park stewards who support the mission and goals of the parks.
As "resource interpreters", we create different communication products to connect the public to the myriad of cultural and natural resources and their inherent meanings found in Redwood National and State Parks. Park interpretive themes help guide us with the social media products and in-park educational programs we offer daily. By crafting different posts, by asking engaging questions, by connecting different communities we hope that our social media platforms are places where diverse audiences can learn about these redwood parks, get accurate information, share their stories, and be a part of something positive and meaningful.
We hope it's fun too!

Instagram #lovemyredwoods
We go for amazing redwood pics that show visitors engaging with each other and having the time of their lives. Easy at that! This is our fastest growing social media platform. Follow us on Instagram at RedwoodNPS.

Twitter #lovemyredwoods
Follow us @redwoodnps and receive updates on assorted conditions in the park. We will sometimes tweet about hot-topic educational or resource issues that are directly relevent to the park. We will retweet things that relate to our official park partners, or the California Dept of Parks and Recreation and the National Park Service. In times of emergency that impact the parks, we will be tweeting and retweeting notications from county and state emergency responders and organisations.

YouTube
Got a minute (or five)? Over the years, many of our front-line staff have produced educational videos now on our YouTube channel and park multimedia webpage. For example "The Redwood Ranger Minute" is a series of short-videos that explore the resources and people who make up Redwood National and State Parks. Get the inside scoop on the parks from the rangers who live and work here. We also have also produced different series of longer videos with topics on ecosystem restoration, climate change, park events, Youth Conservation Corps, and prescribed fire.

Facebook
Redwood National and State Parks has an active Facebook presence. The audience is trending to be older, based more in California and the US east coast, and with a strong local following. On Facebook, we focus on interpretive posts that we hope inspire, engage, or educate. Additionaly, we highlight some of the different volunteer groups which help the parks, our outreach programs, or community events we participate in. People like pretty pictures, poems, and parades, right?

Last updated: August 30, 2019