Record Rain Brings Road Closures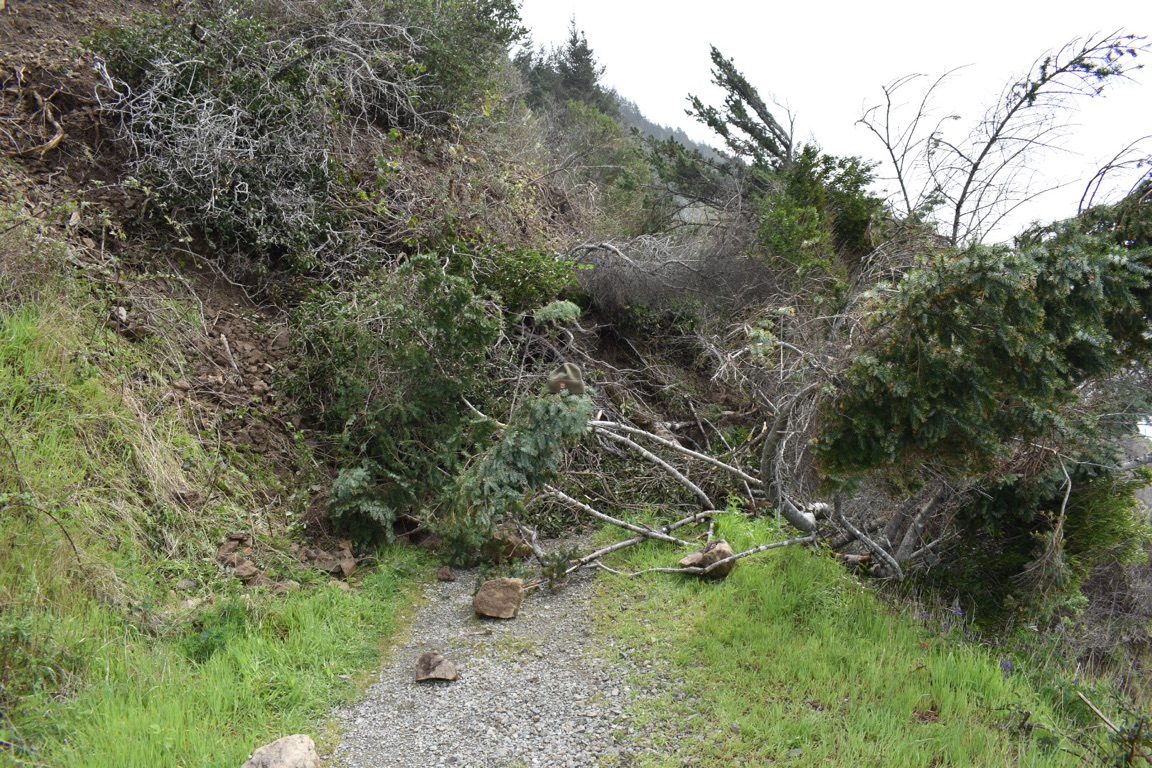 News Release Date:
April 5, 2017
Contact: Shaun Bessinger, (707) 465-7361
Contact: Mark Webberly, (707) 465-7371
 As of April 3rd, 2017.
1. The
Coastal Trail
is closed from its Crescent Beach Overlook trailhead south to its junction with Hwy. 101 at the Damnation Creek trailhead. A large impassable landslide is blocking all trail access a short distance from the Crescent Beach Overlook parking area. Until the landslide can be cleared, the trail, Nickel Creek backcountry campground, and Enderts Beach are all closed to public use. There is no expected date for reopening the trail. The slide site will be reevaluated weekly to determine safe working conditions. A significant dry weather period is needed to safely remove the slide.  
2.
Boy Scout Tree Trail
is closed due to blocked access from a large fallen redwood tree and other debris. Please respect the trail closure. Much greater trail damage can occur when walkers attempt to go around large obstacles off trail.  
3.
Newton B. Drury Scenic Parkway
through the Prairie Creek Redwoods State Park section of Redwood National and State Parks is closed to motor-vehicle traffic due to extensive road damage caused by a fallen old-growth redwood tree. Road repair cannot be made until the soil bed dries significantly. The parkway is open to pedestrians and bike riders.  
Additionally, a landslide has covered most of
Davison Road
just past the Gold Bluffs Beach fee kiosk. The road remains open; however, there is one "lane" of traffic around the slide. Travelers should expect delays, and high clearance and/or four-wheel drive vehicles are recommended. There is no estimate on full re-opening until the slide can be evaluated.  
Rainfall in the Redwood National and State Parks region is now 158% to 166% above normal for the period of October 1, 2016, to March 31, 2017. Indeed, many locations throughout California, including Del Norte and Humboldt Counties, are on pace for their wettest year on record. Expect further temporary closures of roads, trails, and facilities due to damage or safety concerns. Even open roads and trails may pose unexpected hazards. Use special caution near rushing creeks and rivers.  
For more information on current road and trail conditions, park maps and other information about visiting Redwood National and State Parks, visit the RNSP website at:
www.nps.gov/redw
or call the park information office at (707) 465-7335. Or, stop by the Thomas H. Kuchel Visitor Center located on Highway 101 just south of Orick, Calif., Prairie Creek Redwoods State Park Visitor Center, Hiouchi Visitor Center on Hwy. 199 just west of Hiouchi, Calif, or the Crescent City Information Center at 1111 Second Street in Crescent City, Calif., all of which are open seven-days-a-week from 9 a.m. to 5 p.m
Last updated: April 19, 2017