Redwoods Mural Society to "Artify" Visitor Center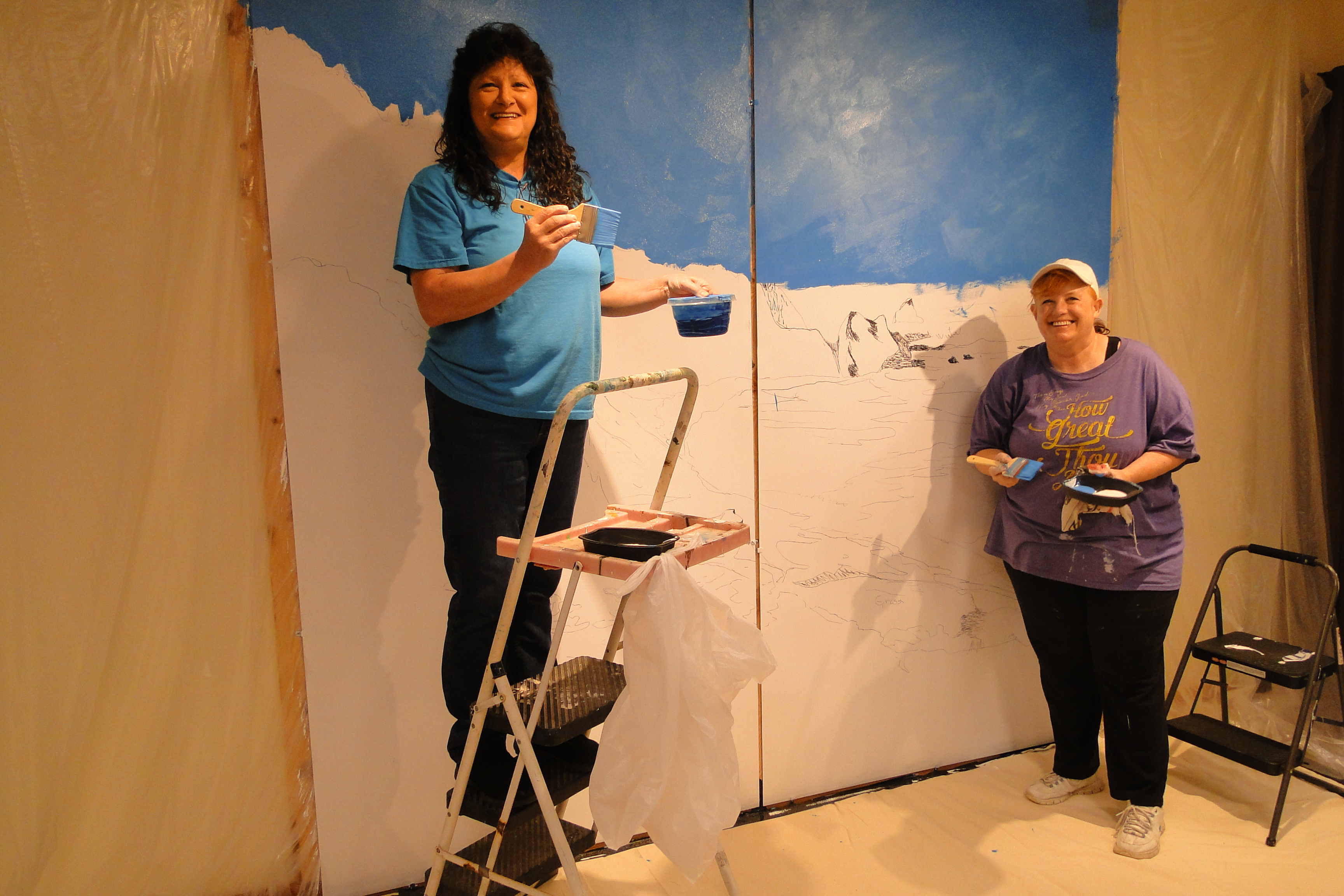 News Release Date:
January 23, 2017
Contact: Brad Maggetti, (707) 465-7399
Contact: Michael Glore, (707) 465-7392
Even before there was an idea for an American system of national parklands, art and artists played a central role in raising public awareness. In the 19
th
 century, painters from the Hudson River School accompanied expeditions to the American West and became famous for iconic, sweeping landscape imagery that captured the public's imagination. Back in the population centers of the Midwest and Eastern United States (and even abroad), these works of art spurred interest in the preservation of irreplaceable natural and cultural resources. Not just working in paint, artists today—including writers and poets, composers and musicians, filmmakers, sculptors, dancers and others—continue to contribute to the evolving stories preserved in our national parklands. They uncover new and never before considered meanings and perspectives that keep our nation's special places relevant, dynamic, and revered the world over.  
Local artists continue the tradition this winter, spring, and summer at Hiouchi Information Center— one mile west of the Hiouchi, CA on U.S. Highway 199. Redwood National and State Parks has commissioned a series of murals from the non-profit Redwoods Mural Society to "artify" the now-year-round visitor center space. With financial support for purchasing supplies and materials from Redwood Parks Conservancy, the individual murals will each depict one of the iconic habitats in the parks' famous "mosaic of habitats," including wild and scenic rivers, the old-growth redwood forest, serpentine prairie, and the rocky headlands of the Pacific Ocean.  
The largest mural, forty feet wide by seven feet tall, will be a Smith River scene and will provide a dynamic backdrop not only for the currently bare, beige visitor center façade, but also for the Tolowa canoe currently on display on the visitor center deck. Park Guide Brad Maggetti met with the Elk Valley Rancheria and Tolowa Dee-ni' Nation to seek input and approval for the murals, and to ensure their appropriateness in this context. "Collaborating with the Tolowa was insightful," says Maggetti. "We came away with a richer project, including ideas for highlighting Tolowa place names and key words for some features on the murals. Mostly, I think we all see this as a positive way of reinforcing local traditions and cultural continuity of life along the Smith River. We run a free public kayak program based out of Hiouchi Information Center in summer, and the Smith River mural and Tolowa canoe will be beautiful and compelling references for our visitors that acknowledge this place as home to the Tolowa since time immemorial, and that remind us to treat one another and the land with respect."  
With heavy storms this winter, much of the painting will be taking place indoors at the reconfigured visitor center auditorium; finished murals—painted on large, moveable panels—will be installed outside during summer. As with many aspects of this collaborative project, accommodations like these created new opportunities. According to Supervisory Park Ranger Michael Glore, "When we moved the actual painting indoors, it meant that we could paint any time. And so, mural artists can actually schedule regular times to work on the murals, rather than have to wait for a break in the weather. On Thursdays, Fridays, and Saturdays, during operating hours, visitors to Hiouchi Information can not only view 'artification' in progress, but they can actually 
participate
 in the painting. It's these very kinds of interactive and engaging experiences we're trying to move towards with our visitors. Next to the painting area in the auditorium, for example, we also invite visitors to create and share their own haiku about their experiences about Redwood on a large magnetic poetry board we've installed."  
Redwoods Mural Society President Lori Markel also acknowledges the importance of public participation. "When we suggested that park visitors could paint the murals alongside society artists, park staff seemed very surprised. Pleased, but surprised! In all of our mural projects throughout Del Norte County, public participation and involvement is critical to our mission. We seek to capture the natural beauty and augment the economic growth of Del Norte by bringing together community members to plan, create, and support murals like these that the celebrate the heritage and document the unique features of our area."  
To learn more about this project, call the Redwood National and State Parks public information office at 707-465-7335 or visit
www.nps.gov/redw
. To view the works in progress, visit Hiouchi Information Center, open 
9 am – 4 pm
, 7 days/week. To participate in painting, mural artists will be onsite Thursdays, Fridays, and Saturdays, from approximately 
10 am – 2 pm
. You can contact the Redwoods Mural Society directly at (707) 954-4276 or on their Facebook page by searching Redwoods Mural Society.  
National Park Service: Arts in the Parks: 
https://www.nps.gov/subjects/arts/artify.htm
Last updated: February 21, 2017