Find Your Park, Crescent City Event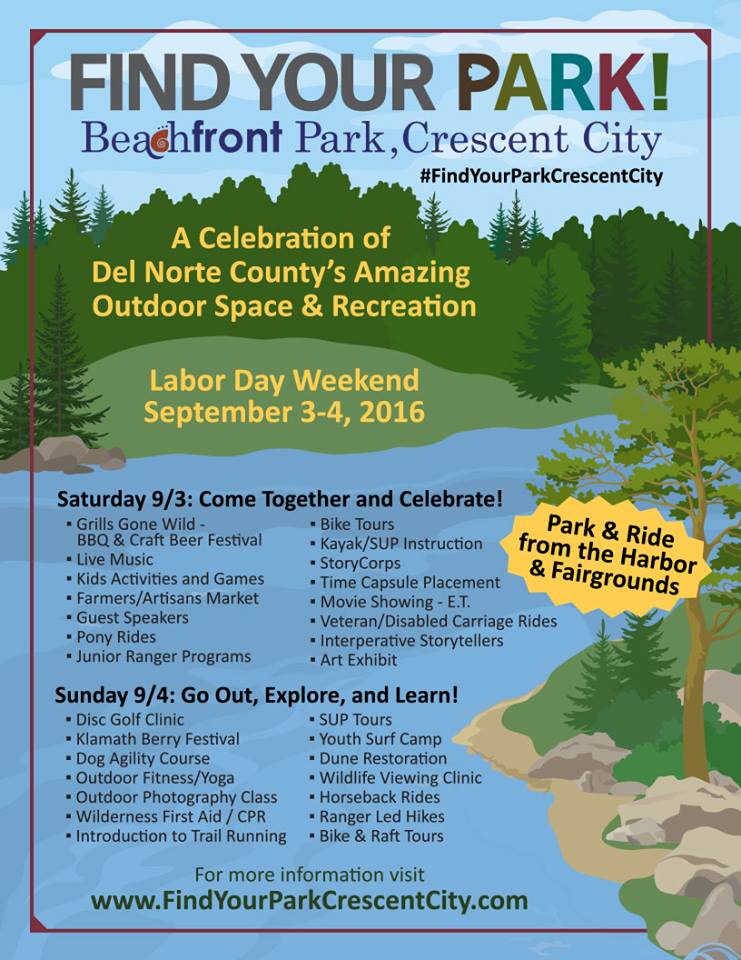 News Release Date:
September 2, 2016
Contact: Candace Tinkler, (707) 465-7304
The Find Your Park! event is a celebration of Del Norte County's amazing variety of parks, outdoor space and recreational opportunities. The event is a collaboration between the city of Crescent City, Redwood National and State Parks, and over sixty additional sponsors and partners, and is also a celebration of the Centennial anniversary of the National Park Service.
Events on Saturday, Sept. 3, kick off at 9 a.m. on Front Street and Beachfront Park with the Crescent City Farmer's Market and opening ceremony speakers at 10 a.m., and continue throughout the day with activities for all ages and abilities, including kayak and stand-up-paddleboard instruction, pony rides, Junior Ranger programs and youth activities, bike rentals and tours, an art show at the Cultural Center, ADA access carriage rides, dog events, and much more. Two highlights provided by Del Norte County Unified School District are a 50-year time capsule and an introduction to the upcoming Story Corps project. Horseback rides and a kite festival are offered nearby on South Beach. Food, beer and other beverages will be available for sale from food vendors and craft breweries and live music performed by Border Coast, Spence Brothers, and Disturbing the Peace will be offered throughout the day. If barbeque is your passion, don't miss "Grills Gone Wild!" a BBQ cook-off contest kicking off at 1 p.m. Free showings of the movie "E.T. the Extraterrestrial" (filmed in Del Norte County) will be offered at the Cultural Center at 2 p.m. and 4 p.m. Enjoy story-telling and S'mores by the campfire at 6 p.m. 
Sunday's focus is on getting out and exploring Del Norte's wealth of parks and recreation. Please note that many of the activities offered on Sunday have limited space and you MUST go to the Lithia Big Tent on Saturday in order to sign up for these—first come, first serve. In addition to the activities, information will be provided on many great locations throughout our county to hike, bike, fish, etc. On Sunday there will be free Park and Ride from the Harbor for many events—more information will be available when you sign up. Activities range from ranger-led walks in Redwood National and State Parks and Tolowa Dunes State Park to horseback rides, youth surf classes, yoga classes, and mushroom and photography clinics. The art show, carriage rides for veterans and people with disabilities, dog events, disc golf instructions and game, P90x Live, and more will continue at Beachfront Park on Sunday. One of the many highlights for Sunday is also the Klamath Berry Festival from 10 a.m. to 3 p.m. at Klamath Camper Corral in Klamath, CA. Blackberry pie and other blackberry goodies will be available—yum! 
 For more information about the Find Your Park! event in Crescent City, check out the event's Facebook page: #FindYourParkCrescentCity at https://www.facebook.com/findyourparkcc/?ref=bookmarks and at www.FindYourParkCrescentCity.com. Check out the Thursday, Sept. 1, edition of the Del Norte Triplicate newspaper for the full event schedule. 
Come enjoy all of the fantastic things our community has to offer at the first annual Find Your Park Crescent City event!!!
Last updated: September 2, 2016