Annual Candlelight Walk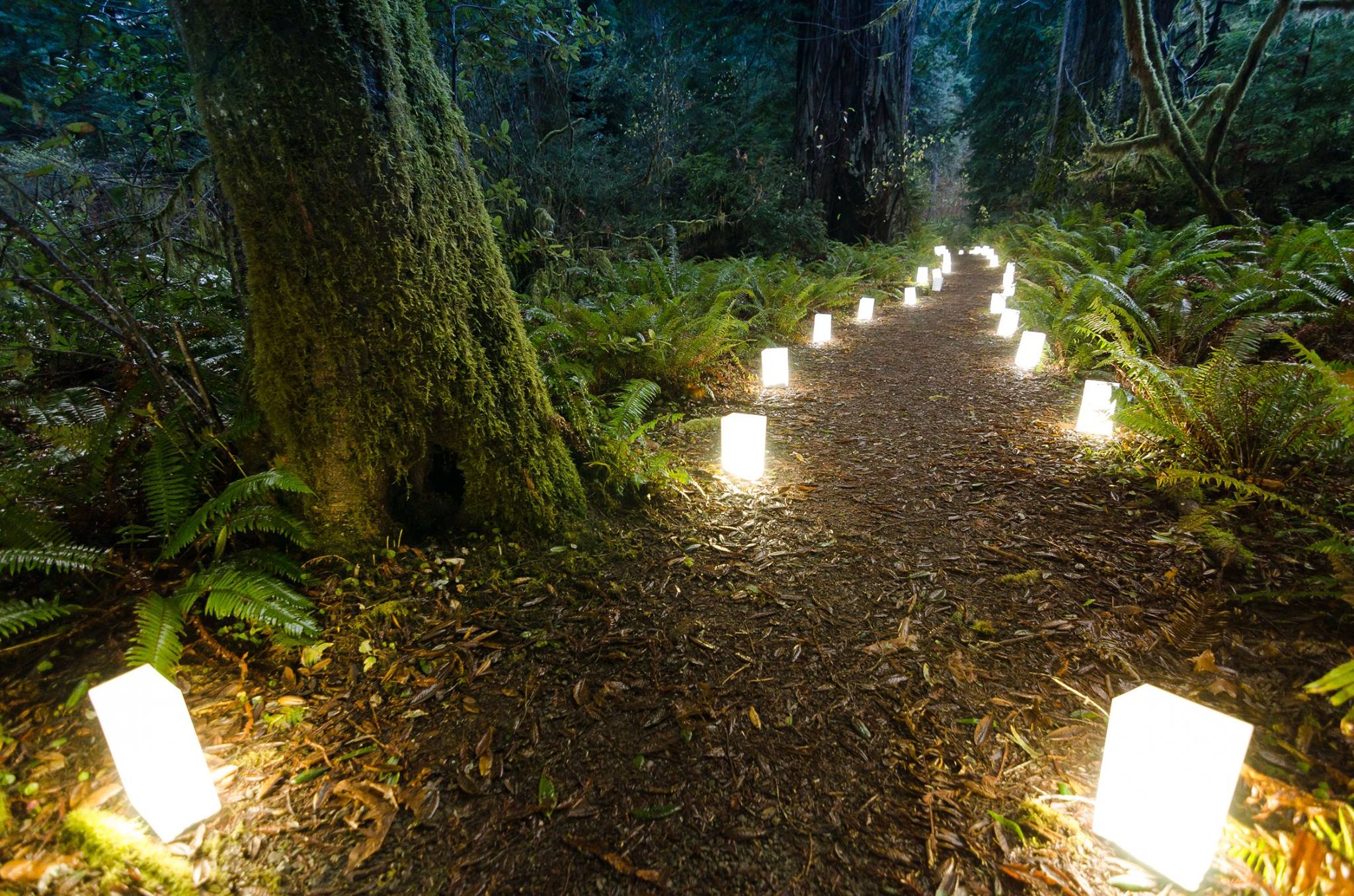 News Release Date:
November 2, 2017
Contact: Debi White, 707 465-7327
CRESCENT CITY, Calif. – Tickets are available as of November 1st for the 28th Annual Candlelight Walk through the Ancient Redwoods scheduled for Friday, Dec. 1 and Saturday, Dec. 2, 2017, from 5 p.m. to 8 p.m. at Prairie Creek Redwoods State Park.This family-friendly event has become increasingly popular and will now be held over two consecutive nights.
This beloved event provides a rare opportunity for participants to walk on a path through the old-growth redwoods at night starting at 6 p.m. Prior to the walk at 5 p.m., light refreshments and auctions will be held. Participants are encouraged to dress accordingly as the event will happen rain or shine. Please do not bring traditional fire-powered candles as the trail will be lit by luminaries leading out to the campfire center for storytelling by North Coast Storytellers.
Sorry, no dogs.
The annual Candlelight Walk is sponsored by Redwood Parks Conservancy (RPC), a local non-profit organization that supports the interpretive, educational and preservation mission at Redwood National and State Parks, Smith River National Recreation Area, Headwaters Forest Reserve, Tolowa Dunes State Park, Patrick's Point State Park, Fort Humboldt State Park, and other state parks along the north coast. RPC operates sales areas in seven park and national forest visitor centers and all profits above operating costs return to the parks in support of programs. The stores are great sources of books for all ages, unique gifts from pottery to puppets, outdoor wear, and many other gift items related to the natural and cultural history of our area.
Obtain online tickets via RPC's website (www.redwoodparksconservancy.org). Tickets are $10/each and kids 12 and under are FREE. For more information on the Candlelight Walk, please contact Debi White, Redwood Parks Conservancy, at 707-465-7327. 
Please be aware the Newton B. Drury Parkway can only be accessed from the south gate on this date only (exit 753). Visitors should park vehicles south of the closure and park only in designated spaces parallel to the roadway and adjacent to Elk Prairie in Prairie Creek Redwoods State Park. Please do not block the gate or park in lots reserved for visitor center or back country use.
For park maps and other information about visiting Redwood National and State Parks, visit the RNSP website at:  www.nps.gov/redw. Or, stop by the Thomas H. Kuchel Visitor Center located on Highway 101 just south of Orick, California, Prairie Creek Redwoods State Park Visitor Center, or Redwood National and State Parks Visitor Center at 1111 Second Street in Crescent City, Calif.
Last updated: November 3, 2017