Prescribed Fire
Living with Fire
During your travels through Redwood National and State Parks, you may notice trees and landscapes (particularly prairies) that have been charred by fire. Some burns happened due to lightning strikes, some from American Indian-ignited fires of the past, and some from park management using prescribed fire.
The American Indian method of managing plant communities with fire contributed to ecosystem health by clearing brush and encouraging new growth. However, management practices by Euro-Americans brought a century of fire suppression and altered landscapes.
Today, park resource managers are returning to the practice of using fire to maintain landscape health. It is the long-term goal for RNSP to restore park lands to the state that existed just prior to Euro-American contact and influence. By using prescribed fire on a regular basis, park managers have set the following goals for prairies and redwood forests.
Objectives for prairies and oak woodlands:
Control and eliminate exotic plant species
Restrict the spread of an exotic oat grass
Kill 80-90 percent of invading Douglas-fir less than six feet tall in prairies
Kill 60 percent of Douglas-fir less than six feet tall in oak woodlands
Restore native plant species diversity
Improve native plant to exotic species plant ratio
Objectives for Old Growth:
Provide periodic disturbance to maintain an uneven-aged understory
Reduce duff material and small dead and down material
Limit old growth mortality to one percent or less
Generate hardwood reproduction in the understory
Reduce fire intolerant species
Limit consumption of large dead and down material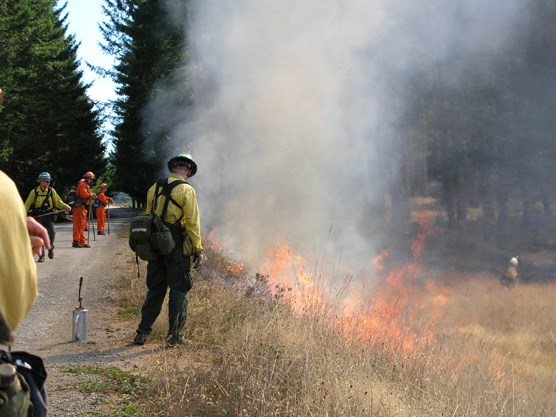 Last updated: February 28, 2015