Telegraph Picnic Pavilion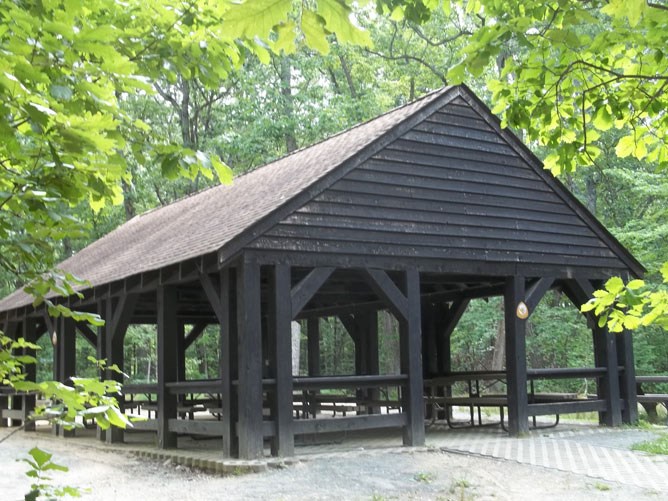 Completed in May 2002, the Telegraph Road Picnic Pavilion is a thirty foot by twenty foot roof-covered porous brick pad with twelve picnic tables (six of them wheelchair accessible), six cooking grills and electric outlets. It is adjacent to a comfort station with food-service sinks and flush toilets, and there is easy wheelchair access to the pavilion from the picnic area's 73 parking spaces. There are approximately twenty additional picnic tables scattered throughout the adjoining woods of Telegraph Road Picnic Area, most with its own grill. A short path leads to spacious William's Ballfield (available first come, first served), which is suitable for softball, volleyball, frisbee and other activities.
Telegraph Road Picnic Pavilion and comfort stations are closed for the season from November through Mid-April. The pavilion may be reserved for $80 per day on Recreation.gov. When not reserved, it is available without charge on a first come, first served basis from 9:00 a.m. to dusk. The park entrance fee is also required. Built with funds provided by park fees, the Telegraph Road Picnic Pavilion is a good example of how the National Park Service uses fee monies.
For more information, please e-mail the park visitor center, or call at 703-221-7181.
Emergencies and Security

Report all emergencies to a park ranger. The park visitor center is open daily except for Thanksgiving, Christmas and New Year's Day. The visitor center phone number is 703-221-7181. For a law enforcement concern, please contact a park ranger or call Park Dispatch toll free at 866-677-6677, or call 9-1-1 for emergencies. Lock your vehicle and keep valuables out of sight. Report lost and found items to a park ranger or at the visitor center.


Last updated: September 22, 2018