Pets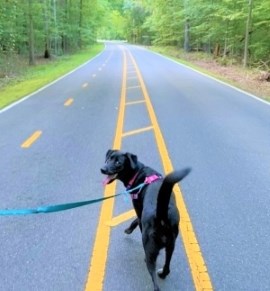 Prince William Forest Park is a pet friendly park. Many of the trails are suitable for pets and some of the campgrounds allow for pets to stay with you. On this page you will find resources about bringing pets to the park, limitations on where they can go, and how to keep them safe during your visit.

Visitors are responsible for their pets at all times. All pets entering the park must be on a controlled lead of six (6) feet or less. Leashing your pet keeps people, wildlife and your pet safe.

Pets are prohibited in the following areas:
Chopawamsic Backcountry Area
All Cabin Camps
Additional park specific laws and policies regarding pets can be found in the Superintendent's Compendium.
Pet Safety
Always monitor your pet and be aware of your (and their) surroundings.
Leaving your pet unattended in a vehicle can pose serious health risks to your pet such as overheating, heat stroke, and death. Additionally, freezing temperatures can harm pets during the winter months even if they are left in a vehicle.
Pet owners are responsible for cleaning up after their pets and disposing of all waste in appropriate containers. Two dog waste receptacles are available in the park: Pine Grove Picnic Area and Parking Lot D. Do not leave bagged waste anywhere else in the park.
Pets may be tied up at campsites and other developed areas only and may only be left unattended for less than 1 hour in those locations. Visitors do so at their own discretion and risk.
Never let your pet chase, harass, or follow wildlife.
Never approach a pet that you do not know without first asking for the owner's permission. Many pets can become territorial if they are approached by someone that they don't know.
Prohibited Animals
The following animals are prohibited in the park in order to maintain the safety of visitors and resources:
Hoofed domesticated animals.
Horse and pack animals (burros, mules, oxen, pigs, and goats)
Venomous pets
Pets which may be considered dangerous to the safety of visitors or park resources.
Service Animals
Service animals are permitted in all areas of Prince William Forest Park where visitors are allowed, including public buildings and camping areas. Service animals must be on a controlled lead not exceeding six (6) feet and must be picked up after.

Please note that emotional support, therapy, comfort or companion animals are not considered service animals and therefore, the park can treat any of the mentioned types of animals as pets in accordance with park policies.
Additional Information
The National Park Service's pets page offers resources about planning visits with your pet, fun activities for you and your pet, and pet events happening around the country. You can also learn more about the pets that work in national parks.

B.A.R.K. Ranger and BARK Ranger Ambassador are available at multiple parks, including Prince William Forest Park! Stop by the visitor center to learn more about the B.A.R.K. Ranger program.


Last updated: December 19, 2022