Rent a Historic Cabin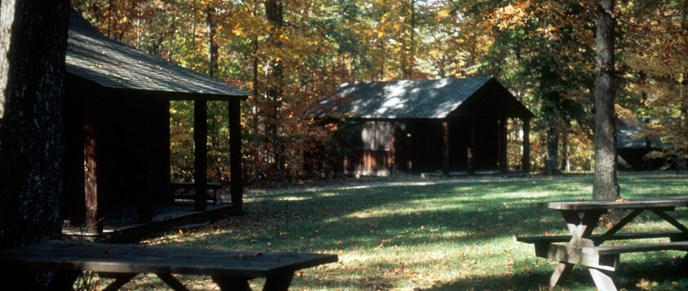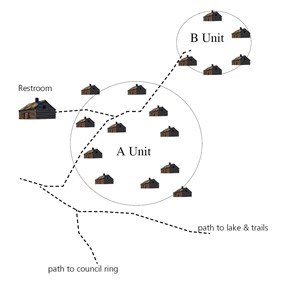 How do I rent a cabin?
For Reservations:
- Fill out an Individual Cabin Camp Application.
- Submit the application with full payment via fax, email, or U.S. mail.
Fax: (703) 221-4322
Email: Ralph_Marrantino@nps.gov
Address:
Prince William Forest Park
ATTN: Cabin Camps
18100 Park Headquarters Road
Triangle, VA 22172
- Acceptable methods of payment are check or credit card.
- Applications must be submitted 2 weeks in advance.
- Advanced reservations are required for the 10 person cabins.
For Walk-In Registration:
- Same-day, walk-in reservations are available on a first-come, first served basis.
- Walk-in reservations are only available for 4 and 6 person cabins.
- Park in the Cabin Camp 3 Parking Lot, and go to the reservation cabin at the end of the parking lot.
- Once in the reservation cabin, check the map for available cabins. On the map, if there is no tag on the cabin, it is available to rent.
- Take the envelope, fill out the information with payment of cash or check.
- Tear the tag off the envelope, drop the envelope with payment into the safe.
- Put the tag on the map of the cabin you choose to rent.
- The cabins are unlocked and do not have keys.
Note: Wagons are available to transport your belonging to your cabin.
How much does it cost to rent a cabin?
4 Person Cabin - $40.00/night
6 Person Cabin - $50.00/night
10 Person Cabin - $60.00/night
When are the cabins available to rent?
The cabins are open the third weekend in April through the first weekend in November.
How do I get to Cabin Camp 3?
Cabin Camp 3 is located just off of the park Scenic Drive, approximately 1 mile from the entrance station. After entering the park, take the first left onto Scenic Drive. Take a right onto Orenda Road. There is a entrance fee to the park.

Note: There is a map available for this route.
What facilities are at Cabin Camp 3?
The rental cabins are arranged into two loops - 'A' and 'B' Unit. 'A' Unit has 10 cabins (each housing 4 to 6 people) arranged around a large grassy area. The B Unit has 3 10-person cabins arranged on a hill over looking a South Fork Quantico Creek. 'A' and 'B' unit also have a craft lodge (available to all campers within the unit) and a central bathhouse with full shower facilities.

Each cabin includes individual beds and mattresses, a picnic table and a cooking grill. Cabins have electric lights and ceiling fans, but do not have electrical outlets. Cabins are not equipped with kitchens or individual bathrooms. Please note that pets are not allowed in any cabin camp.
Is there a Cancellation Policy?
Cancellations must be received at least 2 weeks prior to the first night of your stay to receive a refund. The refund process takes 6 to 8 weeks to complete.
What are the regulations of the camp?
All pets are prohibited in the cabin camp area, cabins and camp buildings (except service animals).
Smoking is not permitted in any of the cabins or buildings.
Cabins should be swept and free of trash upon departure.
Quiet hours are between 10:00 p.m. and 6:00 a.m.
Please be considerate of fellow campers. Keep your cabin area and the comfort stations free of trash and personal belongings.
Please recycle using the proper container located within the camp.
To prevent animal and pest problems, please place trash in provided covered trash receptacles or carry it out with you.
Fires are not permitted outside of the provided grills and fireplaces in the lodge building.
Camping tents, screen tents or other structures are not permitted in the cabin camp.
Removal or moving of picnic tables, beds, or mattresses is prohibited.
Vandalism of cabins and other buildings is against federal law and subject to stiff fines and/or prosecution.
Electrical appliances (Stoves, AC Units, heaters, etc.) are prohibited.
Firewood purchased or brought from outside of the park must be USDA certified. Campers may use down and dead wood of less than 6 inches in diameter and no longer than the length and width of the provided camping grill.

For more information about renting cabins in the park, call the Cabin Camp Office at (703) 221-5843.


Last updated: August 16, 2018