News Release
Prince William Forest Park closed following windstorm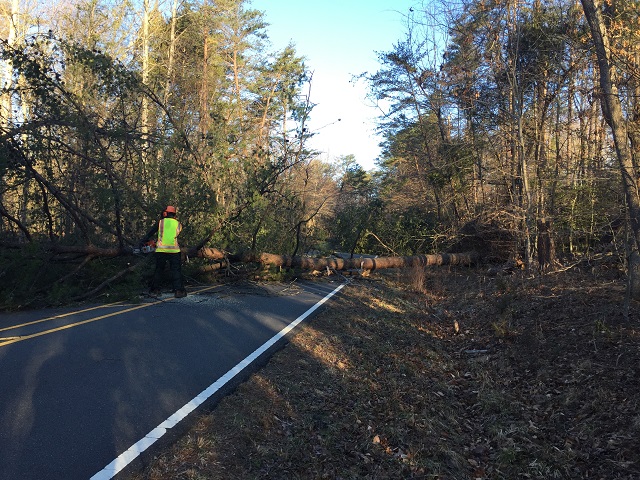 News Release Date:
March 6, 2018
Contact: Katelyn Liming
TRIANGLE, Va. — Fallen and hazardous trees, downed power lines and damage to historic cabin camps  from last week's windstorm have prompted the National Park Service (NPS) to immediately close Prince William Forest Park to all use out of concern for public safety.
The park is expected to be closed for 2-3 weeks. After addressing the most immediate safety risks, crews will work strategically to begin reopening the most heavily used areas of the park. The Prince William Forest RV Campground on Rt. 234 remains open, but some areas within the campground are currently closed off.

"The safety of our visitors and staff is our absolute first priority," Prince William Forest Park Superintendent Tanya Gossett said.  "Our crews are working with determination to clear hazardous trees from roads and trails and to replace electrical lines in campgrounds, cabin camps and picnic areas, so the public can safely enjoy the park."
Damage caused by last weekend's windstorm in Prince William Forest Park is significantly greater than other recent storms, including Hurricanes Isabel and Sandy and the 2012 derecho. Shallow-rooted trees, such as Virginia pines throughout the park, have difficulty withstanding the 60-plus mph wind gusts the park experienced. Since Saturday, crews have removed about 500 trees from park roads.
"We are all eager to open the park again, but ask area residents and visitors to please respect these closures," Gossett said. "If someone enters the park and gets hurt it will be extremely difficult to get them help and it will further delay reopening the park to all visitors."
###
About Prince William Forest Park: Located in Prince William and Stafford Counties, Virginia, Prince William Forest Park is the largest protected natural area in Northern Virginia. The park features approximately 40 miles of trails, protects more than 14,000 acres of Eastern Piedmont forest and much of the Quantico Creek watershed, and maintains the largest collection of Civilian Conservation Corps structures available for public use in the National Park System. This forested oasis along Virginia's I-95 corridor, allows people to explore nature and history from trails, historic cabin camps, RV campgrounds, backcountry campsites, and an 8-mile scenic drive.  For more information, visit www.nps.gov/prwi and on Facebook @prwinps.
Last updated: March 6, 2018