News Release
Fifteen national parks lend helping hand to Prince William Forest Park following wind storm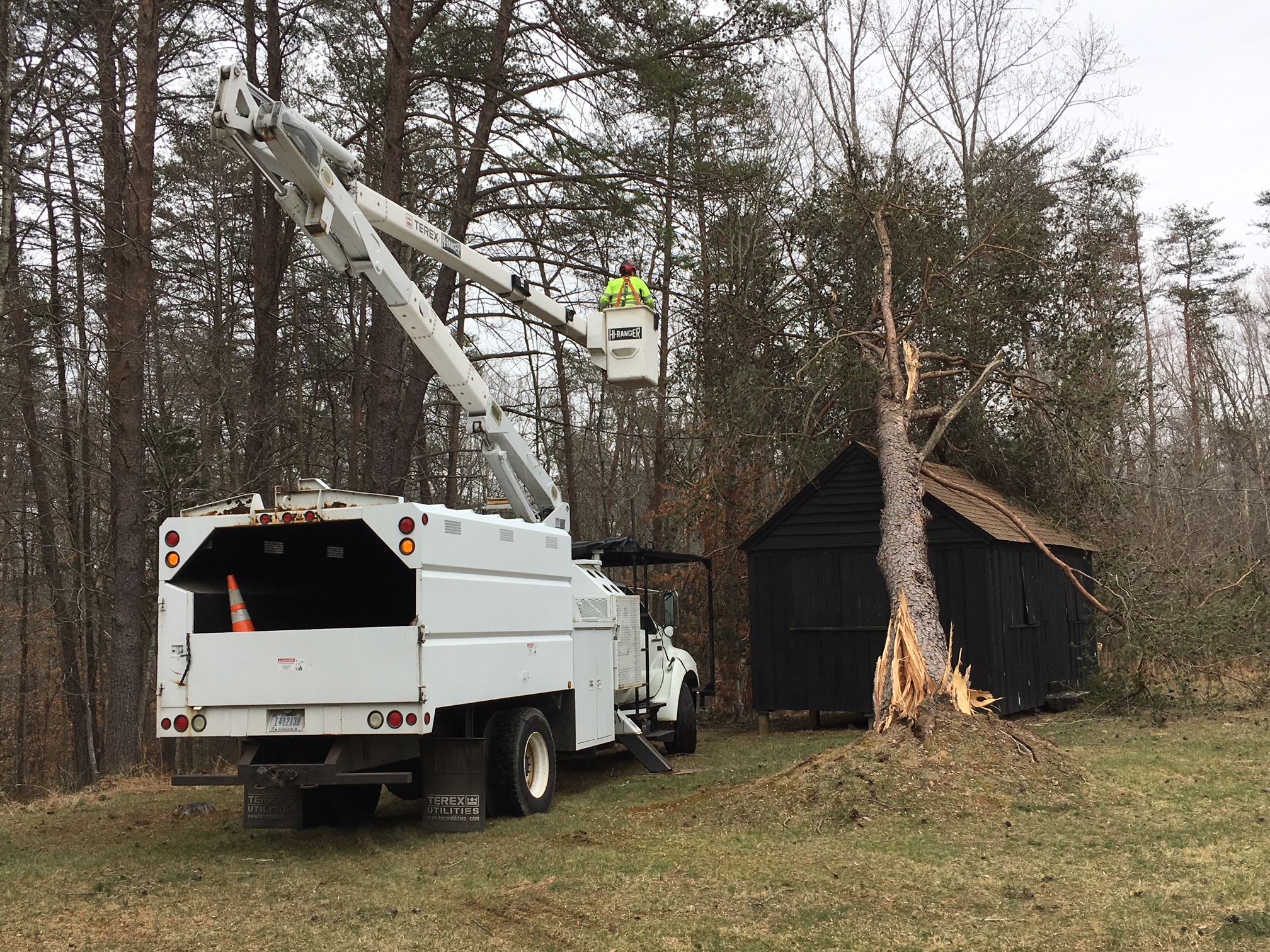 News Release Date:
March 13, 2018
Contact: Katelyn Liming, 703-399-4547
Employees from 15 different national parks have helped Prince William Forest Park clear over 800 trees, repair downed power lines and assess damage to historic buildings following the March 2-3 windstorm. Prince William Forest Park remains closed to the public due to safety concerns, but crews are making impressive progress with the help from additional resources.
Visiting employees from parks across the region and country have helped with a variety of projects. A crew from Fredericksburg & Spotsylvania National Military Park arrived Thursday and has helped local crews remove over
80
trees from roads. A crew from Rock Creek Park arrived Saturday with a chipper and bucket truck, which were used to remove trees that fell on historic structures. Arborists from several parks are helping Prince William Forest Park remove hazardous trees that have impacted sidewalks and structures. Law enforcement rangers, resource advisors and safety professionals from other national parks remain onsite assisting with clean-up efforts.
"Prince William Forest Park is incredibly grateful to all the parks who sent crews and equipment to this incident," Prince William Forest Park Superintendent Tanya Gossett said. "With the help of extra resources, we are working to reopen the park as quickly as possible."
Under an agreement with the Potomac Appalachian Trail Club, several trained volunteer sawyers are also helping with fallen tree removal.
The staff at Prince William Forest Park is thankful to all who have expressed interest in helping the park with clean-up efforts. Due to dangerous conditions and the presence of heavy equipment, the park cannot currently accept volunteer assistance. The park plans to host volunteer opportunities at a later date.
Prince William Park is still CLOSED to all public use. Park administrators hope to reopen within the next two weeks.
About Prince William Forest Park:
Located in Prince William and Stafford Counties, Virginia, Prince William Forest Park is the largest protected natural area in Northern Virginia. The park features approximately 40 miles of trails, protects more than 14,000 acres of Eastern Piedmont forest and much of the Quantico Creek watershed, and maintains the largest collection of Civilian Conservation Corps structures available for public use in the National Park System. This forested oasis along Virginia's I-95 corridor, allows people to explore nature and history from trails, historic cabin camps, RV campgrounds, backcountry campsites, and an 8-mile scenic drive.  For more information, visit www.nps.gov/prwi and on Facebook @prwinps.
Last updated: March 13, 2018