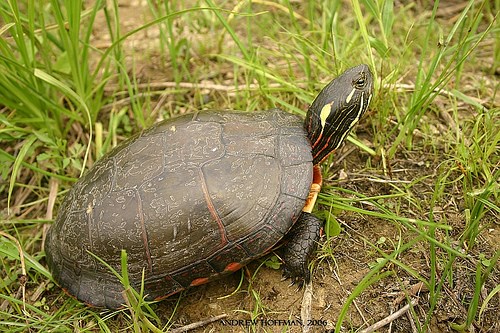 Reptiles are probably one of the most abundant animal types we have in the park that you may see the least. Here in the park, the reptiles include snakes, turtles, and lizards.

Reptiles and amphibians are cold-blooded, or to put it more accurately, they are ectotherms. This means that their body temperature does not self-regulate like mammals. In other words, they have to move to a cool place when they get too hot and to a warm place if they get too cold. This fact governs every action of an ectotherm. Reptiles are relatively inactive unless they are trying to keep warm, cool off, eat, avoid predation, or find a mate. Conserving energy is the name of the game.

Amphibians such as frogs and salamanders have moist skin that helps them breathe. Reptiles, on the other hand, have scales to help retain moisture and provide some protection. As they grow, reptiles shed this specialized skin. Snakes will shed all at once, with their skin turning dull and dry and then peeling off from head to tail often in one piece, like peeling off a sock and having it turn inside out as it is removed. Turtles have scutes, which are larger plate-like scales that shed off the shell as needed. Lizards' skin sloughs off in pieces and is sometimes eaten by the animal.