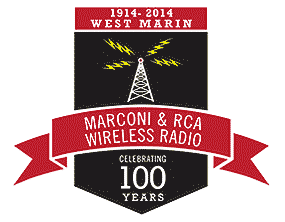 Radio has played a significant role in the history of West Marin since Marconi built the first wireless stations at Bolinas and Marshall in 1914. Discover the ways the West Marin community celebrated this history and the legacy that continues to make radio part of our lives, past and present. All events were open to the public and free of charge, unless otherwise noted.
Download the flyer. (57 KB PDF)
Event: Marconi & RCA Centennial & KWMR 15th Anniversary Exhibits
Date: Tuesday, April 1 through Wednesday, April 30
Location: Toby's Feed Barn Art Gallery
Address:11250 Hwy. 1; Point Reyes Station, CA 94956
Phone: 415-663-1223
Description: This exhibit provided an introduction to 100 years of local radio history, from the first transmission across the Pacific to contemporary community radio. An opening reception was held on Saturday, April 5.
Event: Paper Work: Signals and Signs, an installation by Joan Grubin
Date: Saturday, April 5 through Friday, June 13
Location: Commonweal Gallery
Address: 451 Mesa Road; Bolinas, CA 94924
Phone: 415-868-0970
Description: New York artist Joan Grubin's large-format paper and tape installation is a visual manifestation of dots and dashes, specifically designed for the New School, Commonweal Gallery space. Inspired by the Commonweal mission and informed by its facility's history as a Marconi/RCA radio station, the work deploys a visual vocabulary that suggests a system of technology, circuitry, and energy harnessed to fling signals out into the void, in hopes that someone, somewhere, will receive the messages.
Event: International Marconi Day
Date: Saturday, April 26
Location: McCargo Hall at the Marconi Conference Center State Historic Park
Address: 18500 California Hwy. 1; Marshall, CA 94940
Phone: 415-663-9020
Description: Each year the Cornish Amateur Radio Club organizes International Marconi Day (IMD), an on-the-air event to celebrate the birthday of Guglielmo Marconi, born April 25, 1874. K6KPH set up their own receive site in the Chief Engineer's Cottage using vintage receiving equipment. With both transmit and receive sites at historic Marconi locations, K6KPH was one of the most authentic Award Stations participating in IMD.
Event: Ship to Shore: Learning Morse Code
Date: Daily, Thursday, April 24 through Wednesday, October 1
Location: Bear Valley Visitor Center. Directions.
Phone: 415-464-5100
Description: Visitors were invited to step up to a self-guided learning station, fill out a Marconigram with dots and dashes, and try tapping out the dits and dahs of code on the amplified Morse key. Visitors were also able to learn where one can go online to keep practicing and became an amateur radio enthusiast. Visitors could also take home a Marconigram, commemorative pencil, and a Junior Morse Operator badge.