Commemorating a Proud Tradition of Lifesaving at Point Reyes National Seashore on May 30, 2016
Date:
May 25, 2016
Contact:
Carlo Arreglo
, 415-464-5146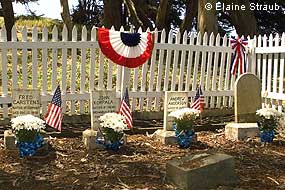 Please join the National Park Service and the United States Coast Guard and the National Park Service on Memorial Day, Monday, May 30, in a ceremony and convocation honoring the sacrifice of men of the U.S. Life-Saving Service who gave their lives serving this nation along the shores of Point Reyes. The annual Memorial Day ceremony will be held at 1:30 pm at the historic G Ranch cemetery. An open house at the historic Point Reyes Lifeboat Station at Chimney Rock will follow the ceremony from 3 pm to 5 pm and attendees will have an opportunity to see Motor Lifeboat 36542, which recently returned after a three-year restoration at San Francisco Maritime National Historical Park.
With thick fog, treacherous currents, and thundering waves, the coastline of Northern California has always been a dangerous one. These shores have witnessed loss of life and cargo in hundreds of shipwrecks. The first Life Saving Station on Point Reyes Beach was established in 1890 and the men reached endangered ships in small open boats, launched through the breaking surf. In those first years of service, four surf men gave their lives while serving in the U.S. Life-Saving Service. Later, as technology improved and as a part of the United States Coast Guard, the station was moved to Drakes Bay in 1927. Two more men died while rescuing others in 1960. Their station at Chimney Rock, now a National Historic Landmark, operated until 1969. While the technology and training has improved the ability to save lives, the risk and the danger have never disappeared.
"We are proud to tell the story of the dedication and courage of the U.S. Life-Saving Service here at Point Reyes National Seashore," says Park Superintendent Cicely Muldoon. "We honor their sacrifice this Memorial Day, and stand alongside our colleagues in the United States Coast Guard in our common commitment to public safety."
Directions to the cemetery and the Point Reyes Lifeboat Station can be found on the park website at https://www.nps.gov/pore, at the Bear Valley Visitor Center at Point Reyes National Seashore, or by calling 415-464-5100 x2 x5.
For more information, visit our website at https://www.nps.gov/pore
-NPS-
Last updated: May 26, 2016