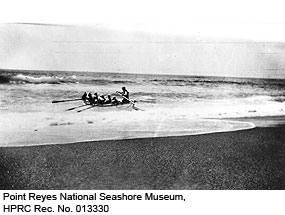 When a wreck was found, the surfmen did what they did best, they saved lives. A shipwrecked mariner you could be assured that the surfmen's presence gave you close to a 99% chance of survival. Equipped with a surf boat and breeches buoys, a keeper would determine the best way to aid those in distress. Using a surfboat with the eight surfmen rowing and the keeper steering, the crew of the lifesaving station would take the imperiled mariners back to shore. But there were times when the boat could not safely reach a wreck. In those instances the breeches buoy and Lyle gun were used. Using a small cannon called a Lyle gun, a line would be shot to the wreck. The breeches buoy which was a life preserver ring with an oversize pair of canvas legs would then be sent to the wreck to remove crew and passengers one at a time.
A New Name, a New Site and New Technology
As the century turned, The United States Lifesaving Service was combined with the US Revenue Cutter Service to form the Coast Guard. This newly formed agency was now charged with aiding those in distress. Very little changed in the first years under Coast Guard management, but, in 1927, operations moved from Great Beach to the protected waters of Chimney Rock. At Chimney Rock, a new station was built as longer, heavier, motorized lifeboats replaced the old, human-powered, surfboats.