Inspiration at Point Reyes National Seashore Leads to a Children's Book about a Gray Whale Calf and Mother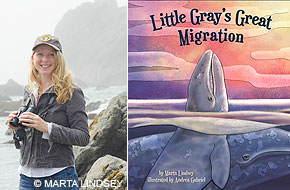 News Release Date:
April 30, 2015
Contact: John Dell'Osso, 415-464-5135
Book Reading and Whale Talks in Honor of Mother's Day on Saturday, May 9
Marta Lindsey had logged many hours at Point Reyes National Seashore as a Winter Wildlife Docent looking for gray whales before she experienced the sighting that led to her new children's book, Little Gray's Great Migration.
Lindsey will do two readings of her new book, Little Gray's Great Migration, as well as interactive gray whale talks in honor of Mother's Day on Saturday, May 9, 2015, at the Bear Valley Visitor Center in Point Reyes National Seashore at 11 am and noon. Lindsey will then head to the Lighthouse to whale watch with anyone who wants to join her.
"My husband and I were often posted at the overlook above the Lighthouse as volunteers with the winter wildlife program, where we would help visitors spot gray whales," says Lindsey. "We had seen a lot over time, but usually at a pretty good distance. And we had only ever seen their backs and tails."
But on one especially blustery morning where you couldn't even see the water from the overlook above, Lindsey and her husband headed down to the Lighthouse. There, right below them and a crowd of chilled visitors, a gray whale calf jumped high out of the water 13 times, surfing its body over the big waves. Everyone went nuts.
"I immediately thought there was a potential story there," said Lindsey. "I had read about the incredible interactions between gray whales and humans down in the lagoons in Baja, where the baby grays are born. What if there was a gray whale calf that continues to look out for whale watchers on his journey north to Alaska?"
Lindsey scribbled a quick draft of the story down before launching into what she describes as a time of "serious marine mammal nerding out."
"I read everything I could about gray whales so I could incorporate as much science as possible into what would be a fictional tale," said Lindsey. "That's when I really fell in love with gray whales and desperately wanted a book to happen so I could share their awesomeness with more people."
The yearly journey of California gray whales from Mexico to Alaska and back is considered likely the longest migration of any mammal, truly one of the "great migrations" of our planet. California gray whales were hunted to the brink of extinction twice only to become one of conservation's biggest success stories. They are the only species of great whale to be taken off the endangered species list.
Point Reyes is one of the most popular places in northern California to look for migrating gray whales, which predictably pass by the Point in large numbers when going south in January and when going north in March and April. But many gray whale mothers and calves pass Point Reyes into May, since they leave Mexico later than other whales and travel more slowly. In fact, Park officials say Mother's Day is often an excellent day for seeing lots of the migrating pairs pass by—and especially because the weather is usually good.
"I wrote the first draft of the book three years before I became a mother myself," says Lindsey, "and I didn't mean to write a Mother's Day book." Continues Lindsey, "But there's a part in the story when Little Gray realizes everything that his mother has done for him and how he now must help her. I think other moms will appreciate it!"
For more information on whale watching in Point Reyes National Seashore, go to https://www.nps.gov/pore/planyourvisit/wildlife_viewing_whales.htm.
For more information about Marta Lindsey, go to www.martalindsey.com.
-NPS-
Last updated: May 1, 2015