A Centennial Celebration of Marconi and RCA Wireless Radio: 1914–2014
Date:
May 16, 2014
Contact:
John Dell'Osso
, 415-464-5135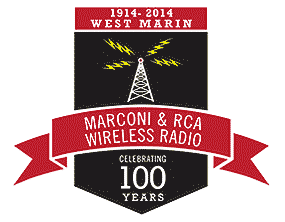 This year, September 24 marks the 100th anniversary of the very first Trans-Pacific wireless radio transmission. This milestone took place in 1914 at the Marconi-built radio stations in Bolinas and Marshall, in Marin County, California. The mayors of both San Francisco and Honolulu were present at the stations as the first wireless signal was received with much fanfare, from 2,100 miles away in Oahu Hawaii, establishing transpacific communications. Marconi, RCA and its successors kept the West Marin stations operational for point-to-point and ship-to-shore services until 1997. The Bolinas transmitting station and a receiving station built in 1929 by RCA were acquired in 1998 by the National Park Service at Point Reyes National Seashore. For the past fifteen years the Maritime Radio Historical Society of Marin has partnered with the park to restore historic equipment and get the stations back on the air for commemorative and demonstration purposes. Every Saturday they once again fill the airwaves with Morse code from what was for eight decades the most powerful station on the Pacific Coast, KPH.
This year from now through September, Point Reyes National Seashore is partnering with the Maritime Radio Historical Society; Point Reyes National Seashore Association; Bolinas Museum; Jack Mason Museum of West Marin History; KWMR, West Marin Community Radio; Marconi Conference Center State Historic Park; and the New School at Commonweal to host a series of exhibits and events in the West Marin community to celebrate the Centennial. The programs provide opportunities for adults and children to learn more about the beginning of wireless communications that proliferate in our time, and how they translate into contemporary technology, learning activities, art, and the future of communications.
For more information, visit our A Centennial Celebration of Marconi & RCA Wireless Radio in West Marin, 1914-2014 page and the Maritime Radio Historical Society's website.
-NPS-

Last updated: February 28, 2015