Point Reyes National Seashore Initiates Limantour and Glenbrook Restoration Project within the Phillip Burton Wilderness
Date:
September 14, 2009
Contact:
Brannon Ketcham
, 415-464-5192
Contact:
John Dell'Osso
, 415-464-5135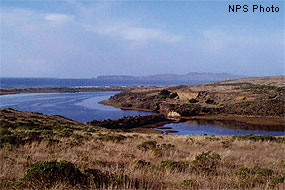 This week the National Park Service will initiate the Glenbrook Restoration and Dam Removal Project within the Estero de Limantour and Glenbrook drainage. The 15 foot lower Glenbrook Dam failed in 1982 during a major storm event. The NPS will remove the remainder of the dam to reduce sediments and reestablished the natural hydrologic regime in Limantour Estero. Limantour Estero is part of the Phillip Burton Wilderness and is a biologically rich estuary that was recently designated a Marine Reserve.
In 1960s, landowners excavated materials for the dam from the adjacent hillsides and spillway areas. The project will restore natural hydrologic conditions and increase estuarine habitat at Point Reyes National Seashore by removing remaining infrastructure which impedes the development and function of the tidal marshplain. The project area is subject to sea level rise and restoration of natural process within this estuary is a climate change adaptation strategy to ensure maintenance of a healthy and functional estuarine ecosystem.
Contractors will remove approximately 19,000 cubic yards of former dam, using that material to restore the associated spillway. The restoration activities will take approximately three weeks, with completion by mid-October. While no trail closures are anticipated, there may be limited trail interruption associated with vehicle access occurring along portions of the Muddy Hollow, Glenbrook and Estero trails.
Public review and environmental compliance was completed on this project in February 2008. A Finding of No Significant Impact was signed in May 2009 and posted on the park website. Funding for this project has been provided through the NPS Abandoned Mine Lands program, the Bella Vista Foundation, and Point Reyes National Seashore Association. More information is available at https://www.nps.gov/pore/parkmgmt/planning_glenbrook_restoration.htm
-NPS-
Last updated: February 28, 2015