Date:
September 9, 2009
Contact:
Melanie Gunn
, 415-464-5131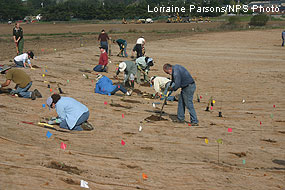 Point Reyes National Seashore will host a variety of a volunteer projects in recognition of National Public Lands Day and National Park Service Volunteer Day on September 26, 2009. Projects will be held both Saturday, September 26 and Sunday, September 27 including Restoration at the Giacomini Wetlands and a Habitat Restoration Workday. Additionally, we offer the opportunity to experience Tule Elk during the rut (mating reason) with our volunteer Tule Elk Docents.
National Public Lands Day began in 1994 with three federal agencies and 700 volunteers. Last year 120,000 volunteers worked in over 1,800 locations and in every state. Now, eight federal agencies and many state and local lands participate in this annual day of caring for shared lands.
National Park Service Volunteer Day is a day of service to highlight the PBS premier of The National Parks: America's Best Idea, running September 27–October 2, 2009. Make America's Best Idea Even Better by joining one or more of the activities below.
Event: Restoration at Giacomini Wetlands
Date: Saturday, September 26, 2009
Time: 11 a.m.–3 p.m.
Location: Meet at 5th and C Streets in Point Reyes Station at 10:50 a.m.
Contact: Amelia Ryan 415-464-5227
Event: Habitat Restoration Workday
Date: Sunday, September 27, 2009
Time: 9:00 a.m. to 2:00 p.m.
Location: Meet at the Bear Valley Visitor Center
Contact: Ellen Hamingson 415-464-5196
Event: Experience Tule Elk
Date: Saturday & Sunday, September 26 & 27, 2009
Time: 10:30 a.m.–4:30 p.m.
Location: Tomales Point
Contact: Doug Hee 415-464-5145
Please visit our National Public Lands Day & National Park Service Volunteer Day page for more detailed information.
-NPS-