Douglas-fir/Mixed Evergreen Forest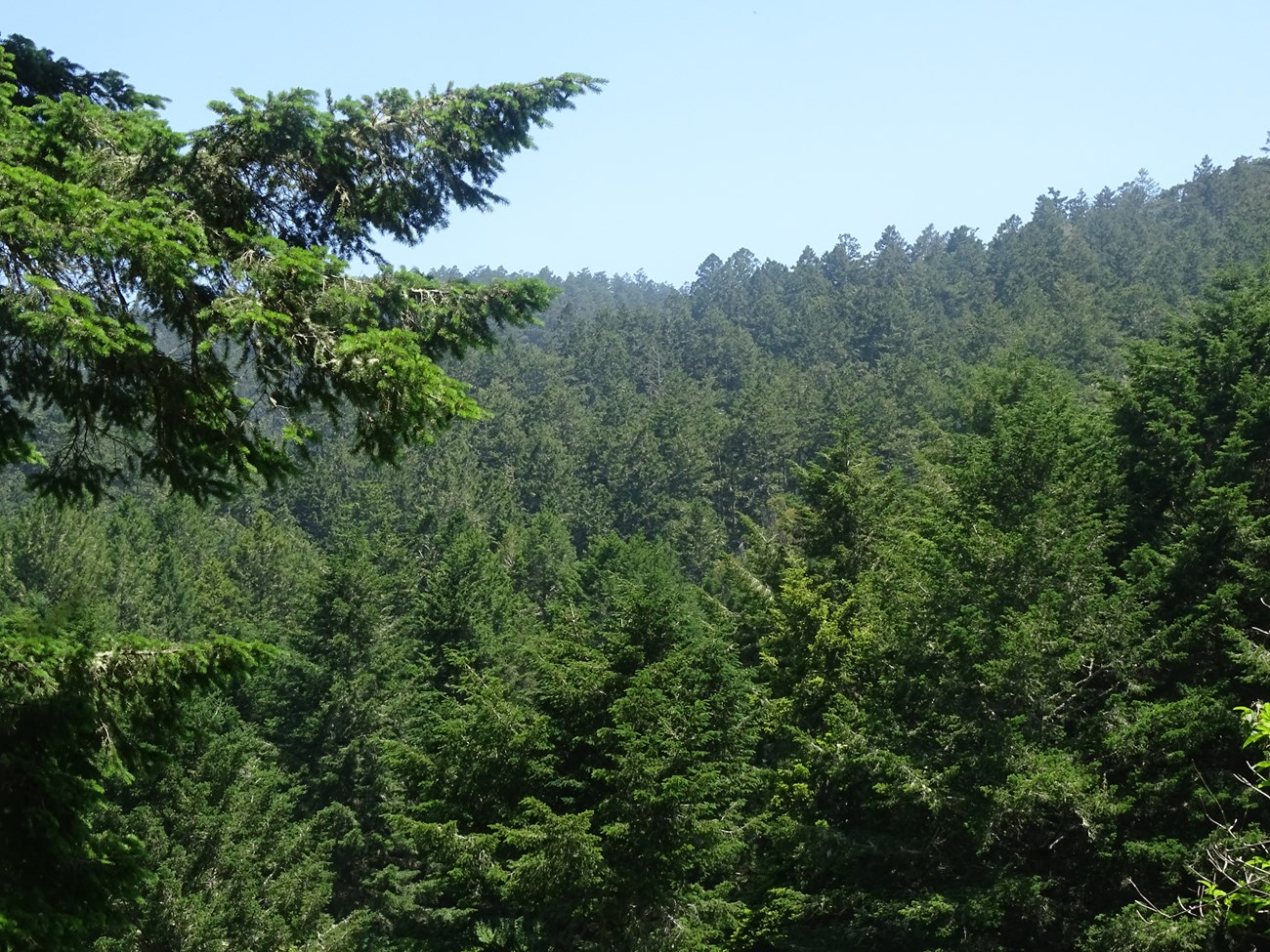 A piece of the Pacific Northwest grows on the east side of Inverness Ridge. Here enough rain falls in the winter to quench the thirst of this fast-growing tree and the trees, shrubs and herbs that sprout underneath. They are buoyed in the summer by fog moisture. The plants thrive in soil derived from marine sediments.
If you walk through the fir forest along Sky Trail or Bear Valley on a foggy day, on a day when it's too damp and cold for turkey vultures to fly, you'll notice how moist the ground is and you'll feel the fog drip from the boughs of the trees overhead. Douglas fir trees are very adept at capturing moisture out of the air and, even when it's not raining, it may feel like rain within the forest. Scientists have found that the precipitation beneath fir trees is twice the annual rainfall. At Point Reyes, where the annual rainfall averages about 40 inches a year, the total precipitation in the fir forest may be more than 80 inches! (How tall are you? Compare your height with the annual rainfall and the total precipitation in a fir forest.)
This ability to capture moisture in the air ensures that the ground will be recharged (or rehydrated) by the trees and ultimately provides the foundation for a diverse forest. Looking up, you will see the Douglas fir trees soaring straight up to form a canopy. Lowering your gaze, you will see California bays, tanoaks, and coast live oaks bending upwards, and right at your eye level you can see coffeeberry, California hazel, red elderberry, ceanothus, poison oak, huckleberry, thimbleberry, honeysuckles, bouquets of ferns and small woodland herbs. This vegetation type describes over 30,000 acres of the Seashore. Sudden Oak Death is a relatively recent phenomenon to this community; expect to see dead and dying tanoaks and true oaks in the forest canopy as Sudden Oak Death continues to spread throughout this community.
The Douglas fir is a grand tree; some individuals within the national seashore rival redwoods in girth and height. Like Bishop pine forests, Douglas fir forests thrive following a fire. The seeds germinate readily, but only those seedlings survive that receive direct sunlight and whose roots come in contact with mineral soil. Therefore, before a new forest can become established, some event must clear the mother forest, provide a bed of mineral soil, and reduce competition from other trees. Fire is the only natural event that provides these conditions.
The mixed woodland forests surrounding the Douglas firs contain coast live oaks and tan oaks that provide habitat and food for many species including the acorn woodpecker. The black-tailed deer is commonly seen in these forests.
Learn more about the Fire Ecology of Douglas-fir/Mixed Evergreen Forests.
Last updated: June 3, 2023