Douglas-fir/Mixed Evergreen Forest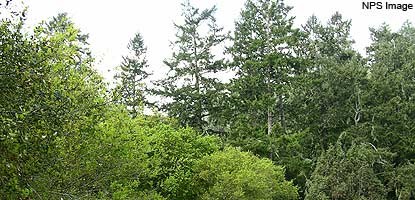 A piece of the Pacific Northwest grows on the east side of Inverness Ridge. Here enough rain falls in the winter to quench the thirst of this fast-growing tree and the trees, shrubs and herbs that sprout underneath. They are buoyed in the summer by fog moisture. The plants thrive in soil derived from marine sediments. They are a diverse mix. Looking up you see the Douglas-fir trees soaring straight up to form a canopy, then you'll see California bays, tanoaks, and coast live oaks bending upwards, and right at your eye level you can see coffeeberry, huckleberry, poison oak, hazelnuts, elderberries, honeysuckles, bouquets of ferns and small woodland herbs. This vegetation type describes over 30,000 acres of the Seashore. Sudden Oak Death is a recent phenomenon to this community; expect to see dead and dying tanoaks and true oaks in the forest canopy as Sudden Oak Death continues to spread throughout this community.
Learn more about the Fire Ecology of Douglas-fir/Mixed Evergreen Forests.
Last updated: February 28, 2015