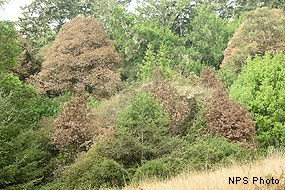 A Growing Epidemic
As you hike and drive around forested areas of Point Reyes National Seashore, you may look out upon the landscape and notice a large number of dying trees. You may be asking yourself a few questions including: what are they dying from, why are they still standing, why are only some species of trees affected, and what can be done to help save these trees?
History of Sudden Oak Death
When first observed in Marin County in the mid-1990's, the disease affecting these trees was named "Sudden Oak Death" (SOD), and researchers attempted to ascertain it's cause and what might be done to reverse or stop its spread. Research has revealed the answers to some of the questions above, but not all. Only time and additional research will reveal what will happen to many of our native tree and shrub species affected by Sudden Oak Death.
Sudden Oak Death is caused by the pathogen Phytophthora ramorum. It is a water mold which prolifically produces spores in humid and moist environments. This makes California's damp riparian corridors superb highways for the pathogen to spread. As a result many of our native species in this "perfect environment" have become vectors for Phytophthora ramorum and infect other species, which then may die due to the pathogen.
Affected Species