Coastal Dunes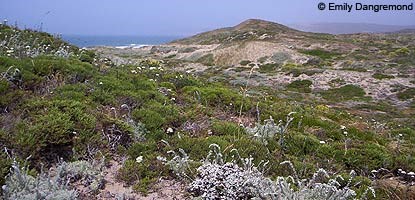 The coastal dunes rise above the reach of the highest tides. When strong winds pelt you with sand at the Point Reyes beach, you can leave. The plants here can't. They tough out growing on our wild shore with special adaptations. To keep from being completely buried by sand, beach strawberry and beach morning glory can grow up new shoots from horizontal underground stems. The sand has few nutrients available for plants, so dune lupine allows special bacteria into its roots that converts nitrogen in the soil into a form plants can use. Grasses are particularly good at conserving water in their leaves, perhaps too good. Much of the grass you see is invasive. European beachgrass is a highly invasive grass that has taken over vast tracts of dunes. Iceplant, native to South Africa, has likewise colonized a large portion of our dunes. Its fleshy leaves prevent water loss and help it outcompete native vegetation. At Abbotts Lagoon, the park removed 50 acres of these and other invasive plants, and now the endangered beach layia and Tidestrom's lupine are growing there.
Learn more at sfnps.org's Coastal Dunes page and Coastal Dunes image gallery.
Learn more about the Fire Ecology of Coastal Dunes.
Last updated: February 28, 2015