Snowy Plover Updates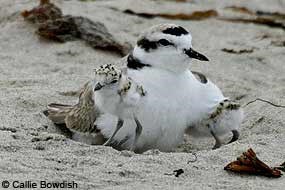 During the Snowy Plover breeding season, park docents help monitor and protect nesting sites and help create awareness and educate visitors about this threatened species and its life cycle. Visitors have expressed interest in the plovers and are pleased to have staff and docents in the field answering all types of naturalist questions. Through the summer, park staff create updates to let staff, volunteers, and visitors know the latest on what is happening out at the nesting sites. To learn more about becoming a Snowy Plover Docent, please visit our Volunteer page.
Visit our Snowy Plover Updates - 2022 blog to find out how the plovers are doing this year.
Check out our Snowy Plover Updates 2021 blog, 2020 blog, and 2019 blog, and our Snowy Plover Updates Archive (2007–2014) page to find out how the plovers did in years past. (Updates are not available for 2015–2018.)
The National Park Service shall not be held liable for improper or incorrect use of the data described and/or contained herein. These data and related graphics (if available) are not legal documents and are not intended to be used as such. The information contained in these data is dynamic and may change over time. The National Park Service gives no warranty, expressed or implied, as to the accuracy, reliability, or completeness of these data. For more information: https://www.nps.gov/disclaimer.htm
Last updated: June 10, 2022