Place
North Beach at Point Reyes Beach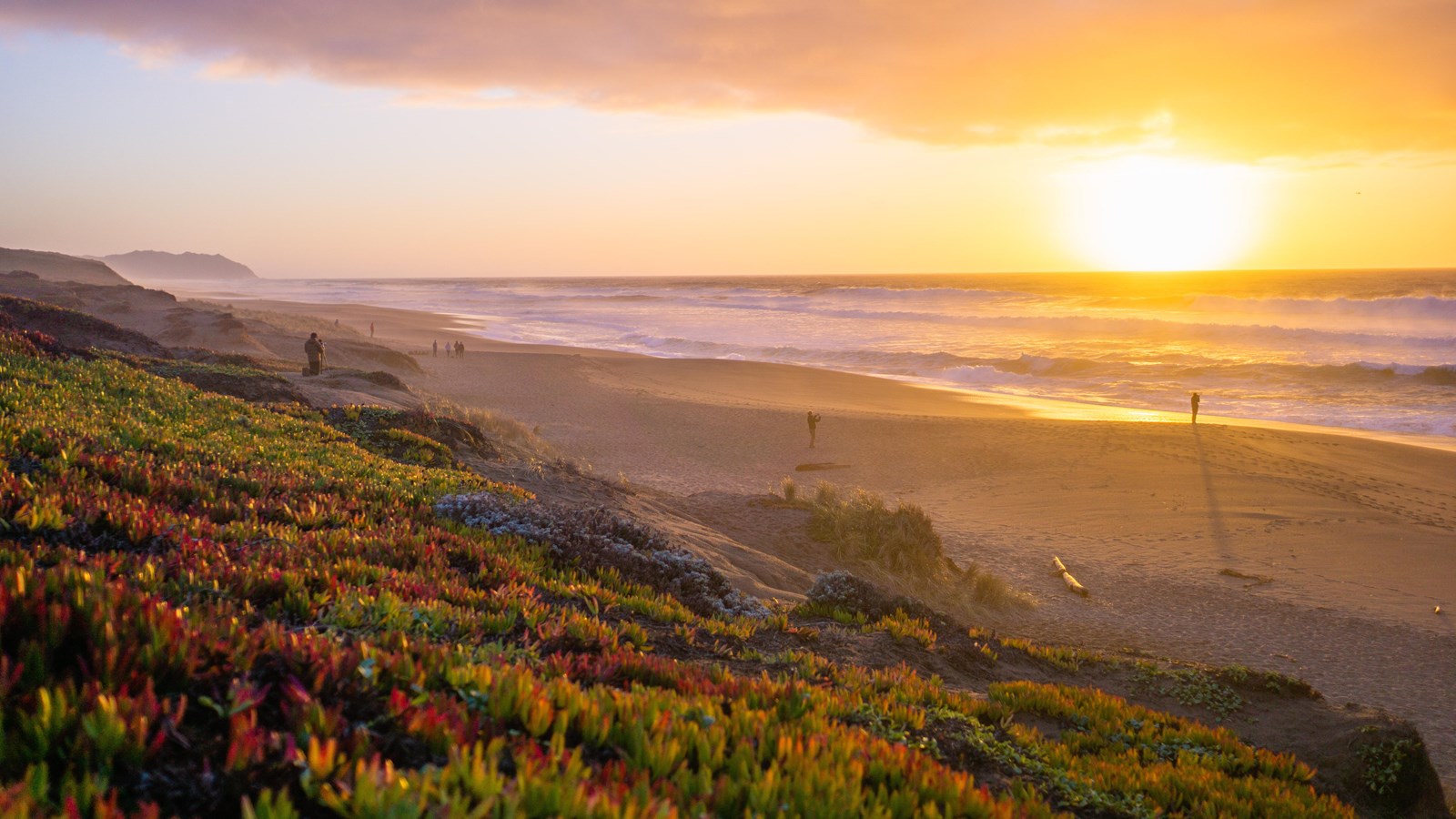 Location:
Point Reyes Beach North, Point Reyes National Seashore. Geo-coordinates: 38.0779, -122.9747.
Beach/Water Access, Parking - Auto, Pets Allowed, Restroom, Restroom - Accessible, Scenic View/Photo Spot, Toilet - Flush, Trash Dumpster, Trash/Litter Receptacles
Point Reyes Beach—also known as Great Beach and Ten Mile Beach—is an incredible expanse of undeveloped ocean beach. It stretches over 11-miles (~18-kilometers) from Tomales Point and Kehoe Beach at its north end to the Point Reyes Headlands at its south end. "North Beach" (aka Point Reyes Beach North) is actually located close to the mid-point of this long sandy beach. It is named "North Beach" because it is the section adjacent to the northernmost parking lot for Point Reyes Beach, e.g., the Point Reyes Beach North parking lot. It is a very short walk from the parking lot down the sand dunes to the beach.
Gray whales may be observed from shore during the annual winter (December–January) and spring (March–April) migrations. Search for whale blows on the horizon.
Beach Safety
If you are looking to observe the drama of heavy surf and large waves, this is the place to be. However, never turn your back to the ocean and stay well away from the water's edge. Due to the frequently large surf, this is not a beach at which it is safe to play close to the water's edge, much less to go for a swim. Sneakers waves frequently hit unexpecting visitors playing at or taking photographs close to the water's edge, some of whom have then been pulled into the ocean and drowned. The ocean water may be as low as 50°F (10°C). Hypothermia, sneaker waves, and rip currents are just a few beach hazards of which visitors should be aware while visiting Point Reyes Beaches. Please visit our Safety Issues Associated with Beaches page for more information.
Seasonal Beach Closure
Western snowy plovers nest on the beach to the north of the parking lot during the spring and summer. To better protect the plovers, from March 1 through September 30, pets, kites, and kiteboarders are prohibited north of the parking lot. On weekends and federal holidays from Memorial Day weekend through Labor Day, all public use is prohibited north of the parking lot. Visit our Closures page for more details.
Glass: Glass containers are prohibited on all Point Reyes Beaches.
Take only pictures; leave only footprints: Almost everything one finds at Point Reyes' beaches is protected by law, including shells, rocks, fossils, flowers, and artifacts.
Wildlife: Do not chase or feed the gulls (or any other birds) and keep your distance from seals and sea lions.
Drones: Launching, landing, or operating a drone from or on lands and waters within the boundaries of Point Reyes National Seashore is prohibited.
Metal-detectors: Metal-detectors are prohibited throughout the National Seashore.
Pets: Pets are permitted on North Beach and must be on a 6-foot-long (1.8-meter-long) or shorter leash at all times. Pets are not permitted north of the parking lot from March 1 through September 30 as this area is protected habitat for the threatened western snowy plover. Visit our Pets page for more information.
Camping: Camping on North Beach is prohibited. Parking your vehicle overnight in the parking lot is prohibited. Visit our Backcountry Camping page for more information on camping at Point Reyes.
Wood fires: A permit is required to have a wood fire at any beach in Point Reyes National Seashore. Visit our Beach Fires page for more information.
Fishing: Fishing is permitted at North Beach, please visit our Fishing page for more information and specific regulations.
Visit the park's Beaches of Point Reyes page for more details.
Help Keep Your Beaches Clean!
Follow Leave No Trace Principles to reduce our impact on the places we love. Please help protect marine life and keep your park beaches clean by disposing trash in the garbage cans and dumpster located at the parking lot. If you build any driftwood structures during your visit, please disassemble them before you leave.
Last updated: November 27, 2021