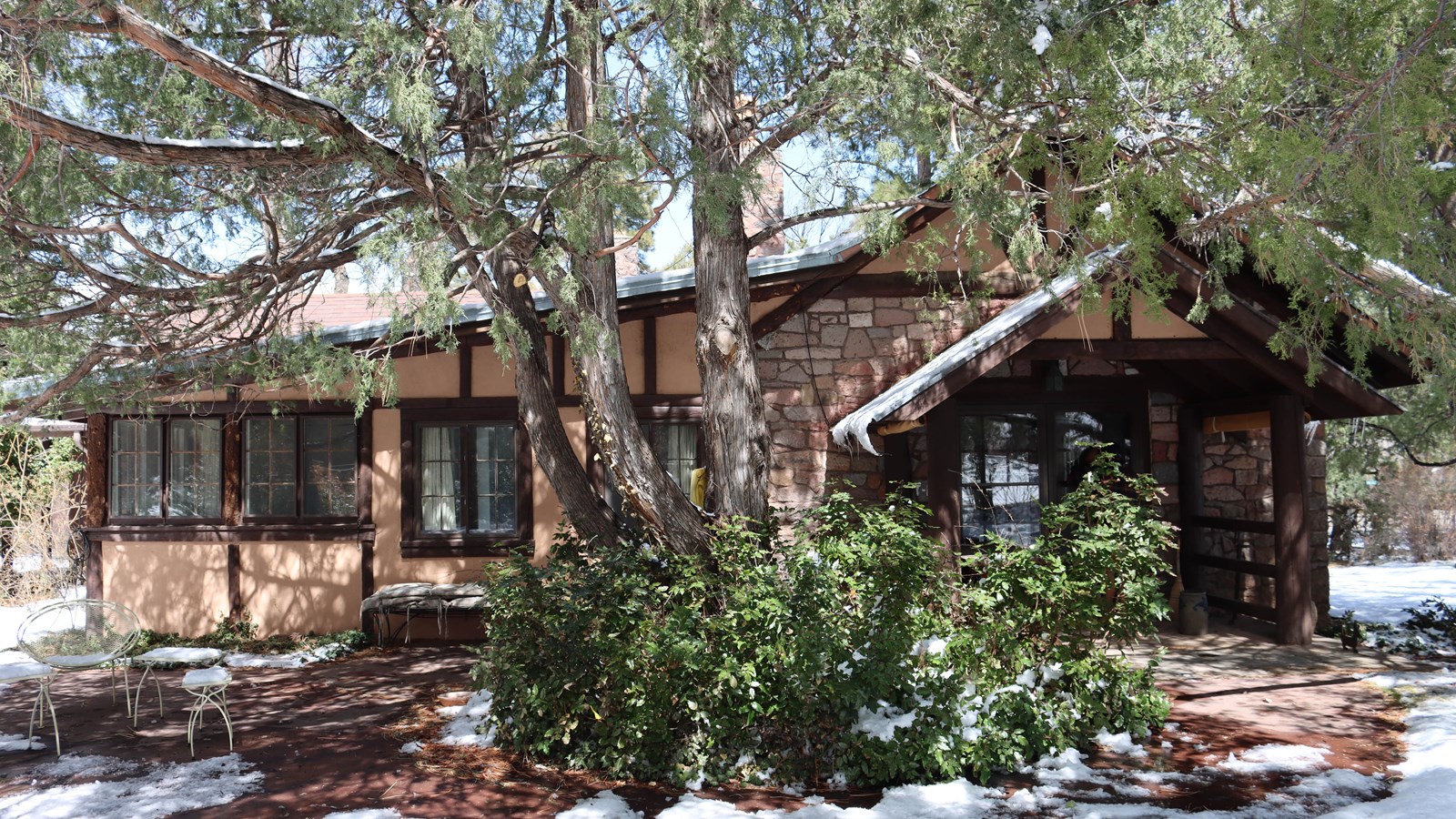 Manhattan Project Scientific Director Dr. J. Robert Oppenheimer was a visionary scientist and an inspirational administrator. He also knew how to throw a great party! Oppenheimer, his wife Kitty, daughter Toni, and son Peter lived in this home from 1943-1945. 
An invitation to one of Oppenheimer's dinner parties was one of the most coveted social invitations in wartime within the tight knit Los Alamos community. Scientists could take a break from their top-secret work while Oppenheimer tended bar, fixing stiff martinis, and fellow scientists such as Richard Feynman and Edward Teller picked up musical instruments and added to the festive atmosphere.   
Built in 1929, the Oppenheimer house served the Los Alamos Ranch School before the Manhattan Project took over. School director A.J. Connell's sister May lived in the house in the Ranch School days, moving to New Mexico from New York. Adamant that she would not live in a "log cabin," the school hired a local stonemason to build the house.  
In June 1942, when Gen. Leslie Groves appointed Dr. Oppenheimer scientific director of the weapons development laboratory, the commander of the Manhattan Project had yet to choose a location for the secret laboratory. Oppenheimer, familiar with the Santa Fe area, played an instrumental role in the selection of Los Alamos.
Continue Your Journey
Walk along Bathtub Row to the Hans Bethe House where you can learn about the Cold War. At the end of the Bathtub Row check out the Power House, which originally housed the electrical generator for the Los Alamos Ranch School. At the Los Alamos History Museum, you'll find exhibits on various eras in the history of Los Alamos. Next to the museum, Fuller Lodge has long stood as a central feature of the community. Learn about local homesteaders at the Romero Cabin and Ancestral Pueblo people at the nearby Ancestral Pueblo Site. 

Explore the interior of Oppenheimer's Los Alamos home via a panoramic image.
Last updated: August 28, 2023